I recently purchased a new iMac and I was wondering how I can film a video using the camera built into my iMac that can be posted on YouTube/Myspace and watched by viewers everywhere. -From Yahoo Answer
People decide to record video footage from their Macbook/iMac camera for a variety of reasons. Some people want to record a video to have on hand; record a presentation to use at a later date; share touching moments with friends and family; or put the video up on websites as mentioned above.
Solution 1: Record Video with Video Recording Software for Mac
There are a large amount of video recording software that have been designed for recording a video using a webcam. Among them is MacX Video Converter Pro, which owns the ability to record video with Mac's built-in camera (or external connected camera) and convert the recorded video to various formats for an terrific enjoyment on a website, a blog or on popular devices like iPhone, iPad 7, iPad Mini 4, iPod, PS5, Samsung Galaxy S21, Google Android, Sony Xperia Z4, etc.
How to Record Video from iMac/Macbook with High Definition Quality
Free download this video screen recording on iMac or MacBook. After the download is finished, run the video capturing software for Mac and follow the wizard instructions.
Step 1: Hit the Record icon on the main interface, the video recorder window will pop up.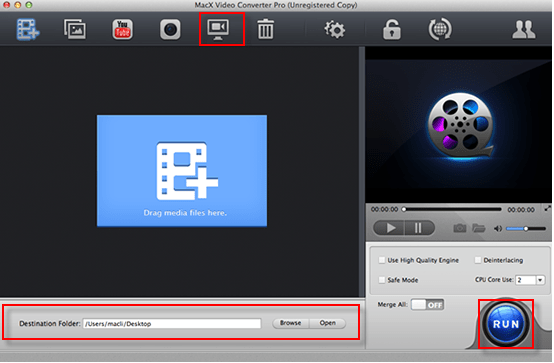 Step 2: Click "Setting" button to choose the devices for video and audio recording.
Step 3: Select a destination folder to save your recorded video by clicking "Browse" button.
Step 4: After finishing the steps above, press "Start Record" button to capture Roblox gameplay video on iMac/MacBook Pro. You can stop the video recording process at any time.

The recorded video will be added to convert list by default, so you can choose to convert the recorded video to MP4, MOV, FLV, AVI, etc and transfer
video to mobile devices
like iPhone, Samsung, Kindle Fire, Google Pixel, Surface Pro 4, etc.
You can also edit the video as you like, such as trim video clips, crop the video size, merge video files, add watermark and load an external subtitle file (.ssa, .ass, .srt) to personalize your recorded video.
Solution 2: with Free Online Video Recorder
cameratag.com, familiar? If not, okay, it's time to go closer to this powerful video recording website. This free online video recorder is specially designed for video recording lovers who would like to record video clips, upload DIY video to website for sharing and playback video on mobile device. And no matter you are a newbie or pro, you can easily master the key points of video recording, because it's just so easy to use.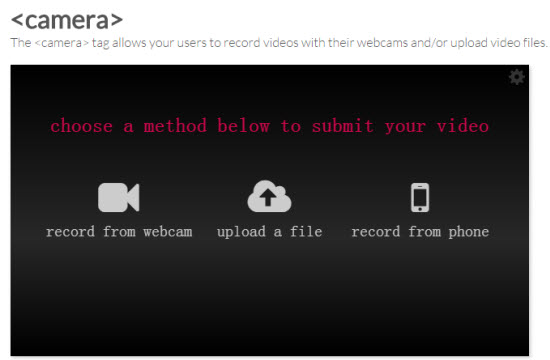 See, first of all, open this website and click on "See it in Action" button on the bottom of the record camera area.
Next, your're brought into a new page with three options for you: record from webcam; upload a file; record from a phone. of course, here we're supposed to choose record from webcam.
Thirdly, this online video recorder will automatically detect the camera built-in your Mac or external webcam.
Finally, you can begin to record HD video from MacBook Air or MacBook Pro with this free online video recorder once it sucessfully connects to your webcam.
Solution 3: with Apple Built-in Camera
You can record a video with your iSight or FaceTime HD camera (the built-in Apple cameras are not called webcams) by opening iMovie, Photo Booth, or QuickTime. The process is rather self-explanatory once those apps are open. Here I gonna show you how to use iMovie to record a video with iSight.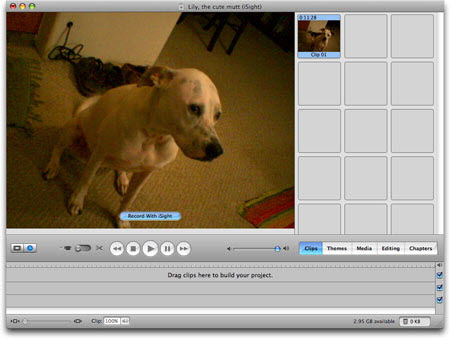 Step 1: Open iMovie, and click the camera button on the left side of the toolbar.(Or you can select File > Import From Camera or press Command-I.)
Step 2: Then iMovie will fire up a window called Import From: Built-In iSight. You'll see a preview of yourself--sit up straight, press the Capture button, name your new Event, and once again hit on Capture button.
Step 3: Followed by Stop button if you have finished your video recording.
Step 4: Find out your recording video clips in the Event Library at the bottom of the screen. You can open to watch it or import to iMovie to edit this video clips.
Still have any problem on how to record video from iMac or MacBook camera, just
email us >>