Many Mac users often fail to burn a DVD from iDVD or play DVD on Mac. Most of time, it caused by no available SuperDrive on Mac. So, what is SuperDrive for Mac and how could you play or burn DVDs successfully if there is no optical one? Take it easy; in this article, we provide all the info, including definition, how to judge whether your Mac includes one, the development history and usages, how to fluently play DVDs/CDs on Mac without built-in one, etc.
Table of Content
Part 1: What is SuperDrive Mac?
In fact, it is a trademark used by Apple and stands for two different storage drives: high-density floppy disk (1988-1999) and CD/DVD reader/writer (from 2001 onwards). The high-density floppy disk was used to read all major 3.5" disk formats and CD/DVD drive could read and write both DVDs and CDs.
SuperDrive for Mac was primarily as an internally mounted floppy drive that was part of the Macintosh computer and there was an external hard drive manufactured in a Snow White-styled plastic case. The first Macintosh named the Macintosh llx included a SuperDrive floppy drive and every Macintosh introduced from 1988-1997 had a built-in drive. With the coming of the New World ROM machines, Apple stopped providing internal floppy drives on all models and it is not supported in Mac OS X.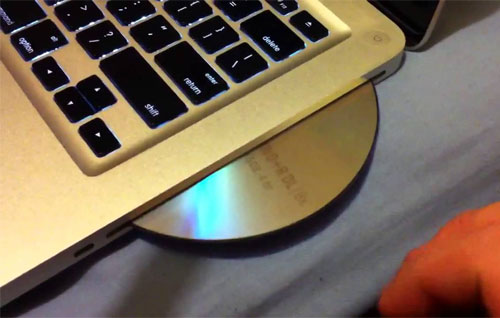 Later, Apple started to reuse the trademark to refer to the optical drives embeded into its Macintosh models, which could read and write both CDs and DVDs. This SuperDrives for Mac featured 6-24x wirte speeds and supported the DVD±R, DVD±R DL, DVD±RW, CD-R, DVD-RAM, CD-RW formats and other normal read-only media. But, there is never a Blu-ray drive and Apple also doesn't support for Blu-ray playback.
And, Apple began to phase SuperDrives out in 2011 and the second generation MacBook Pro released in 2012 and discontinued in 2016 was the last Macintosh to include one. The main reasons are that SuperDrive is mechanical, easy to broken, big power consumption, etc. Thus, Apple offers a USB-connected external one as an accessory which also has no way to deal with Blu-ray and mini optical discs. Though now almost all of latest Macs no longer include an optical drive, you also can use CDs, DVDs, Blu-rays and other optical discs on your Mac. >> How to rip DVD to USB

How to know if your Mac computer has a SuperDrive?
Try to click on the Apple-logo menu up top > select "about this Mac" > click "More Info…" button to open up System Profiler from the pop-up window > hit on "Disc Burning" to see the detailed information about your optical drive including which types of CDs and DVDs it can burn.
You may need to know: Superdrive not recognize a DVD
Part 2: How to Play DVDs/CDs without Built-in SuperDrive for Mac?
It is true that most of Mac made after 2008 that doesn't have a built-in optical drive. On the other hands, though there is SuperDrive on Mac, users also will come across some unexpected not working problems. Therefore, to play DVDs, CDs, Blu-ray or other optical discs on your Mac, you can take advantage of below two simple ways.
1. Get an external Apple USB SuperDrive
Many MacBook and iMac users complain that they don't know how to play DVD on Mac after they purchased a Mac with out a hard/optical drive. Actually, the easiest way is buying a Mac USB SuperDrive which can read CDs and DVDs, or even burn discs. It is designed by Apple itself and users just need plug it into a Mac via a USB cable.
In addition to playing CDs/DVDs, it is also very useful when you watch a new DVD movie, install software, and create backup discs and more. But the only drawback of this Apple external DVD drive is that it still doesn't have Blu-ray support. That is to say, you have to find another Mac external SuperDrive to play Blu-rays and there are many third-party external DVD drives on the market.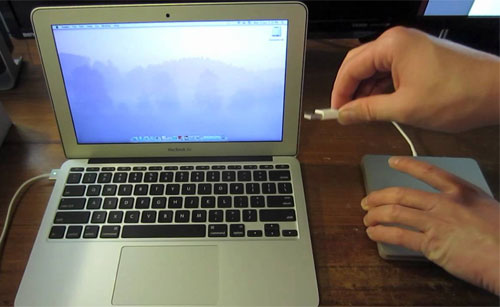 The size of Apple external CD drive is only slightly bigger than a CD case so that it is pretty suitable for travelling. Apparently, this is another selling point of USB SuperDrive Apple. But a large number of people still complain that they often get a DVD stuck due to various reasons. So, to fix the "DVD stuck" issue and watch DVD movies on-the-go, you can rip DVDs to hard drive at first via a functional DVD ripper for Mac like MacX DVD Ripper Pro.
2. Use Remote Disc sharing and another Mac
Some people believe that it is a little bit tricky to buy an external USB SuperDrive Mac. Is there any alternative way to stream DVD on Mac without buying it? As a matter of fact, you can depend on Mac's built-in Remote Disc feature. Your Mac on your network can function as a server and your Mac is capable of accessing discs inserted into that server. In other words, you can insert a DVD into a SuperDrive on one Mac and watch it on another Mac over a network as long as another Mac computer has an optical drive.
Whereas not all kinds of discs are supported by the Remote Disc feature including DVD movies, audio CDs, copy-protected DVDs, operating system installation discs and blank disc that you want to burn to. Under the circumstance, the only solution is turning to an alternative.
Now, we take a look at how to play DVD on Mac using Remote Disc sharing feature.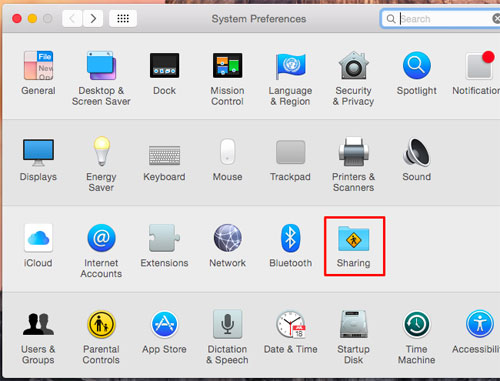 1. Click the Apple menu > click System Preference > Hit the Sharing icon > activate the DVD and CD Sharing option in the Shaing list. BTW, the DVD and CD Sharing option will be visible only if your Mac has an optical drive.
2. Open the Finder on another Mac > tap the "Remote Disc" option under Devices in the sidebar. Then you will see your Mac sharing a disc on your network.
For your reference:
Don't forget to insert the disc into the Remote drive before accessing it.
Make sure that your two computers are on the same local network if you don't see the Remote Disc option.
Firewall setting will also prevent Remote-disc sharing. How to turn off the firewall: open the System Preferences window > click the Security & Privacy icon > click the Firewall tab to ensure the Remote-disc sharing service is allowed through the firewall.
Still have any problem on what's superdrive or how to play DVDs without superdrive, just
email us >>
ABOUT THE AUTHOR