As Apple kills off the optical drive in its new MacBook Pro and MacBook Air to maintain super-thin profiles, users are left with no ways to play/rip DVDs on Mac directly. For example, you're not allowed to play DVD venom on Mac unless you turn to an external DVD drive or make a digital copy of Venom. Though the remove of DVD drive for Mac doesn't mean blocked access to DVD discs on Mac. To survive with Mac computers without built-in optical drive, there are workarounds available, among which the external DVD drive for Mac maybe the easiest.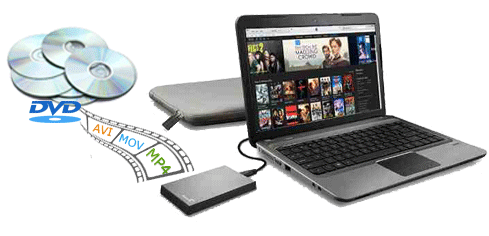 How to Play DVD on MacBook Pro/Air without Drive?
Carrying an external Mac CD/DVD drive and movie discs is too much trouble:
Turning thousands of discs into handy digital formats- convert any DVD discs into MP4, MOV, AVI, M4V, 3GP, MKV etc with world's No.1 speed. Remove all the DVD protections and support any disc formats.
2021 Best External DVD/CD Drive for MacBook Pro/Air
1. Apple USB SuperDrive- $79.00
Customer Rating:

Apple's USB SuperDrive is the Mac external hard drive designed to complement MacBook Pro/Air. It is compatible with Macbook ,Macbook air, Macbook Pro, iMac or Mac mini via a single USB cable to help read DVD/CD and write to CD-R and DVD-R discs. With this portable disc drive for Mac, you can play DVDs, rip discs, burn home movies to DVD, extract music from CD etc. The external ODD has 8x faster DVD writing speed.
Having problem with Apple Mac SuperDrive? You can find a solution in this SuperDrive Not Working guide, Superdrive not recognize DVD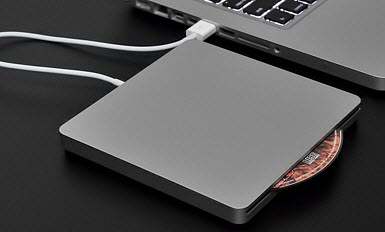 2. Samsung Ultra-Slim Optical Drive- $37.60
Customer Rating:

Samsung's ODD has a ultra thin design advertised as the thinnest external optical drive for Mac. It's fully compatible with Windows and macOS, and even Chrome OS and Android. It's able to read and burn various DVD and CD formats, with the writing speeds claimed to range from 6x for dual-layer DVDs to 24x for CD-RWs. A big plus is the USB2.0 and USB 3.0 compatibility, while no Blu-ray support is a major disadvantage. Anyway, it's one of best external DVD drive for Mac picked for DVDs.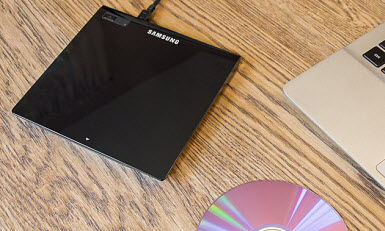 3. LG Ultra Slim Portable External Drive- $26.99
Customer Rating:

LG is the best Mac portable DVD drive that's alternative to Apple USB SuperDrive but at a lower price. It can read and burn DVD and CD on Mac and PC, also delivering 8x max DVD writing speed. This external disc drive for Mac has two distinct features: first, it support M-Disc which will protect the data and make it exist longer than standard DVDs; second, it adopts Silent Play technology that can make the DVD playback process less noise than other external Mac ODDs.
Also check best external hard drive for Mac, and NAS drive for Mac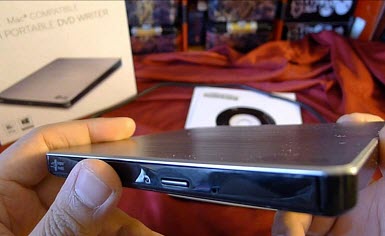 4. VersionTech External DVD/CD Drive for Mac- $35.99
Customer Rating:

This ODD is especially designed to play CD/DVD and burn CD (only CD supported) on MacBook, Macbook Pro, Macbook Air, other ultrabook, PC, laptop via USB. The external optical drive for Mac has superfast speed to read and write disc, ranging from 5x for DVD-Ram to 24x for CD-RW. However, there are some design flaws, for example, the lack of an eject button makes it inconvenient to remove the disc if it gets jammed.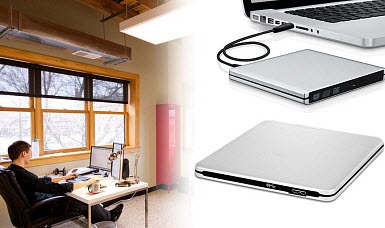 5. Pioneer Slim Mac External DVD Drive for Blu-ray- $163.12
Customer Rating:

The above options are best external hard drive for macOS, if you handle with Blu-ray discs a lot, Pioneer is a good choice. As the external BD drive for Mac, Windows and Linux, it accepts BDXL, Blu-ray, DVD, and CD media with speeds up to 6x DVD disc burning and ripping. The Blu-ray ripping is slower with some noise. It price is much higher than other DVD drive for Mac, but it's quite affordable compared with other BD drive competitors.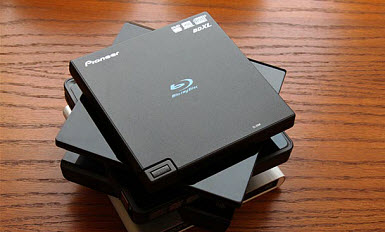 An Easier Way to Play DVD Discs on MacBook Pro/Air without Optical Drive
External disc drive for Mac is convenient as it provides direct access to discs. But it's less handy when users need to play a disc on the road. If you want to play DVD movies on a MacBook Pro, you will need an external DVD/CD drive for Mac, an USB cable, and the disc. That's too much trouble.
To watch disc on MacBook Pro/Air without DVD drive, you can use a piece of DVD ripping software to turn massive DVD collection into digital files stored on Mac. For this job, the MacX DVD Ripper Pro for 5 reasons:
it converts DVD into MP4, MOV, AVI, MKV, 200 more digital files;
it supports all DVD types like new DVD, 99-title DVD, damaged & unplayable DVD;
it has world's fastest DVD to mac ripping speed, 5 minutes for a full disc;
excellent quality reserved; 5. it works on macOS Big Sur and earlier systems.
Step 1: Free download the DVD ripper on Mac. Insert DVD into the external disc drive for Mac or another computer that has an optical drive built-in.
Step 2: Choose output format from the drop-down profile window. To play DVD disc on Mac, MP4 or MOV are both good formats as they're compatible with Mac default QT player or other programs.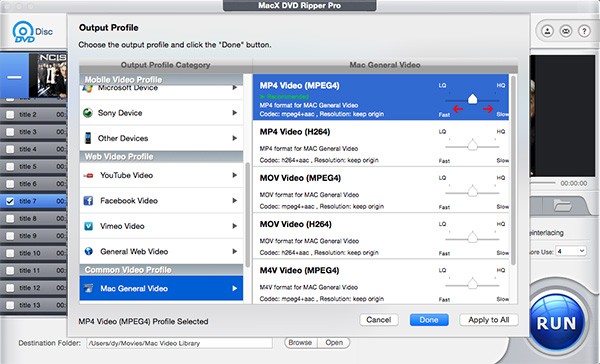 Step 3: Click Browse to save the output file and click RUN to begin DVD ripping. After a few minutes, the DVD movie will be saved in your computer and then you can watch those movies without taking an external DVD drive for Mac computers every time.
Disclaimer: The software developer calls for copying or ripping DVD under the concept of Fair Use and does not encourage any illegal reproduction or distribution of copyrighted content. Please abide by the local DVD copyright law before doing it.
Still have any problem on external DVD drive for Mac, just
email us >>