"I'm experiencing a reboot loop problem on a week old iPhone XS! Anybody else ran into the same issue for the new iPhone? Who knows the cause? Could it be caused by a poor battery? Help please."
Users who have the reboot loop issue with a newly bought iPhone or iPad can return your devices and get a replacement one. For more tips and tricks on how to fix the reboot loop on iPhone iPad, read the instructions below.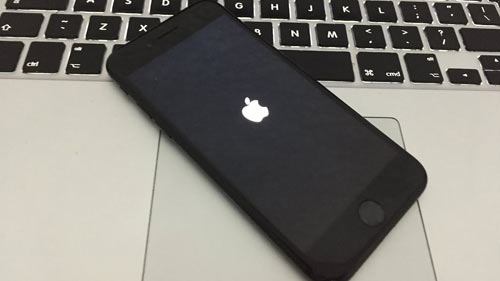 What Causes A Boot Loop on iPhone iPad
iPhone or iPad boots up initially and then shows Apple logo and goes to a blank screen. A boot loop on iPhone iPad is the result of the system not working during the start-up. It seems to be a recurring problem. Knowing what causes your devices to go into a boot loop can help you avoid the same trouble in the future. There are various things that can result in boot loops. The problem may occur when you update iOS, download new apps, jailbreak devices, change system files, or system files are corrupted. It's also possible that a device glitch leads to the Apple logo loop.
How to Fix Stuck iPhone iPad in A Boot Loop
Solution 1: Perform A Force Restart
A force restart or reboot is a simple solution that works to solve many kinds of iPhone iPad issues, such as iOS not installing, software update failed on iPhone iPad, iPhone iPad stuck on Apple Logo, Try to force restart iPhone iPad to get rid of the boot loop without restore or erasing any data. The process differs per iDevice model. Use the steps below.
iPhone 8, iPhone X, iPhone XS: Hold down and release the Volume Up button, then the Volume Down button. Follow up by holding down the Side button until your device restarts.
iPhone 7: Press and hold the Side and Volume Down buttons at the same time for 10 seconds or longer until you see the Apple logo.
iPhone 6s and earlier, iPad: Hold down both the Home and the Top buttons for at least 10 seconds until the Apple logo appears on the screen.
iPad Pro: Hold down and release the Volume Up button. Do the same for the Volume Down button. Then hold down the Power button until you see the Apple logo on the display.
Solution 2: Put Your iPhone or iPad into Recovery Mode
Step 1: Close iTunes if it is open. Then reopen iTunes and connect your iPhone or iPad to your computer. The latest version of iTunes is required. Check for more tips if iTunes won't recognize your device.
Step 2: Force restart your iPhone iPad using the steps above. Keep holding down these buttons until you see the recovery mode screen.
Step 3: You should see the option to Restore or Update. Click Update. iOS will be reinstalled on your device. After the process finishes, set up your device. Also learn how to fix iPhone iPad stuck in recovery mode.
Solution 3: Erase and Restore Your iPhone or iPad
Restoring your device as a new one solved iPhone/iPad reboot loop problem for many users. It's inconvenient, and you should take some time to back up your iPhone iPad before you do so, but it worth the time if it works. Learn how to wipe data on iPhone iPad and restore them to factory settings.
On iPhone iPad: go to Settings > General > Reset > Erase All Content and Settings.
Restore iPhone iPad with iTunes:
Step 1: Open iTunes on Mac or PC, connect your iPhone or iPad to your computer via an iDevice cable.
Step 2: Select your device on the left side of the iTunes window.
Step 3: Click the Summary tab and select Restore your device. Follow the popping up instructions and wait for the process to complete.
Step 4: After you restore your device to the factory settings, set it up and check if the reboot loop on iPhone iPad is gone.
Learn what to do if you can't restore your iPhone iPad.
Some devices encountered another Apple logo boot loop after restoring. If it happens, try to remove the SIM card with Apple SIM card remover tool included in the box and re-insert the tray. If all your efforts are in vain, go to Apple store and ask the tech guy to fix it or replace your device.
ABOUT THE AUTHOR