iPhone is one of the best phones in the world, but it goes wrong sometimes. For example, iPhone won't turn on with a black screen after dropping, water damage, iOS 17 update, etc. Get into trouble trying to turning on your iPhone? Our tips here should help you identify the causes and fix the problem no matter what device you are using. The steps even apply to other iDevices like iPad and iPod touch.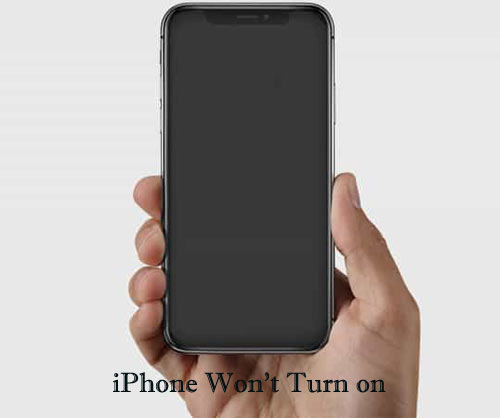 Why Is Your iPhone Not Turning on?
There are various things that can lead to iPhone not turning on. The following is a list of potential problems. You should find some clues here. It also may be the simple fact that nothing works.
Empty battery or your iPhone running out of battery.
Software bugs, apps or system software conflicts.
Physical or liquid damage suffering.
Overheating iPhone.
Unreliable third-party cables and charger.
Hardware quality problems on iPhone. For this issue, if your device is under the warranty period, you can ask for a replacement.
How to Force An iPhone to Turn on
1. Charge your iPhone
You won't turn on your iPhone if the device runs out of battery. The first thing you need to do is to charge your iPhone, especially the one you don't use for a long time. Plug your gadget into a charger and wait patiently for at least 15 minutes. After a few minutes, if you don't see the charging screen, you should check your USB cable, jack, and power adapter. Try another iDevice USB cable and charger. When your iPhone has enough power, turn it on. If the iPhone won't turn on after charging, read on.
2. Force restart
What can I do if my iPhone won't turn on? Did you force restart it? This is the most common response since a restarting tends to be a low-tech way to fix tons of minor issues. Restarting your iPhone enable the system to start fresh and thus may let the device run again. We recommend users to perform restart when encountering issues such as iPhone iPad stuck on a boot loop, iOS not installing, iPhone suddenly running hot, and more. Follow the steps provided by Apple support to force restart your iPhone without removing any data. Normally, you shouldn't restart your iPhone too often. Once or twice a week is fine.
3. Restore iPhone
Similar to restarting, restoring is also a commonly used solution to various problems. However, restoring iPhone will erase all the information. Do back up your iPhone data before you try this solution if you still need the information stored on your iPhone. Then use the following steps.
Step 1: Open iTunes on your computer and connect your iPhone to the computer via a USB cable. Make sure you are using the latest version of iTunes.
Step 2: You should see your device showing up in iTunes. Learn what to do if iTunes doesn't recognize or detect your iPhone. Select your device, and click the Summary tab.
Step 3: Click Restore (device) and confirm to restore.
Step 4: Check whether your iPhone restarts after you hard reset it using iTunes.
4. Put iPhone into DFU Mode
DFU (Device Firmware Upgrade) mode helps your iPhone get restored from any state. It is a more complicated solution to more complex problems. When all the above methods don't work properly, try to put your iPhone into DFU mode to fix iPhone not turning on. It's the last step you can go. Compared to recovering mode, DFU mode is a more thorough method used to solve iPhone black screen, not turning on and bricked iPhone during iOS update. Get to know how to put iPhone into DFU mode here.
5. Maybe Your iPhone Is Damaged
Some users reported that iPhone wouldn't turn on after water damage or dropping. Examine your device carefully. Liquid damage, dead power buttons, and other physical and hardware damage may lead to iPhone not turning on. Do not turn your iPhone on or charge it immediately if it won't start after liquid damage. If your iPhone is broken, bring your gadget to a repair shop or send it to an Apple Repair Center, Apple Store to get it repaired or replaced.
ABOUT THE AUTHOR