How to boost your YouTube views? Stunning video effects is a must for sure. Hate editing YouTube videos? Customizing YouTube clips can be interesting and easy as pie. Below we share three popular ways to edit YouTube videos on Mac, Windows, iOS iPhone iPad, and Android mobiles. I bet you will love the process of changing your clips to a big hit on YouTube.
YouTube Video Large in Size? Long in Length? All Can be Solved by
MacX Video Converter Pro. This YouTube video editor allows you to free set the video Start time and end time, cut off black margin from video image, join two YouTube videos into one, add subtitles/watermarks to YouTube video and convert YouTube video to the best format for fast uploading or sharing. Even let you free download video from YouTube, Facebook, Dailymotion, etc. 1000+ video sites.
Use YouTube Online Video Editor for Basic Video Editing
How to edit your YouTube videos online with no advanced settings, requiring no extra software? One program you can't overlook is an online video editing program offered by YouTube. You can run the online YouTube editor program on Mac computers, Windows PC with no web browser limits, Chrome, Safari, Firefox, etc.
Trimming videos on YouTube is the most basic option. It is only a few clicks a way to shorten or length videos and join separate video clips. To remove a clip you don't want, just click the cross on the top right. The online YouTube video editor lets you add enhancements to your video. Click "Quick fixes" to adjust brightness and contrast levels, as well as add slow motion, rotate the video. The "Filters" is used for ready-made effects, boasting plenty of choices. Note that this feature is only available for videos shorter than 2 hours.
There are other options for users to edit videos for YouTube, adding transitions, titles, photos and music to YouTube videos. But there are no more advanced options for further YouTube video editing, like changing video format, reducing video file size, etc. If you are hoping for much professional yet easier editing with no time limits, switch to the YouTube video editor software.
How to Edit YouTube Videos with Professional YouTube Video Editing Software
① Split trim YouTube videos
It is great to upload a perfect video to YouTube without any unwanted or unimportant parts. The YouTube editor software can split YouTube videos to any part you want with zero quality loss. No worries about format limits, the program accepts videos in MP4, AVI, MOV, FLV, MKV, 3GP, M2TS, AVCHD, 720p, 1080p, 4K 8K UHD, any video formats and resolution.
How to split and edit YouTube videos:
1. After free downloading this all-round YouTube video editor , run it, click "Add File" icon to load the clip.
2. Select "Edit" button, choose "Trim", "Enable Trimming". Select start time and end time, or drag the slide bar on the video preview window to split the video for YouTube.
3. Click "Done" button to finish the YouTube video editing.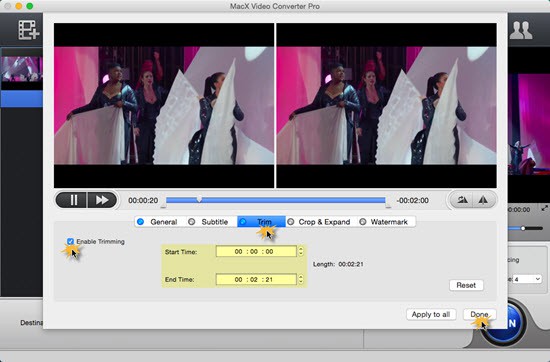 ② Compress convert videos for YouTube
The maximum video file size you can upload to YouTube is 128 GB and the duration is 11 hours. You can edit YouTube videos footage in HD, 4K UHD from 4K camera to make YouTube uploading faster and remove YouTube upload limits by compressing the video file size. The YouTube video maker software can reduce video file size with original video audio quality reserved.
The YouTube video editing tool helps change video format to reduce file size. MP4 format keeps a good balance between file size and quality. Trimming and cropping can downsize video clips a lot. It also lets you adjust video resolution, frame rate and bit rate to shrink video size.
Encounter formats limits when uploading videos to YouTube? The problems can be solved by the YouTube video editor program as well. The software converts 720p, 1080p , 4K UHD videos of MKV, MTS, M2TS, AVCHD, etc, to YouTube video format with untouched video quality.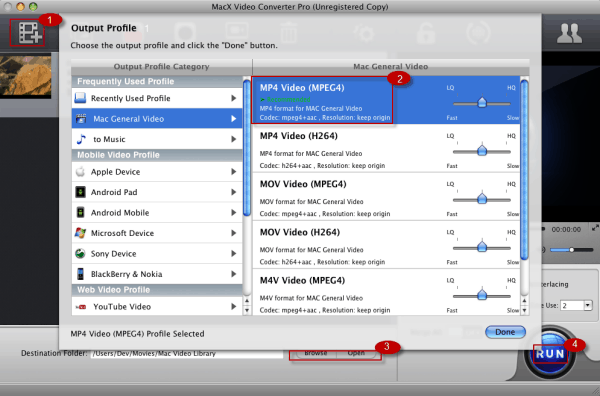 ③ Add SRT subtitle to video clips for YouTube
The YouTube video edit software also works as a treat in adding SRT subtitles to video clips footage. You are allowed to embed any language, English, French, Spanish, Japanese, etc. to YouTube videos.
How to add subtitle and edit videos for YouTube:
Select "Enable subtitle" > "External Subtitle File" > "Add" to import external subtitle to the video, and click "Done" button to complete the YouTube video edition process.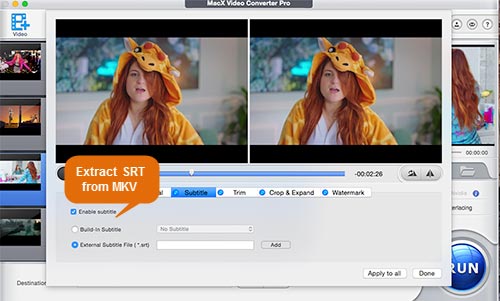 The YouTube video editor, MacX Video Converter Pro, also offers solution to make photo slideshow, turning your memories to fabulous slideshow with music and special effects. You are also provided with chances to download and edit YouTube videos at one stroke.
④ Crop resize YouTube videos
The YouTube video editor program enables you to get any frame size and keep aspect ration thanks to its crop feature.
Load video file, select "Crop & Expand", "Enable Crop", choose "Crop Presets", and click "Done" to remove black bars or unwanted areas.
The Crop Presets offers several different aspect ration to edit a YouTube video, 16:9, 4:3, 1:1, Keep Origin, and more. You can get any frame size you want with original image quality.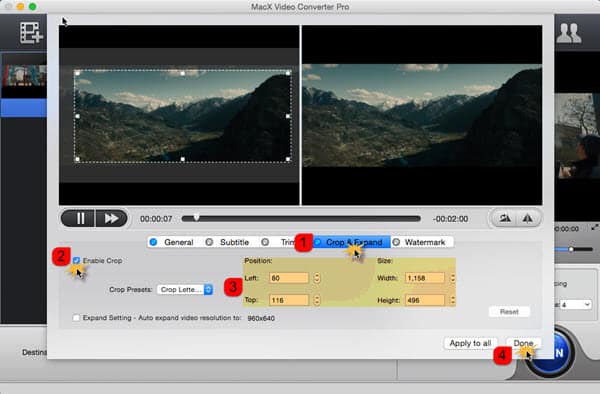 Your may also interested in: Troubleshooting to YouTube problems
Notice: MacXDVD Software doesn't advocate any reproduce, distribute, transmit, broadcast or sell any content for any other purposes without prior written permission of YouTube or the respective licensors of the content. Please refer to YouTube terms of service before doing so.
Edit YouTube Videos on iPhone iPad Android Mobiles
How to edit videos for YouTube uploading on iPhone, iPad, iOS Android? Your iPhone, iPad Android mobile devices can be a mini YouTube video maker with an appropriate app installed. In fact, there are quite a few such apps. Below is a free YouTube video editing app highly recommended by YouTube fans. It works on both Android mobiles and iOS devices, and users can download the app from Google Play or iTunes store.
The Android video editor app for YouTube has more than 100 million users worldwide, and it gets four and a half stars based on users review. The YouTube video maker for Android app does what you expect, trim and merge video clips, add enhancements with music, sound effects, texts, transitions, stickers, etc. With the application, users have the access to share edited video for YouTube to YouTube, Facebook, Line, and more. But the app only allows users to edit YouTube videos free less than 5 minutes. What a pity!
It's great to making a simple adjustment to YouTube videos on iPhone iPad without having to deal with advanced settings. This free YouTube videos editor app for iPhone iPad iPod running iOS 7 or later is designed for it. The application does the following YouTube video clips editing job: trim, merge, add special effects, like music from iTunes store, sound effects, watermark, animated titles, filters, transitions. Editing videos for YouTube on iPhone iPad can be so simple. Only some users reported that the app stuttered and stopped working sometimes.
ABOUT THE AUTHOR