This tutorial centers on resolving streaming video capture on Mac issue like explained below:
"Can someone tell me how do you record any streaming video on the Mac. I know popular sites like YouTube allow download, but most other don't. May someone help me please?" - Seasurfer
The built-in streaming video capture software QuickTime is limited to full screen, which will increase the space of recorded videos, and also will record both the sound from Mac speaker and any background noise from your room. That's why there is an increasing demand for easier ways to reach the goal of capturing streaming video on Mac. Accordingly, this tutorial will share tops ways to help you out.
Best Streaming Video Capture Software Mac Free Download
Available to capture 2160p/1440p/1080p/720p videos in full screen, MacX Video Converter Pro is hand-picked as a top-tier Mac video recorder to record live streamings from YouTube, Netflix, Disney+, etc. at 30fps up to 4K 2160p in high quality. Also, gameplay recording is accepted. Afterwards, you can also utilize it to trim, crop, merge your recording files, add external subtitle to streaming capture file or change its video format/codec to 420+ video format.
1. Use Default Video Capture Software – QuickTime Player
QuickTime Player is definitely the direct way for Mac users to capture streaming video on Mac and record screen displays. In spite of some of its drawbacks, it lets you record the full screen or part of the screen at will. With it, you can record streaming video on Mac up to 2560x1440 at 30fps/60fps.
Step 1. Launch QuickTime Player on your Mac.
Step 2. Click on File on the menu bar on the left side of the screen, and select New Screen Recording from the drop-down menu.
Step 3. Click the caret next to the red record button to pick your audio options.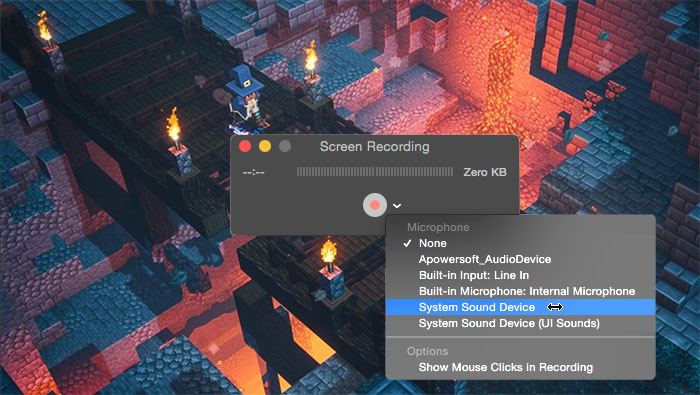 Step 4. Click on the red record button to begin capturing streaming video you are watching.
Step 5. After recording the section you need, just click the Stop button in the Menu bar on the right side of your Mac screen.
Notes:
For full screen capture, you can click anywhere on your screen and then click the prompt. To record a part of the screen, just drag the cursor from one corner of the section to the other, and then click record when prompt.
QuickTime records videos at 30fps by default. If you need 60fps recordings, you can click on Apple menu icon in the upper left corner of your Mac > select System Preferences > Display > Display tab > tick the Scaled option > select Larger Text > click OK.
2. Use Built-in Recorder (hotkeys) to Capture Mac Streaming Screen
On top of the built-in QuickTime video player, the hot keys exist in macOS Mojave or later operating system and can be used to easily screen record live streaming video on MacBook Pro/Air, iMac or Mac Studio without any extra plug-in or add-on. Check how to capture a web stream on your Mac easy as pie:
Step 1. Press Shift + Cmd + 5 on your keyboard. Then an onscreen menu will pop up, allowing you to choose from different recording options: capture a still image, a section of the screen, an entire screen, or a window. Step 2. Choose one recording mode, selected screen capture or entire screen recording. To record the audio as well, click Options and select Microphone.
Step 3. Tap Record button to begin capture live streaming on your Mac screen. To stop recording and automatically save the video, you can click on it. Alternatively, press Ctrl + Cmd + Esc.
Step 4. Shift your attention to the lower right-hand corner of your screen, a thumbnail of the file will appear after you've finished recording. Move the screen capture file to the desired storage location where you can find or share it.
3. Use MacX Video Converter Pro to Capture Streaming Video
Another way to capture live streaming videos on Mac can be achieved with the assistance of MacX Video Converter Pro which is a piece of handy video recording software to record any screen activities taking place on Mac computer. It can capture videos media from video-sharing websites like YouTube, Dailymotion, Yahoo, Metacafe and non-downloadable sides like Hulu, ABC and BBC without slowdowns while making the recorded video/audio quality in original high definition perfectly. Besides, it can crop the video to the aspect ratio you need. Below is how to capture streaming video on Mac using its built-in screen recorder.
Step 1: Click "Screen Recorder" Button.
Free download the screen recorder on Mac (Windows version is also available) and fire it up, hit the "Screen Recorder" button.
Step 2: Adjust Capture Settings.
In this area, you can feel free to customize the screen recording area by choosing "Keep Full Screen" or "Record Region". What's more, before you record streaming video on Mac, you are allowed to choose the quality of video to be recorded, adjust the video frame rate, add sound effect to your video, and more.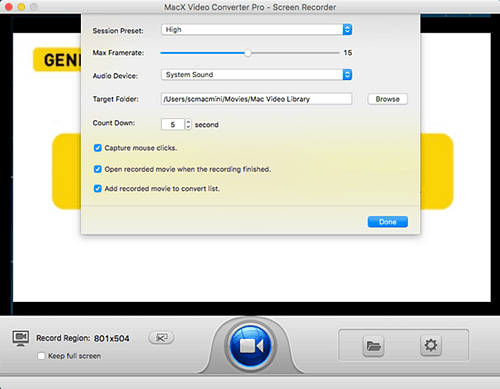 Step 3: Choose the Destination Folder.
Click "Target Folder" button to select a destination folder and save your recorded video.
Step 4: Start Record.
Click "Start Record" button, the program will start capturing streaming video with HQ audio on the screen within a few seconds. You are free to record video game, gameplay footage, streaming movies, and much more.

MacX Video Converter Pro integrates screen recorder, slideshow maker, YouTube downloader, video converter and editor in one tool, which means you can not only record streaming video on Mac but also convert the captured video to MP4, FLV, AVI, MPEG, MOV, etc for playback on iPhone, iPad, Android, etc with world's fastest speed due to the aids of Intel QSV hardware acceleration tech.
4. Download Streaming Videos via MacX YouTube Downloader
To capture live streams on Mac, you can also use the download way. MacX YouTube Downloader is highly recommended as it supports capturing online streaming videos to MacBook Pro/iMac/Air at thunder fast speed. It's 100% free and safe, and will help free download online videos from 1000+ sites in HD/4K quality, no matter you're running on Safari, FireFox, Chrome, Internet Explorer, Opera or others.
Step 1: Download this video capture software for Mac and get it launched. Find the online video to download, copy and paste the URL and click "analyze" to load the video details. Or you can simply click "paste & analyze" button to auto detect the video opened in browse.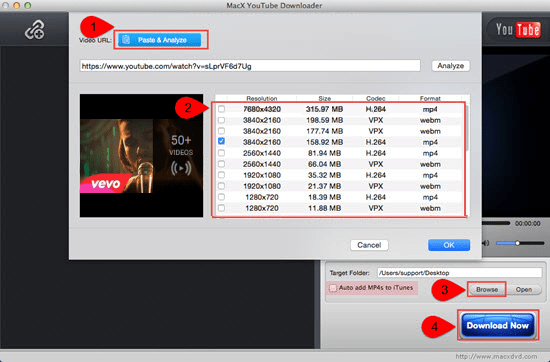 Step 2: Choose video format like MP4, FLV, WebM, resolution and file size you desire.
The same also applies to screen capture Roblox gameplay video on Mac.
5. Record Live Stream on Mac with VLC Media Player
VLC is a free media player but also a streaming video capture software. Seldom did user notice that it also features screen and streaming video recording knack. Some users are afraid of the operation sequence and parameter settings. Actually, VLC is not so complicated as you imagined. If you're not an expert to VLC media player, just keep its default settings and do as following steps to give it a whirl.
Step 1: Open Capture Device
Launch VLC on your macOS and click "Open Capture Device" under Media at the top banner of VLC interface.
Step 2: Choose Capture Mode
DirectShow is the default capture mode. If you don't have any other better capture mode, keep this default mode. The same also applies to the below device selection (video & audio).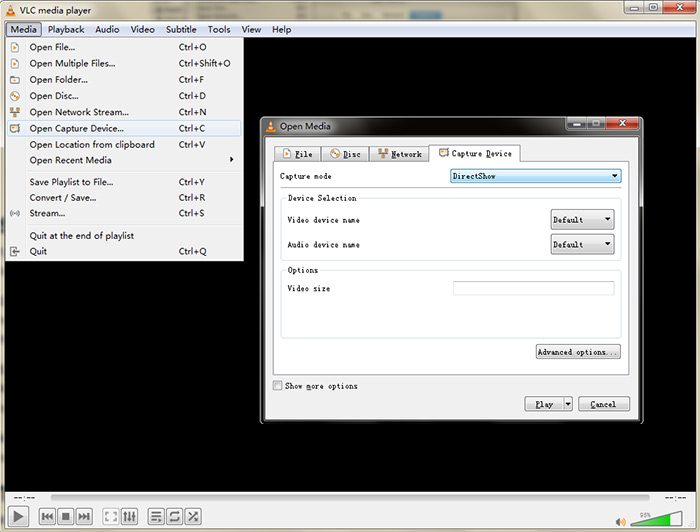 Optional:
"Advanced options" is available for experienced users to adjust picture aspect ratio, video input frame rate, chroma format, tuner frequency, video standard (PAL, NTSC...), etc. Leave it alone if you don't need them.
Step 3: Tap Play drop down button and select Convert option.
Step 4: Click Start button.
Opt for the destination file and name it. Select profile setting for Video + MP3 for video and audio recording and click Start button to begin capturing streaming video on Mac.
6. Free Capture Live Stream on Mac with Screencastify (Chrome extension)
Mac screen recorder software and extensions abound in the Mac market. Among them, the convenient extension is a must mention, since you don't have to download any software on your MacBook, iMac or Mac Studio. Here one Chrome extension called Screencastify is strongly recommended to you, helping you free record and edit live streams quickly and easily and saving all recordings automatically in Google Drive. The live streaming capture file can be up to 1080p resolution and exported to MP4, MKV, GIF, MP3, and more formats at your willing.
Step 1: Open your Chrome browser > click "Extensions" from more tools option under the low-profile 3-dots icon at the upper right-hand corner of your Chrome browser.
Step 2: Search "Screencastify" on extensions window and then install it to your Chrome > enable it.
Step 3: Create a screencastify account and sign in. Then select your capture settings and what to capture. Step 4: Tap Screen button to record live streaming video on your Mac screen.
Step 5: Tap Stop Recording to end the streaming capture. Afterwards, you can download the Mac streaming capture file to your local drive for storage or further editing.
Warm prompt: browser extensions are free and excellent. Yet, there is scarcely a man but has weak side. Some browser extensions, if not all, may be gathering and selling your data to the highest bidder, which is why it's always better to spend 1 or 2 minutes reading the fine print of user agreements before proceeding. Please be more careful if you insist on using browser extensions and meanwhile privacy means a lot to you.
7. Soundflower
Soundflower, as its name supplies, is especially designed to capture audio (2 channel & 64 channel) on Mac. Meanwhile, it can also jointly work with QuickTime to capture Mac screen live streaming with better audio quality. Yet, installing Soundflower successfully is quite a challenging process, since it will ask for your admin password and, depending on which Mac operating system you are using, this password might fail when the first time you run the installer.
Moreover, when you eventually install it on your Mac successfully and use it to capture live streaming on mac, Soundflower might route other audio sound you don't want to keep if your Mac makes any sound — not only the audio you're trying to capture but also notifications and alerts.
Don't decide to ditch away it so quick. Its another good side is that Soundflower runs with very low latency and CPU usage. Thus, you don't have to exit other programs while screen recording.
Step 1: Download and install Soundflower on your Mac with its latest version v 2.0.b2 (last updated on Sep.13, 2021).
Step 2: Launch it and then go to System Preferences > Sound > Output > select Soundflower (2ch) as your audio output.
Step 3: Make a new screen recording through Quicktime (keep in mind to select Soundflower (2ch) as the audio source under Quicktime's recording settings).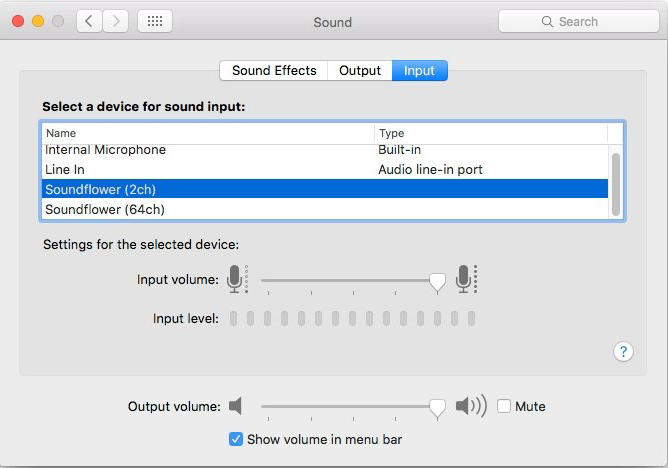 Step 4: Select a recording area of your Mac screen to begin capture live streaming video.
8. Camtasia
Camtasia wins itself a respectable showing as a professional video editing software. Meanwhile, it also helps you free capture streaming video on Mac with audio sound. Unlike the above Soundflower, this screen capture software doesn't require you for admin password for security verification, or for any complicated settings configuration. It's really nice to green hands.
The recorded file will be saved as "camrec" format, which needs to be imported into Camtasia for latter video exporting or further editing. You can seperate audio track from the recorded camrec file if you don't want the audio in your file. Then export your recording as MP4 with whatever resolution, frame rate you need, high quality reserved.
This Mac screen recorder software is placed at the 8th rank not because of its features, but the price for its official license. The purchase cost starting at $249.99, it successfully persuades a large number of users from trying it. If you really adore this Mac streaming capture tool, you can pay attention to its promotion, discount, special offer activities like the recently hot back-2-school promotion. Seize chance to win its full license with big discount to save your budget.
Step 1: Download and install Camtasia on your Mac. Register it with full license. Or choose its trial version.
Step 2: Launch it and go to Tools > click "Record the screen". Step 3: Choose the recording area you want, partially record or the whole screen record.
Step 4: Tap the red button "Record" to begin capturing streaming video on Mac with audio. 9. AceThinker Online Screen Recorder
AceThinker enriches the market with its screen recorder software for desktop, as well as an online screen recorder service. For those who are reluctant to download program on Mac, this online streaming capture service is the very one they need. Yet, some would wonder why this convenient online screen recorder is placed at the last rank. Hold on! I can explain.
AceThinker online screen recorder is damn convenient, without program installation. However, when I test it by myself, the whole procedure is not so smooth as it claims. I was asked to download and install a launcher named Apowersoft Online Launcher after I click the "Start Recording" button on its webpage. I download and install it by its instructions. Yet, the launcher is not responding at all when I re-click "Start Recording" button after installation. I was asked to download this launcher again, again and again. But none of them worked.
I tried the old version (being re-directed to a new page indexed by "free-screen-capture"), no difference. Honestly, it didn't work. That made me wonder if AceThinker intended to guide users to download its desktop software. The online service might be just a gimmick. Certainly, AceThinker online screen recorder just didn't work for me, which didn't mean 100% failure in online screen capture. I just can't figure it out, totally making no sense. If you still wanna give it a try, I'd like to show you its user tutorial and wish you good luck. Now, you might understand why I put it at the last seat.
Step 1: Open your browser > head to https://www.acethinker.com/free-screen-recorder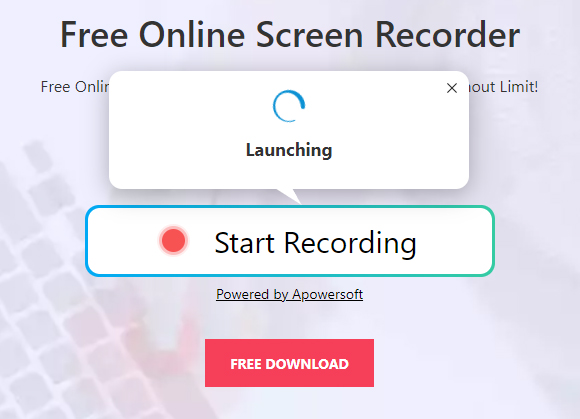 Step 2: Tap the obvious "Start Recording" button and then you'll be asked to download its launcher.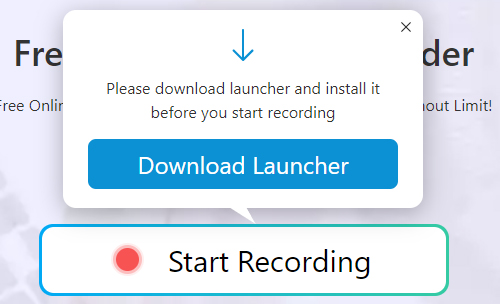 Step 3: Install this launcher on your Mac. Afterwards, run it and then go back to the online webpage.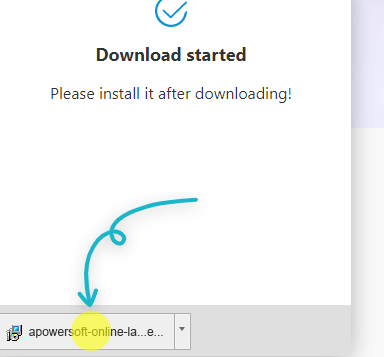 Step 4: Tap "Start Recording" button again to activate its online screen capture feature.
Step 5: Confirm the recording settings and begin to record what you need.
Step 6: Stop and save the recording to computer or directly upload it online.