Popcorn Time is always the one that constantly attracts controversy. See, some say the app is illegal as it's the so-called Netflix's pirates to let users stream movie torrents and watch pirated movies and TV shows. Others insist that it's not really illegal under strict etiquette rules, but unethical actually. Might be more proper to say it's always operated in a legal grey area.
Confronted with such a controversial movie app, beyond doubt, Apple didn't give the official nod to this app. That's why you can't find it in the App Store. But according to the devs, 8,000 people try to install Popcorn Time app on their iPhones on a daily basis. What a huge demand for this Popcorn Time app! How to resolve the contradiction between demand and supply?
Download Install Popcorn Time App on iPhone
Well, the majority of users would think of jailbreaking iPhone so as to install the Cydia. It's undeniable that it's an efficient way to easily download and install Popcorn Time app on iPhone. Supposing you wanna have a try of this solution, first of all, learn how to jailbreak your iPhone iPad and then the whole Popcorn Time app downloading process is easy as winking.
Of course, not all the users plan to jailbreak their iOS iPhone iPad with a view to privacy, security, durability and such like. What if you don't want to jailbreak iPhone or iPad, but have no idea how to get Popcorn Time app on iDevices either? No biggie! Here I show you how to download and install the app using the iOS Installer without jailbreak.
How to Download and Install Popcorn Time iOS App on iPhone iPad without Jailbreak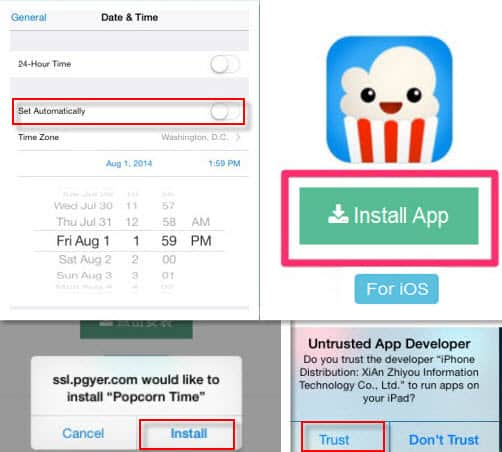 Step 1: Go to Settings > General > Date & Time > Turn off 'Set Automatically' and change the date to August 1, 2014.
Step 2: Open Safari, go to the Popcorn Time iOS app download site, and click on the green box to download it.
Step 3: Press the button "Install" to begin install Popcorn Time iOS for iPhone iPad.
Step 4: Set the date back to 'Set Automatically'. Hit 'Trust' on the pop-up window. Then the job is done! You can finally stream and watch Popcorn Time movies on your iPhone iPad without jailbreak. If it's still not working, follow the tips to download free movies to iPhone.
Popcorn Time Not Working on iOS 14? How to Fix it?
It's mentionable that the above tutorial on how to download Popcorn Time app for iPhone iPad is appropriate for iOS 12 and earlier. If you upgrade to new iPhone or update your iPhone to iOS 14, the app is no longer working, boots up and then crashes or needs a password to gain access. Drive you crazy? Don't be, my friend. You can fix Popcorn Time not working on iOS 14 problem with the below solutions.
Solution 1 - Watch Movies on iPhone iPad Offline
What is your purpose for downloading Popcorn Time iOS app or PlayBox app? Quite clear! Just for watching movies on your iPhone iPad anytime anywhere, right? But remember there is not only one way to make this happen. If you wanna save time and energy and don't intend to be bothered by this or that kind of "not working" problem, then you can try on this once-for-all solution: download free movies to iPhone iPad for offline watching. (also get you away from the endless network jam and cellular data usage)
It's nearly impossible for you to guarantee the place you stay at is awash with signal or Wi-Fi, and once you enter a network-deficient area, your Popcorn Time or PlayBox iOS app is out of run. In such case, only the downloaded movies on iPhone iPad can enrich your entertainment life. So here you can apply the top-notch movie downloader - MacX Video Converter Pro to download free Hollywood Bollywood movies in 4K/1080P/720P from Dailymotion, Crackle, PopcornFlix, comedycentral, Fmovies, MovieMast.in, moviewatcher.to, Mydownloadtube.tv, housemovie.to, Storify, etc. 1000+ movie sharing sites in full length. Also an iPhone movie converter to convert movie to iPhone MP4, MOV, M4V in H264 or H265 codec, edit movie length (trim/crop) and adjust movie resolution, frame rate, etc.
Solution 2 - Download Alternative PlayBox for iOS 14 iPhone iPad
PlayBox, self-boast as the best entertainment app, is the strongest alternative to Popcorn Time. Also as a free yet safe app, this movie app lets users watch movies TV shows on Android, Windows Phone, as well as iOS iPhone iPad (iOS 14 included). Thus, you can watch movies on iOS iPhone iPad on PlayBox app, instead of downloading Popcorn Time app and involving other complex stuff.
Need to remind you that it takes about 24 hours for PlayBox for iOS to get activated but then when it's done you can stream, download and airplay movies to your fashionable iPhone, iPad Pro, iPad mini/Air, etc.
Warm Prompt: The free movies downloaded from online movie sites are always formatted with FLV, MKV, 3GP, VOB, WMV, etc., which are unacceptable for iPhone iPad. In a bid to playback downloaded free movies on iOS iPhone iPad, you need to take advantage of the video conversion feature from MacX Video Converter Pro since this video converter software can help you directly convert movies to iPhone, iPad mini/Air/Pro at No.1 fast speed and intact quality.