For Mac users, macOS Sierra surely brought some innovation like Auto Unlock, Optimized Storage, Siri, Universal Clipboard and many more. But the macOS 10.12 upgrading problems are also inevitable. How about macOS 10.13? What you want to see on macOS High Sierra? The "Hey Siri" voice activation, handoff for iTunes media, Mac App Store update, better split view management, auto unlock with iPhone not just Apple Watch or something else? WWDC 2017 solves all your doubts:
macOS High Sierra Keynotes:
1. Get a boost with new tech. Apple File System that speeds up directory cloning with native encryption; HEVC/VR support; Metal 2 that allows apps to unleash the full power of the GPU.
2. Your favorite apps and features get improved. Updates to Safari which help block site trackers and autoplaying videos; let Siri be your personal DJ etc.
3. New photo-editing tools like curves, and it has better flitering tools to sort images by keywords and faces.
You must get inspired with the macOS High Sierra updates, on the other hand, the macOS High Sierra update issues are also noteworthy. This list of macOS 10.13 problems will show you how to fix common issues about macOS 10.13 update, despite of the macOS 10.13 package download, installation or after installation problems.
Top macOS 10.13 (High Sierra) Problems & Solutions About Upgrading
1. macOS 10.13 Problems: Failed to Download macOS High Sierra Package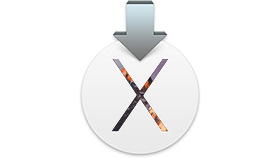 When users attempt to download macOS 10.13 from Mac App Store, there pops up a dialog "An error has occurred" or "failed to download". This makes you depressed, right? How can you update to macOS 10.13 without downloading installation package? Absolutely impossible.
This macOS 10.13 problem troubleshooting is fairly straight forward: Delete any existing macOS 10.13 installer, regardless of the half-download or not. Then reboot the Mac and try again.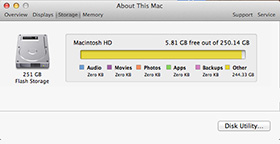 2. macOS 10.13 Update Issues: Not Enough Space to Install
macOS 10.13 requires at least 2GB memory and 9GB of storage space. If you get an error message while installing the latest macOS High Sierra saying that you have no enough hard drive space on your Mac, it means that you need free up disk space on Mac. There are various ways to solve macOS High Sierra update issue about insufficient space on Mac computer, namely uninstall unused applications and app caches, delete old devices backups, delete unnecessary media files from iTunes, empty trash can, clear temporary files, compress large files to smaller size, remove unused languages etc.
However, the initial thing is to make a copy of significant files on your Mac computer. MacX MediaTrans is definitely an expert in this aspect. It allows you to backup photos, music, videos, e-books, voices from iPhone iPad iPod and vice versa. Still the iOS transfer can also use iPhone iPad as an USB drive to save the important files temporarily until you get macOS 10.13 updated.
3. macOS High Sierra Freezes or Crashes When Installing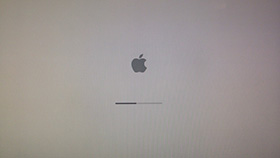 This macOS 10.13 problem might occur while you are installing. If it does happen to you, there are a few things you can fix the Mac OS X 10.13 problem.
a. Uninstall or disable any antivirus programs, as that may be the causing issue.
b. Boot your Mac into safe mode by pressing Power button while holding down the Shift Key on the Keyboard. Then try again to install macOS High Sierra.
4. macOS 10.13 Update Issues: macOS High Sierra Won't Start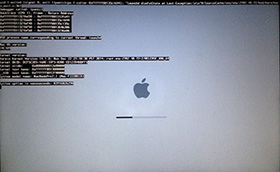 The Mac won't start problem has been occurred on Mac OS X El Capitan and macOS Sierra as well before. If your Mac won't start after you have upgraded to macOS 10.13, you can take some actions like what you did for the former Mac OS updating problems.
Hold down Command, Option, P and R, which will reset the NVRAM. Release the keys until the computer restarts and you hear the startup chime for the second time. The PRAM will be reset as well.
5. macOS 10.13 Problems: iTunes Not Working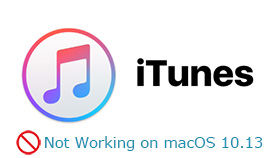 Also as you upgrade to macOS 10.13 and launch it , you may get stuck in iTunes. You find that your iTunes is not available on the latest macOS High Sierra. The Mac OS X 10.13 problem is mainly caused by the mismatching between the iTunes and newly macOS High Sierra. So you can simply update your iTunes to the latest version to solve the macOS 10.13 update issue on iTunes. However, sometimes the solution might not be working either. This time round, an iTunes alternative for Mac is more preferable to backup media files without complicated sync operation, and constantly data loss after sync.
6. macOS High Sierra Problems & Solutions: Mac Runs Slowly after Upgrading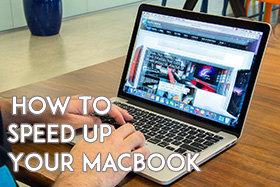 Slow performance is quite common after new Mac operating system upgrade, which happens to macOS Sierra as well. But if your Mac runs noticeably slower, a few ways can be applied to survive you from the annoying macOS 10.13 problem. This slow macOS 10.13 problem troubleshooting can be achieved variously.
a. Reboot your Mac and check whether it works. If not, disable the apps which took too much space on Mac. By the way, you can check the storage usage from Activity Monitor (in /Applications/Utilities)
b. Clear the Caches. Open the Finder window, select "Go" from the top menu and select "Go to Folder".In the text box that appears type /Library/Caches.
c. Running the Repair Disk tool from within Disk Utility may also help speed up Mac in macOS 10.13.
7. macOS 10.13 Problems & Solutions: Apps Are Damaged or Cannot Be Opened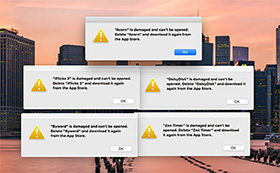 As we know, every time upgrading to a new Mac operating system, there are some apps incompatible with the new Mac OS. macOS 10.13 is no exception. You will find some Apps show "damaged and not be opened" error. For this macOS 10.13 problem troubleshooting, there are two ways: clear caches or update the damaged Apps like DVD ripper for Mac to the latest macOS 10.13 accepted version.
Well, as some apps aren't actually keeping face of macOS 10.13, so you'd better try to clear the caches. Clear the PRAM by restarting your Mac and holding down Command, Option, P and R on your keyboard. If the apps are still struggling to load, hold down the Option and Command keys when you click the app's icon.
8. macOS High Sierra Problems: The WiFi Is Slow or Dropping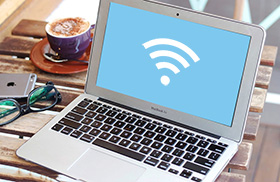 If you encounter a slow or dropping WiFi after upgraded to macOS High Sierra, you need to delete your current WiFi preferences firstly. Reboot your Macbook Pro or Macbook Air afterwards, as well as your modem or router. If you don't know where to delete Wi-Fi preferences, you can find it in the following folders using the Go to Folder command (Command+Shift+G):
com.apple.airport.preferences.plist
com.apple.network.identification.plist
com.apple.wifi.message-tracer.plist
NetworkInterfaces.plist
preferences.plist
9. macOS 10.13 Problems Troubleshooting: Video Problems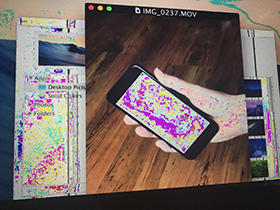 After successfully updated to macOS 10.13, users will still have issues on video playback. The video playback problems can be originated from both in system error and video formats issue. Generally, if you find that your Mac's display starts randomly showing rainbow colors when turned on, especially when it comes to display drop shadows in the system UI, then you need to perform a SMC reset. Take Macbook as an example to reset SMC for macOS High Sierra problems troubleshooting.
1. Shut down the device
2. Plug in the power adapter
3. Hold down Shift + Control + Option on the keyboard, as well as the Power button at the same time.
4. Release the keys and the light on the power adapter will change color briefly.
5. Boot your MacBook normally.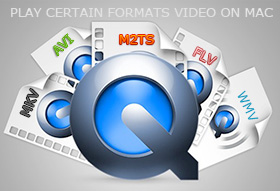 On the other hand, formats issue may also cause video playback problems. For example, certain formats like mkv, flv, mts, wmv, avi etc., are not acceptable for QuickTime on Mac computers. To fix this macOS 10.13 problem, you can fall back on a video converter like MacX Video Converter Pro, which solves videos not playing on macOS 10.13 problems by converting among almost all the 4K/HD/SD video formats without losing quality.
10. macOS 10.13 Update Issues: Mac Overheats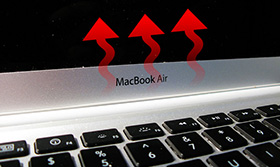 Another problem about macOS 10.13 update is the Mac computer overheats and fans keep spinning, making their machine a lot noisier to use. The cause of fans constantly spinning is if the Mac reaches a certain temperature. The fans kick in to help lower the temperature after you installed macOS 10.13. Actually, the fans cannot cool the Mac sometimes even if they spinning constantly. To fix the Mac overheat problem, you can cool down Mac by stopping Finder from indexing your hard drive or powering off the Mac for a while.
11. macOS High Sierra Update Issues: Safari Crashes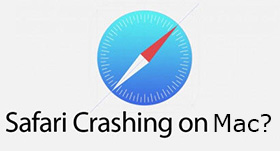 Safari being the essential searching browser on Mac, you cannot imagine how terrible when it's not working. But unfortunately it does happen to macOS 10.13 update. Usually the macOS 10.13 problems about Safari come with the situations that Safari can't find server, unable to load webpage, links don't work, can't render CSS etc.
As for this macOS 10.13 problem troubleshooting, try to exit and reload Safari to find whether it works. If not reboot your Mac computer and try to launch Safari again.
12. macOS 10.13 Problems: External USB Hard Drive/Devices Cannot Be Recognized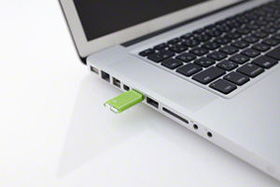 "Hi guys so I have 2 Seagate hard drives that works perfectly well, but when I upgraded my Mac to macOS 10.13, it just suddenly won't read it. My Mac is MacBook 2015." - Apple Support Forum
I found many Mac users have encountered the same puzzles. For this macOS 10.13 update issue of USB devices not being recognized, you can reset the System Management Controller (SMC) on your Mac. Whereas, if the SMC reset didn't solve the issue it may help to reinstall the macOS 10.13 update using recovery mode by restarting your computer and holding down Command+R until the Apple logo appears on screen.
If you've encountered a macOS High Sierra problem that we haven't covered here, let us know in the comments and we'll try our best to find an addressing way of the issue. Meanwhile, check this macOS 10.13 update problems and solutions regularly, as we'll add any new problems we find with macOS High Sierra update.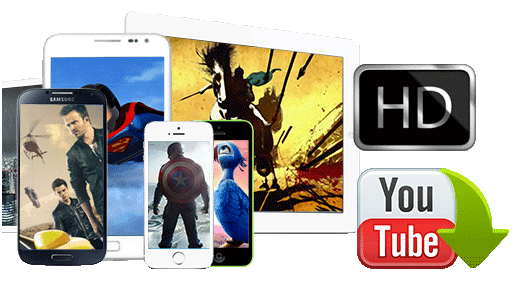 Best macOS 10.13 (High Sierra) Video Converter & Downloader
MacX Video Converter Pro can fix any videos not playing on macOS 10.13 problem by downloading/converting videos to MacBook Air/Pro/iMac on macOS High Sierra.
• Convert All Video Audio Formats: convert any video to over 180 video formats and 14 popular audio formats on Mac OS X (macOS 10.13/Sierra included).
• 350+ Preset Profiles for Apple and Android Devices: convert video file to 350+ portable devices like iPhone 6s/Plus, iPad Air 2, iPad Mini 4, Apple TV 4, etc.