WhatsApp, as one of the most popular apps to send and receive videos, photos and documents, has a billion of daily active users. The massive popularity also leads to occasional annoyances. For example, users may receive WhatsApp video format error message like "Can't send this video choose a different video and try again", "you can't attach this file" or "unable to send file".
This is not only because of the video format not supported by WhatsApp, but also the file size limit. Given this, the post will detail the WhatsApp supported video/audio formats, and show you how to convert video to a file with optimal size and audio/video formats that WhatsApp accepts, especially when you want to send long high quality 4K/HD videos.
Convert Video for WhatsApp Video Format & File Size
Can't send videos to WhatsApp no matter how small it is? Can't upload videos to WhatsApp because it's too long or too large? Just download the best WhatsApp video converter to convert videos for WhatsApp - MacX Video Converter Pro.
Freely convert videos 4K UHD/HD videos among 370+ formats.
Easily compress videos to WhatsApp acceptable size (16MB) with superb quality.
Download videos from YouTube, Facebook, Dailymotion, 1000+ sites.
World's fastest speed. 5x faster than others.
The downloads above are for Windows and Mac only. If you are a mobile user, please click here.
Part 1. Which Video Format Is Supported by WhatsApp?
WhatsApp doesn't accept all video formats. There are limits. Below are the best video formats for WhatsApp, together with the allowed file size. Before you send, share or play a video file via WhatsApp on iPhone, Android, Windows or Mac, check if the video makes the cut.
1. WhatsApp video formats: MP4(recommended), AVI, MKV, 3GP.
2. WhatsApp Video and Audio Codecs: H.264 or MPEG-4 video codec, AAC or AC3 audio codec.
3. WhatsApp Maximum File Size: 16 MB.
4. WhatsApp Maximum Video Length: About 90 seconds to 3 minutes.
* H.264 and MPEG4 cover quite a lot of formats, however, there are also many file formats not supported by WhatsApp. For example, most of the HD and 4K videos that come in H.265 HEVC or VP9 codecs are out of luck. Other videos like windows WMV, MPEG-PS, VPs are not allowed either.
* The WhatsApp video size limit means that you can upload measly short video yet not in very high resolution. Nowadays almost all the videos are in high quality, which in turn creates large file size. A one minute HEVC video 720P HD is as large as 40MB, and the size goes up to 400MB at 4K HD @60 frames/sec, and the situation is even worse for H.264 videos. It is both a pain to share extremely short video, or highly compressed file with lost quality.
Part 2. How to Compress & Convert Videos for WhatsApp
Apparently, you will need to convert incompatible videos into file formats supported by WhatsApp. There are many online video converting tools but these comes with shortcomings, e.g. requirement for internet connection, conversion speed is much relied on network connection, size of the video to be converted is limited for free uesrs, converted file must be downloaded immerdiately, etc. Considering this, desktop software MacX Video Converter Pro is recommended.
First, free download the WhatsApp video converter MacX Video Converter Pro on your computer:
Step 1: Launch the converter and click the + button to load the video not supported by WhatsApp.
* If you want to share and upload videos (or other sites) to WhatsApp, click URL button. Copy the link of online videos you'd like to share via WhatsApp into the box and click analyze to detect the online video. Then follow the same steps below.
Step 2: Once loaded, a window will pop up asking you to select the output format. You can choose any of the WhatsApp supported video formats. Here we recommend you to convert videos into the best video format for WhatsApp: MP4 (h.264+aac).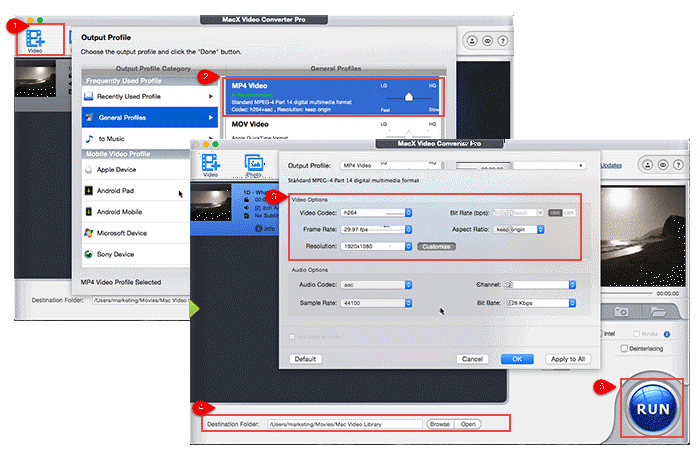 Step 3: To meet the 16MB limit, or to send longer videos, you will need to compress video for WhatsApp.
It allows you to adjust the video parameters like lower the resolution from 4K to 1280p to keep the size down.
It has variety of editing features like trimming, cropping, expanding to cut the unwanted parts.
It easily compressed a 4min47s 1280x720 mp4 (avc) video from 84.7MB into 18.3mb.
Step 4: Click Browse to set an output folder on your computer to save the converted WhatsApp videos. Then hit Run and start to convert 4K/HD files to WhatsApp video format and size. It takes half a minute to convert a 4K music video into WhatsApp MP4 file.

After you convert thoes videos not supported by WhatsApp into accepted ones, the next step is to upload them to the WhatsApp. You can do this on Mac, PC, iPhone or Android. But for mobiles app, this process involves another step - transfer videos from the computer to mobiles. It's no brainer to achieve this for Android users, but not that easy on iOS. To do this, you can also skip the complicated iTunes and transfer files to iPhone with a third-party tool-
MacX MediaTrans
- transfer video, music, photos, data between computer and iDevices in flash (it also converts videos into MP4 directly).