Hi, Downloads are only possible via wifi and not mobile data. I have uninstalled and reinstalled Whatsapp, cleared data, cleared cache, etc. and still not working. Any ideas please?? - treble20
We know how painful it is when you can't smoothly download WhatsApp status video, especially after you spend several minutes or hours on this. You might feel exhausted since a single person's wisdom is limited. Yet, don't be gloomy. There is limitless in people's wisdom. You can solve this "can't download WhatsApp video" problem together with other users. If your solution can't work currently, there is high likelihood that his or her solution serves your purpose. So you're suggested to read on the following methods (provided by intelligent WhatsApp users) and test if they are of use to you.
Part 1 - How to Download WhatsApp Status Video on iPhone iPad
If, unfortunately, WhatsApp is not working and you can't download WhatsApp status video on your iPhone iPad, don't be panic or gloomy. You need to check your basic settings first, including:
* Your iPhone or iPad network connection is turned on or not.
* If the date and time on your device are set correctly.
* Check your iDevice has enough space to save WhatsApp status videos. If not, free download iPhone space cleaner app MacX MediaTrans to free up iPhone space.
* Open WhatsApp -> access to Settings -> Chats -> Chat Backup -> find "include videos" under chat backups -> toggle switch to green.
* Run WhatsApp -> tap Settings icon -> choose Chat Settings -> turn on "Save Incoming Media".
* Navigate to Settings -> Privacy -> Photos -> enable WhatsApp in the list of apps.
After all these settings have been checked, you can proceed to do the next step - download and install status video downloader app called WhatsApp++ on your iPhone iPad, which has the mighty power to free download WhatsApp videos, as well as photos on your iPhone iPad without jailbreaking. Yet, WhatsApp++ is an unofficial tweak so that it's not available in App Store. In general, you can jailbreak your iPhone first to install it. Now thanks to the release of BuildStore, you can easily download and install WhatsApp++ on your iDevice without jailbreak as long as you pay $9.99 each year for your device subscription to BuildStore. Well, how to get this amazing tool and download status video from WhatsApp? Read on please.
Step 1: Uninstall your original WhatsApp on your iPhone or iPad if you've already installed it previously.
Step 2: Create a new account and sign up on BuildStore. Afterwards, register your iPhone or iPad.
Step 3: Visit WhatsApp++ app page on your Safari browser on your iPhone or iPad.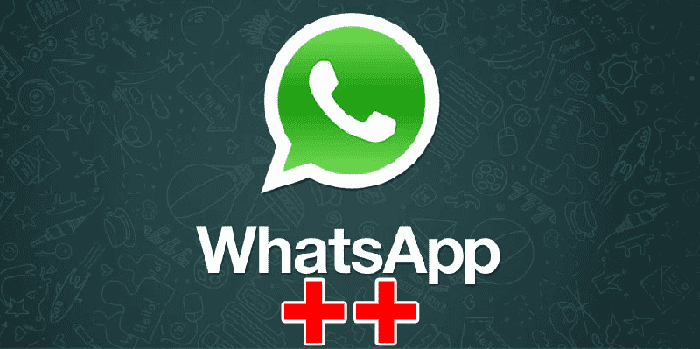 Step 4: Click "Install" button to begin installing WhatsApp on your iDevice. Followed by register WhatsApp with a valid phone number.
Step 5: Launch the status downloader and find the status video file you wanna download on your iOS device. Open and play this video file.
Step 6: Tap on the Download icon and the file that is playing will be downloaded to your camera roll on your iPhone or iPad.
Note: assuming you need to bulk transfer WhatsApp status story videos from iPhone to MacBook/iMac/iMac Pro for playback with 5K retina display or backup such videos on Mac to free up iPhone space, you can consider to use iPhone manager MacX MediaTrans to bulk sync WhatsApp videos, GIF and photos from iPhone iPad to Mac at No.1 fast speed.
Part 2 - How to Download WhatsApp Status Video on Android
Compared with iPhone iPad users, Android users would feel much luckier, for they have multiple video downloaders to choose from, including Status Downloader for WhatsApp, Video Downloader for WhatsApp, Story Saver and more. Similarly, prior to downloading these WhatsApp status video downloaders, you also need to have a check on your settings. On top of the usual check items mentioned on Part 1, you're required to check the below matters, for instance:
* Make sure your WhatsApp is the latest version. If not, upgrade to the latest version.
* Add some new settings to your APN settings.
* If there is enough space on the SD card; the SD card is set to read-only mode and the SD card is usable.
If the above mentioned items are qualified, you can go on downloading the WhatsApp video downloader on your Android now. Here we recommend you to have a try on Status Downloader, rating 4.4 out of 5 based on 6916 votes on Goolge Play, which is able to help you free download WhatsApp status video as well as photos and GIF before disappear in 24 hours. Nonsense aside, follow the below steps to download and use this video downloader to save status video on Android.
Step 1: Open WhatsApp and watch the status video thereon.
Step 2: Launch Status Downloader for WhatsApp and it will automatically scan the status video you're playing.
Step 3: Tap on Download button and that's it.
Note: Generally, this tool's strengths are great and downsides are small. You can use it to free download WhatsApp video or backup WhatsApp photos on your Android phones and tablets. But meanwhile, you might need to endure its commercial advertisements and some minor crashes during the video downloading process. You're free to try other downloaders if you have better options.