Whatsapp, is an cross-platform instant messaging app that allows you to send text messages, give voice/video calls, share images, videos, or other media, documents and user location for free in an end-to-end encrypted way. And here we're taking about sending videos with Whatsapp. An HD video of 30-40 sec will be around 18-20 MB, not to mention the more clearer and crisper 4K UHD videos. WhatsApp video size limit restrains you from sending a too large video to your friends. But what's the maximum video file size can you send in WhatsApp? Here we'll discuss the video size limit for WhatsApp and tips for how to send large videos on WhatsApp.
How to Send A Large Video (Over 16MB) on WhatsApp
WhatsApp video maximum goes to 16MB for sharing to your contacts.What if you want to send a large video exceeding WhatsApp video size limit? Just reduce video size!
MacX Video Converter Pro- can convert and compress video size by changing video formats, adjusting parameters (resolution, frame rate, bitrate etc.), trimming or cropping videos etc. less than 16MB so as to upload to WhatsApp.
What's the WhatsApp Video Size Limit 2022?
When you're trying to share or send a video to your contacts using WhatsApp, you may encounter WhatsApp not working on iPhone Android and get a message that says "The media file that you have selected is larger than 16MB. Unable to send file". That means whatsapp doesn't allow you to send a media file more than 16MB, not only for videos, but also image, voice note and so on. Actually WhatsApp video size limit is used to be 12MB, and lately in 2022 it was slightly increased up to 16MB. And on most photos, this will equal about 90 seconds to 3 minutes of SD videos. But for HD videos, it can be much shorter.
How to Send Large Video More Than 16MB Using WhatsApp?
If you have a video exceeding WhatsApp video size limit, namely more than 16MB, can you send it to your friends? Of course. But you need overcome the video size limit of WhatsApp, or more precisely reduce the video size before sharing large videos on WhatsApp. And owing to WhatsApp is available on cross platforms, there are different ways to compress video size.
1. Compress video on Mac/Windows PCs
If you're used to sending large videos with WhatsApp Web version, you can compress video file size on Mac and Windows computer in advance.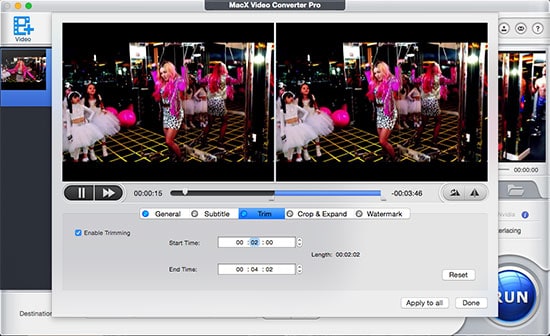 To do this, MacX Video Converter Pro is a nice option. It's an easy-to-use but mighty video compression software and video editor, offering various solution to reduce the video file size, such as trim the length of video, downsize the video resolution, crop unnecessary frame area, change video aspect ratio, or lower the video's bit rate and frame rate. Still, it also competent to convert large size video format to smaller, such as MKV to MP4, M2TS to AVI etc. to compress video and make it available on WhatsApp.
Easy steps to convert and compress large video to WhatsApp:
Step 1. Open the program and click + Video to load your oversized video.
Step 2. Choose output format, MP4 (h264+aac) is suggested, and click OK.
Step 3. Click on Edit button and do some editings to resize video to smaller:


Click on Trim and tick the box of Enable Trim to cut off the video length. Click Apply to all.


Click Crop & Expand, and Enable Crop to adjust the frame size. Click Apply to all.
Step 4. Click on Gear icon, set the parameters like resolution, bit rate, aspect ratio, audio etc. and click OK.
Step 5. Tap RUN icon on the lower left to compress the large video within WhatsApp video size 16MB limit without quality loss. Now you should have no issues with uploading large videos to WhatsApp.
2. Shrink video file size on iPhone iPad
In iPhone and iPad, you can use the Photos as the built-in WhatsApp video trimmer, which means you can cut/trim off unwanted contents, or even you just want to extract a segment from an existing video and save as new clips.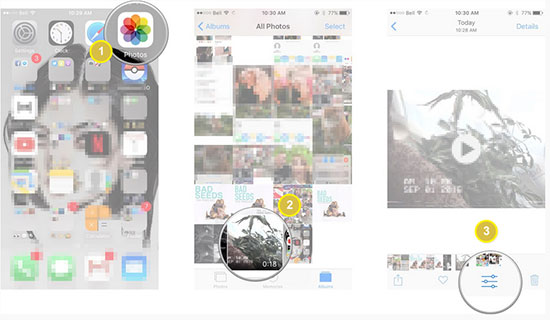 1. Launch the Photos app, and tap the video you'd like to edit.
2. Click the edit menu on the bottom of the screen.
3. Tap and hold on the left or right side of the timeline to engage the trimming tool.
4. Tap and hold an anchor to expand the timeline for more precise editing.
5. Tap Done to trim video into segments. We can save the trimmed segment as a new clip or to replace the original clip.
3. Reduce video file size on Android
On Android, you can fall back on the WhatsApp for Android built-in trimmer to cut and reduce the video video to less than 16MB. For example, if you want to send some video of 50 sec in 30MB, you can cut it into two segments of 15MB and 25 seconds each. If you don't want to cut videos in segments, you can choose commonly used Video Converter Android app to reduce video size for WhatsApp.
1. First download and install it either from Google Play or iTunes store, then open it.
2. It'll directly scan your device for videos, otherwise you can also load video manually.
3. Select the video you want to compress, touch the Convert button.
4. Select Manual profile, and then choose the desire option about container, start/end time, resolution, bitrate, size etc.
5. Start convert and reduce video size.