Top 4 iOS (14) File Managers to Simplify & Manage iPhone iPad Files
By Rico Rodriguez to iOS Tips, iOS File Manager | Last Updated on June 22, 2023
iOS 17 Update bricking your iPhone iPad or not? Sucessfully upgrade iOS 17 to iOS 16? If so, congratulations, you can enjoy more new features on the breakthrough iOS 17. Plus, learn the tips and tricks of how to better and easier manage iOS 17 files on your iPhone iPads. Here top 4 iOS (14) file managers are selected here for those who want to get full control of their files. Download file managers here below and try them out!
A good manager is always needed no matter for football clubs national teams or just your iOS 17 devices to perform well at every stage. So here 4 best iOS file managers are selected for different user groups respectively to access and handle iOS files easily.
Most Efficient iOS 17 File Manager – MacX MediaTrans for Quality Seekers
MacX MediaTrans is a desktop iOS file manager for iPhone/iPad/iPod installed on Mac. It can manage your iOS 17 4K videos, music, playlists, photos etc. Considerate and meticulous file classification/editing, speedy two-way file sync for backup & takeaway will make you jaw-dropping! Best of all, it is the best assistant for you to prepare for iOS 17 upgrading without troubles, enabling you to backup iPhone iPad iPod by transferring the media files to Mac in a flash.
Free iOS 17 File Manager - i-FunBox for Freeware Lovers
iFunBox is totally free! And you should know it's free for a good many reasons: As rated the top iOS file explorer on Lifehacker, this iOS 17 file manger's advertised main features are:
• Batch install & uninstall apps
• Wi-fi connection
• an .ipa package backup
• Mount iPhone as flash drive
• Access saved games, app settings, and transfer documents to third-party apps
• Change image resolution, and preview them as wallpapers on iOS 17 devices
• Copy music and videos from your iOS device to your Mac/Windows.
• Shortcuts to the most frequently accessed parts of the file system, like app document folders, ringtones (some are jailbreak-only)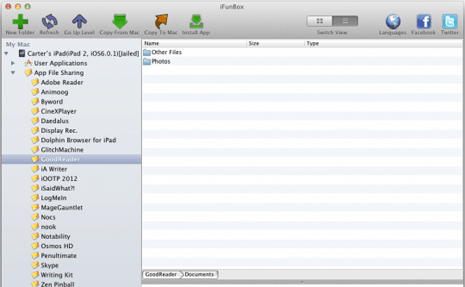 Though this iOS 17 file manager allows users to free access file systems of any iOS device and transmit files to/from iOS 17 devices, you cannot use i-Funbox to import songs into a particular playlist, nor can you choose to skip exiting items. The latest version of i-FunBox cannot properly detect/recognize data or files in iOS 17 device like video files, songs, and it only allows users to view 500 photos at most (for storage-expanded iPhone, this is miserly). Besides, popular audio formats like WMA, OGG, FLAC transferred by iFunBox won't be playable on iOS 17 devices.
Popular iOS 17 File Manager - iExplorer for Conventional Users
$39.99
Well-reputed iExplorer is very popular among all the iOS 17 file managers, but frankly speaking, aside from its clear interface and thorough detection of iOS 17 files, there's not much surprise as a regular iOS system manager – transferring iOS files to computers for backup management. If that's more of what you need, this iOS file manager can help yet at a relatively high price.
Drawbacks:
* iExplorer free version requires you to install QuickTime player and if you don't, iExplorer may pop-up problems;
* iTunes installation is required if users want to start iPhone listener process;
* Slow loading: see the screenshot above? It loads iOS 17 photos like years!
Above all, drawn from our test & review, the most recommended iOS 17 file manager for each user group is listed. Among them, MacX MediaTrans is the fastest and most professional one offering arrays of utilities yet at a comparatively low cost, if you are a true quality user, then you shall not miss this iOS 17 data transfer backup tool.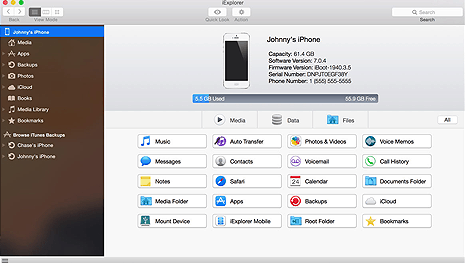 For USB drive function, this iOS manager turns your iOS 17 device (jailbroken or not) into a virtual USB drive for storing and securing your PHD, compressed files, CAD, HTML, presentation, ebooks, movie music files etc. Or even better, run portable apps, games, or install Windows system on MacBook. Anything a USB drive can do, your iOS 17 device can do better. Download and try it free now!
Related Articles and Tips