Best iPhone Flash Drive to Easily Transfer/Store iPhone Photos, Music, Video, etc
By Rico Rodriguez to iPhone Management | Last Updated on Sep 17, 2023
Desire to find out a suitable iPhone flash drive to transfer data from iPhone to computer/iPhone/iPad/iPod or only store more files & apps? Suprisingly, top best flash drives for iPhone are listed as below. Better yet, you also can learn the most econimical way to transfer iPhone data - mounting iPhone as flash drive.
Apple updated iPhone storage space to attract more users and make the new generation iPhone more easy to use. According to sales data, over 60% people who have pre-ordered iPhone 7/7 Plus choosed 128GB storage option. It seems like they don't need to extend iPhone storage space or buy extra external hard drive to transfer and store data on iPhone in common cases. Perhaps, you may change your thoughts with the increase of files like 4K/HD 1080P/720P/SD, movies, tv shows, photos, music, etc.
And undoubtedly, 16GB/32GB iPhone users are more likely to buy extra USB flash drive for storing and transferring files on account of limited storage space. Next, we not only give you suggestion about top iPhone flash drives on the market, but also teach you how to turn iPhone into USB drive.
Most Economical iPhone Flash Drive for iPhone
Some people may be confused when reading above title and wonder how to make his/her iPhone into a flash drive. In fact, the purpose for 128GB/256GB iPhone users to purchase flash drive for iPhone is transferring files when there is no internet connection. Honestly, you needn't spend money to buy a proper professional USB flash drive. Instead, your iPhone could be the best one.
MacX MediaTrans, one of the most welcomed free iPhone mounter, is able to effortlessly mount iPhone as USB flash drive to store any file (Word, Excel, PDF, dmg, apps, videos, music, etc) just like a USB drive. Commonly, flash drive is tiny and easy to loss. So, backuping data on iPhone is more secure and convenient. But above all, after copying files to iPhone concealed space, you also can move the backuped files to computer and then transfer data to another iPhone iPad iPod with the aid of this iPhone file manager if necessary.
How to Painlessly Mount iPhone as a Removable Flash Drive
To use iPhone as USB hard drive, you need download this iPhone mounter on your Mac (macOS Big Sur included) at first. If you are a Windows user, you ought to turn to Windows version (Win 10 supported). Now, follow the below simple steps.
Top 2 iPhone Flash Drives That You May Need
As we have mentioned before, 16GB/32GB iPhone users are more eager to purchase a suitable flash disk for iPhone or iPhone flash drive app to backup files. But usually, the storage space of iPhone flash disk app is limited. Hence, here we choose top 2 best iPhone USB drives from thousands of USB drive for your consideration.
1. Omars 32GB USB flash drive with lightning connector
Price on Amazon: $36.99
Color: Gold
The main reason to recommend Omars 32GB iPhone flash drive is that Omars product has been tested and certified by Apple. Therefore, you will not get the error warning message when you plug a flash drive into an iPhone. In this regard, it is more practical.
Main features of Omars 32GB flash drive for iPhone:
* Standabke A male connector for power input and data brigde between SD Card and PC.
* Compatible with lots of iOS devices including iPhone 6 / iPhone6 Plus iPhone5 / 5S / 5C / iPad mini / iPad mini Retina / iPad4 / iPad Air / iPod touch 5
* Transfer rate: 10MB/s at USB and 6MB at iPhone.
* Diversified file management function: view, create, copy, move, delete, rename, open in, etc.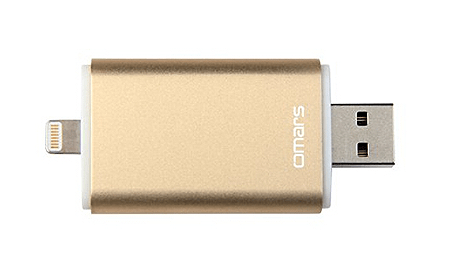 2. SanDisk iXpand 64GB 2.0 mobile flash drive with lightning connector
Price on Amazon: $69.98
Color: Gray and white
The most delightful feature of this SanDisk iPhone USB drive is that it allows users to watch popular-format videos directly from the drive without any accessories. Though its price will be little higher than the other USB drives for iPhone, in addition to its larger storage capacity, it also can auto sync photos and videos from the camera roll when connected.
Main features of SanDisk iXpand 64GB 2.0 iPhone flash drive:
* Freely copy photos and videos between iPhone, iPad, PCs and Mac computers.
* Supported video formats : wmv, avi, mkv, mp4, mov
* Able to encrypt files across iPhone, iPad and computers for secure iOS backup.
* Free up space on iPhone iPad.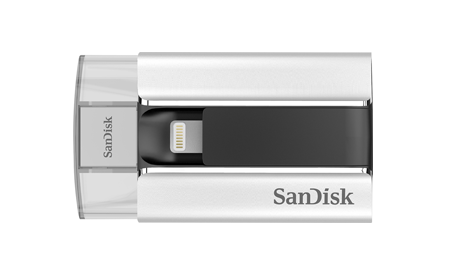 Related Articles and Tips