Hulu always stops working. It can be hard to pin down exactly what is causing streaming issue. To save yourself a headache, we list most common Hulu not working problems, like Hulu not loading, network error, slow/choppy/buffering video playback, Hulu crashing/freezing etc. and how to fix them. Before you decide to stop subscription, try these quick fixes.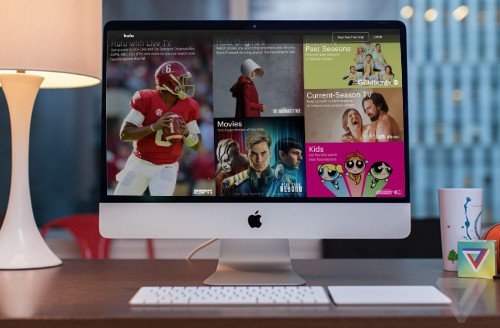 To Avoid Hulu Not Working Issue, Try
MacX Video Converter Pro, a solid Hulu video downloader and recorder software to help you get rid of Hulu not working problems, like Hulu network error, freezing/buffering etc. isues by recording/downloading Hulu 4K/1080p HD movies or TV shows for offline playback on Mac, PC, HDTVs, iPhone, iPad, Xbox One, PS4, Android smoothly.
1. Hulu is down
Hulu is having issues since November 14. Hulu is down, saying "this channel is temporarily unavailable. The Hulu is working to restore this channel for you." It's a nightmare for users who subscribe to watch Sunday night football but end up with streaming issues with live NBC. These users can turn to other sports streaming sites like ESPN. Many users are also experiencing not working problems such as Hulu not loading, network error, watchlist not updating, "cannot open the page", "unable to log in", "we are having trouble continuing right now, please close Hulu and try again."
Go to downdetector or a similar site to check if other users are having the same Hulu down issue or to see if there's any official statement from Hulu. If Hulu is down, you can do nothing but wait until Hulu solves the issue.
2. Hulu Network Error
"For the last a few days, whenever I open the Hulu app, it sits on the loading screen and then pops up a message - Sorry, Hulu encountered a network error." Is anyone else having the same network error? If you are having Hulu network error, try steps below. For users who have internet limit, please resort to a program to download Hulu videos for offline watching on TV, iPhone iPad, Xbox One, PS4, Android etc. device offline.
Make sure that your network supports Hulu streaming and Hulu is not blocked.
Check if your network has limited bandwidth.
Try a different network to see if streaming issue is resolved.
Disconnect your device from network, restart your network and improve your Wi-Fi signal.
Some users reported they fixed Hulu not working with network error after they downgraded the app to a previous version.
Related: Neflix not working fixed, Troubleshooting tips for Instagram not working
3. Slow, Choppy, Buffering Playback on Hulu
Different from Netflix that auto changes between HD and SD quality according to situations, Hulu streams videos at a constant quality. If you have slow download speed or an inconsistent wireless connection, you'll have slow, choppy or buffering video playback issue on Hulu. To stream video on Hulu smoothly, make sure you have met its requirement.
SD video - Minimum download speed is 1.5Mbps
HD video - 3.0 Mbps download speed or higher.
Hulu with Live TV - 8 Mbps or higher
4K UHD video - 13 Mbps or higher.
If your download speed and wireless connection are fine, try the following tips to fix Hulu slow/choppy/sluggish/buffering streaming issue.
Disconnect other devices from the network.
Connect your device to your router with an ethernet cable.
Improve the strength of the network, which is also mentioned to solve network error.
Lower the video quality setting.
Disable hardware acceleration in Flash.
Rebooting your device, restart the app, pause the video and resume playing.
Try a different device to play video. Sometimes Hulu is not working on iPhone but fine on Xbox One or PS 4.
4. Hulu Playback Failure 5003
Error 5003 is a common error code appearing when watching Hulu on Apple TV, Samsung TV, Vizio TV, Xbox One, iPhone etc. devices. Some users fixed the error 5003 by holding down menu and play button, and restart TV or other devices. Here are some tips that may help fix playback failure 5003.
Restart your device and router.
Force quit app and reopen it.
Make sure your internet connection is fine.
Related: Solve YouTube not working on Apple TV, how to stream 4K on Apple TV, Samsung/Vizio/Sharp 4K UHD TV.
5. Hulu App Crashes/Freezes on TV, PS 4, iPhone Android etc.
Hulu app keeps crashing on SmartTV. I have both Netflix and Hulu apps on my Samsung Smart TV. The app keeps randomly resetting itself when the commercials part comes in the app. I searched on some forums and noticed that Hulu also crashed or frozen on Apple TV. on Ruku What's wrong? If you are experiencing Hulu crashing/freezing issue when streaming video, try the following tips.
Check your network and download speed.
Reboot your device to get Hulu working again.
Clear your browser cache, or try a different browser to see if Hulu not working issue is fixed.
If you have Hulu crashing issue when the commercial ads come on, disable your Adblocker to fix the streaming issue.
6. Hulu Video Cannot Load
"Hulu refuses to load on Apple TV (3rd and 4th generation) and Roku."
"I'm watching Hulu on Samsung Smart TV. The app won't load and in a loop from load failure."
Hulu related forums are flooded with video not loading errors. If you have trouble loading errors, use steps below.
The first thing you need to do is still to check network.
Try another web browser like Safari, Firefox, or Chrome to see if you have Hulu not loading error.
Reboot router and your device.
Deactivate and reactivate the app on your device.
Check for any software update available on your device.
7. Hulu Video Audio Playback Issue
Many users have audio video sync issue or video/audio missing when streaming Hulu/Hulu Plus. It can be very frustrating. If you are one of them, follow these tips for audio/sound issues on Hulu.
Make sure you have correct video/audio settings on Hulu player.
Check your device speaker volume and settings.
Restart your browser, app, or device and try to play video again.
Clear your browser and Flash cache.
Try to replay the video from the beginning.