Why does my screen go black while watching Netflix - Quora
Using Netflix the screen randomly goes black, audio and subtitles still work fine while the image is gone. The only way I found to restore it is doing a rewind or a forward in the movie. I have updated to the latest appletv software and the problem persists. - Apple Discussion Forum
Netflix subscribers constantly complain they won't see anything but a black video screen with audio playing in the background. Even though they reload Netflix again the error remains the same. Considering so many users are subjected to the Netflix black screen error when watching Netflix movies or TV shows, this guide will briefly list the possible reasons and feasible troubleshooting steps to the Netflix black screen error so that you can normally watch Netflix on Mac, PC, TV, iPhone, iPad, PS3, etc without error.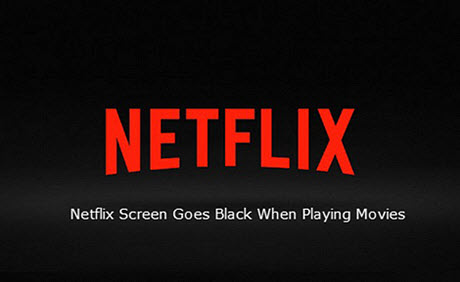 To Avoid Netflix Showing Black Screen, Please Try
MacX YouTube Downloader [100% Free and Clean]:
A totally free software to aid you get rid of Netflix black screen problem by recording Netflix 4K/1080p HD movies or TV shows for offline playback on Mac, PC, iPhone, iPad fast. Also support download streaming videos from Facebook, Dailymotion, Vevo, etc. 1000 video sharing sites.
Possible Reasons: Why It Shows a Black Box on Netflix?
If you try to stream video over Netflix but end up getting a black screen error. The following 5 things known to cause the error are listed:
1. The Netflix app or device itself. It might be the culprit that leads to the error.
2. Poor network connection. A black screen on Netflix when trying to play a movie or TV show typically puts down to the poor network connection.
3. Cookies and caches. If the browser memory is full of cookies and caches, it won't play Netflix movies normally and displays a black or blank screen.
4. Conflicted or outdated plug-ins. Some plug-in such as Silverlight is reportedly responsible for the issue.
5. Anti-virus software or adware. It may interfere with the player Netflix uses to play movies or TV shows, thus making the image disappear from Netflix or won't play.
Troubleshooting Steps: How to Resolve Netflix Black Screen Issue
Knowing the specific reasons that Netflix goes black screen will makes the issue solved much more easily. Still on the page? Move on and try the following effective ways below in order to solve the problem.
1. Restart your device.
This is one of the most effective yet easy ways to get the error fixed.
2. Sign out of Netflix or reinstall Netflix app
Go to Netflix home screen > navigate up and select Settings or the Gear icon > select Sign out > click Yes to confirm > then sign in as a different Netflix member.
3. Make sure a strong Wi-Fi signal or internet connectivity.
Frequently buffering or loading, trouble playing a movie or TV show on your device, etc generally indicate a slow or intermittent internet connection. If you are unable to connect to Netflix, please go to Netflix connection troubleshooting steps for help.
4. Clear Cookies and browsing history.
Go to Netflix cookies to clear the Netflix cookie. Please note this will sign you out of Netflix. Don't worry, just sign in to log back in and play movie or TV show again.
5. Restart your browser.
Just quit your browser and restart it. It is reported to clear the issue and get Netflix playing movie or TV show again without problem.
6. Try another browser.
As it is mentioned above the extension, plug-in or add-on may cause the Netflix Black screen error. Sometimes, a new browser will get around this.
7. Uninstall and Reinstall Silverlight plug-in.
If you can watch normally with another browser, it indicates the Silverlight plug-in is blamed for the issue in current browser. Just update the Silverlight plug-in or reinstall it as it might be outdated or corrupted. To do this, you can:
For Mac users, quit all open browsers > Click Finder icon from the Dock > select Go > select Computer > click Macintosh HD icon > select Library > select Internet Plug-ins > drag Silverlight.plugin into the Trash > click Trash >select Empty > sign in to Netflix and press play on any title > follow the prompts to download and install Silverlight on your Mac.
For Windows users, quit all open browsers > tap Settings > select Control Panel > select Uninstall a program underneath Programs > select Microsoft Silverlight > click Uninstall.
8. Remove adware or anti-virus software
Just quit your anti-virus or adware software and play your TV show or movie again to see if Netflix works with normal screen playing.
9. Troubleshoot Hardware connection.
If you see a Netflix black screen when you playing a movie or TV show on Xbox or PS3, there might be an HDCP issue that prevents from playing your content.
1). Ensure you are using an HDMI cable.
2). Connect your device to TV via bypassing receivers or stereo equipment.
3). Try a new HDMI cable.
4). Try another HDMI port or TV, if available.
10. Contact Manufacturer.
If nothing helps and still see a black screen on, e.g. Sony BDP-S590 when launching the Netflix app, contact your device manufacturer or use a different Netflix-enabled device to get you streaming again. As your device may experience a hardware or software issue that only the manufacturer can fix.