When we shot some videos, we will want to cut out the undesirable parts, split the footage, add some special effects, or make the videos perfectly fit websites or mobiles. In most cases, we don't need too much heaving editing to express our idea. Instead, we would want some light and quick way to do the editing. That's what free online video editor can do for you. You can find many results on Google, but if you want to edit videos online free with no watermark, with no download or for YouTube, this post has all you need.
Online Video Editors Slow and Unstable?
Try the free desktop solution - macXvideo. It removes the watermarks, signup or slow speed processing HD/4K videos with online video editing programs. Cut, trim, split, merge, rotate, compress, resize, transcode, add effects, adjust colors etc. A light and 100% free video editing app for 4K/5K/8K UHD videos.
1. YouTube Video Editor
YouTube video editor has been discontinued since September 20, 2017, but some editing features are available. Now you can still trim clips, add effects and music, rotate videos, stabilize the video etc. This free online video editor for YouTube requires you to login to your YouTube and Google account. It's best for those who edit videos for uploading to YouTube.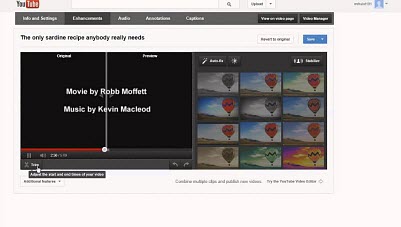 2. WeVideo
WeVideo is a cloud-based video editing tool where you can create, edit, view and share videos in one place. The video editing app online supports up to 600 formats of video, audio and graphics like ProRes, DV, AVCHD in different resolution. To note that it's a good video editor for 4K UHD. If offers a slew of professional editing features like slow motion, text, motion titles, screen casting, and many others. You can share the edited videos to YouTube, Vimeo, FaceBook and several more.
However, with the free account, you can only get 5 minutes of watermarked video per month, 1GB of cloud storage and a maximum resolution of 480P. You can upgrade to the paid version which starts from $4.99/month.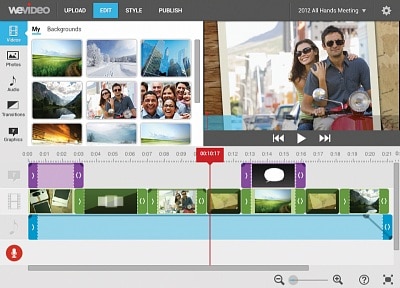 3. Online Video Cutter
For those who want a free online video editor with no download or watermark to do simple editing, try Online Video Cutter. As its name suggests, the app is mainly used to cut a video for free. You don't need to pay, register or enter your email. Simply upload up to 500MB video from your computer, Google Drive or website URL and start the cutting. The site supports videos in any formats. You can cut away the unwanted parts, crop the video screen and rotate the video. There aren't many editing options available, but it's extremely straightforward and easy to use.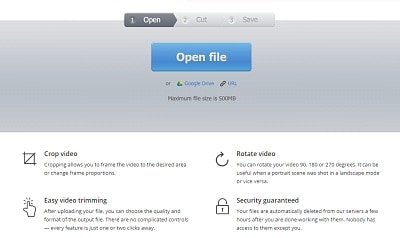 4. Kapwing
Kapwing is a freemium online video editing program with a suite of useful tools. It contains a slew of editing options like meme maker, subtitle marker, sound effects editor, filters, resize video, add images, trim videos and more. All the features are simple and free to use, with no annoying ads. After you edit video online for free, you will get a link which you can access or download the editing.
The editor requires no registration or installation, but there are things to note. First, you're allowed to upload up to 80MB, or add links from websites within 8 minutes only. Second, there will be a watermark on the final video. To remove the watermark, you can pay $6 for an editing, or $20 a month. 5. VideoToolBox
To free edit videos online with no watermark or download, the free online editor VideoToolBox is ideal for the task. The free online editing app will let you add watermark, cut, crop, merge, record videos, extract audio, add subtitles... You can also convert videos to popular formats like 3GP, AMV, ASF, AVI, MOV, MP4, MPG, VOB, etc. Once you register, you can upload up to 1500MB of video files and apply use these features for free. The biggest complaints about VideoToolBox are the outdated interface and annoying ads.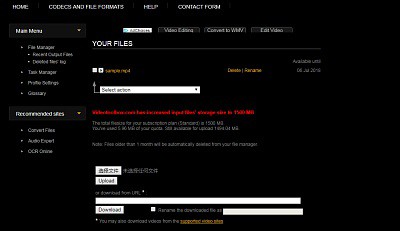 Other free online editors you can try: Kalturan, Shotclip, Mixerfactory, Magisto, MixMoov, PowToon, Wideo
Online vs Desktop Video Editor - Which is Better
When users search for a web-based program to edit videos free online, some may also want a good editing program to do it on computer offline. If you're not satisfied with the performance of online video editors, you can switch to the free apps as they will provide more benefits.
Feature

Desktop

Online


Pros

1. No need for internet connection
Faster video processing speed
More editing options available
High quality ensured
No watermarks or registration

No installation
Requires Internet
Access from any device

Cons

Need installation
Based on a single device

Slow upload speed
Limited upload size
Limited editing options
Limited output quality
Best Free Video Editor to Download on Computer
There are many choices of desktop video editing software, like iMovie. But if you have to ask which is the best free video editing program? We will recommend you a new rising program - macXvideo.When you can edit videos well in iMovie, you can edit videos fast and well in macXvideo.
A 100% free video editor being professional in editing HD, 4K, 5K and 8K Ultra HD videos;
Videos in any formats like ProRes, HEVC, AVCHD, MTS, H.264, DV & HDV, etc, any huge sizes are accepted;
Flexible options to adjust the frame rate, resolutions, bitrate, codecs, video quality, other parameters;
Rotate, trim, cut, merge, crop videos, adjust video speed and color options, add effects, subtitles, and more;
Export videos in SD, HD and 4K UHD quality, compress output sizes by 90% without quality loss;
The only free video editing software that applies Intel QSV, AMD and Nvidia acceleration in whole video editing, 5x faster than other desktop apps and far faster than online video editing tools.
The steps editing videos with the desktop app is just as easy as the free online video editors. You can get the editor (48MB) download faster on computer than you upload a longer or bigger video to online editingn sites.


Free download macXvideo (compatible with macOS High Sierra and eariler)
Step 1: Tap + Video or simply drag-and-drop any video you want to edit to program window.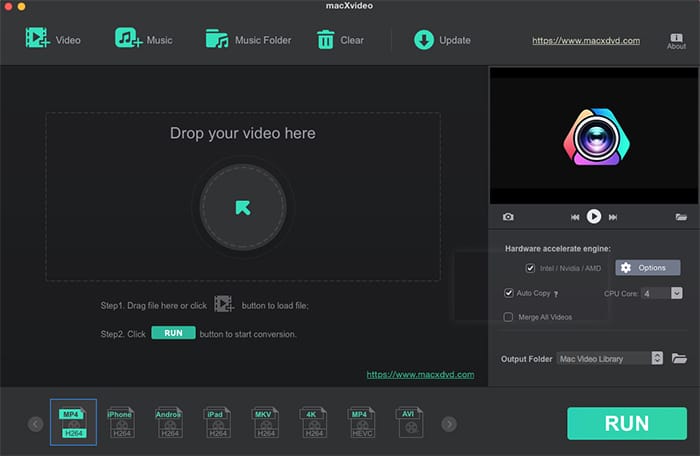 Step 2: The video will be instantly loaded. Click the video editing menu displayed below the video and enter into the editing window. Here you will see the video options like Effects, Subtitles, Crop, Cut etc. Click the button and apply your editing.
Step 3: If you want to adjust the video parameters to compress the video size, change the video quality or codecs, click the button with a Gear icon. After that, you may want to select an output format from the profiles if you're editing videos for YouTube, FaceBook, iPhone, iPad etc. Then click RUN.
Note: Don't forget to enable the harware accelerate engine Intel/Nvidia/AMD on the interface. This will take advantage of the strong graphic processing power of GPU processor in video editing. The hardware acceleartin tech not only ensures a 5x faster processing speed than free online video editors, but also relieves CPU from the burdensome task to let you perform other task during the editing.