Windows Movie Maker (WMM) is a free video editor on Windows to let users do a lot of editing tasks easily, though it was discontinued on January 10, 2017. When users need to edit videos on Mac, they will always ask for a Windows Movie Maker equivalent for Mac to download free. Of course, there are many advanced and complex video editors on Mac that can make better movies than WMM, but in this post, we will show you the best free alternative to Windows Movie Maker for Mac that works equally well.
Basics about Windows Movie Maker
The free video editor for Windows, included in Windows Essentials or Windows Live Essentials, is no longer available for download. You may free download Windows Movie Maker from third-party websites, but it lacks the support from Microsoft. WMM is extremely easy to use for novice editors. You can do a slew of simple editing tasks like rotating, adding effects or titles etc. To be specific, with Windows free video editor, you can use the following tools.
Best Windows Movie Maker Alternative for Mac
On Mac, there is also a default video editor - iMovie. Is iMovie the best Windows Movie Maker alternative for macOS? Not exactly. Compared to iMovie, WMM is more user-friendly. As for the best Movie Maker equivalent on Mac, we will recommend you macXvideo - a 100% free and lightweight video editor.
It supports videos in any formats, including 4K and HD formats like ProRes, HEVC, AV1, H.264, VP9, AVCHD, MTS, DV & HDV etc.
Rich editing options to trim, cut, split, rotate, resize, add effects, adjust playback speed, adjust video colors etc.
Full control on videos to adjust resolutions, codecs, bit rates, frame rates, quality, sample rates etc.
Export videos to HEVC, MP4, AVI, MOV, MKV, more in SD, HD and 4K quality; able to reduce video size by 90% with 98% quality.
Support all major hardware accelerations - Intel QSV, Nvidia Cuda and AMD. 5X faster than any other editors on computer.
Extremely easy to use.
Windows Movie Maker vs macXvideo
What makes macXvideo the top choice of Window Movie Maker alternative to download free on Mac? To better illustrate the features of both free editors, here we make a simple charts to compare the free Windows video editor and macXvideo.
Read more: macXvideo vs iMovie
Feature

Windows Movie Maker

macXvideo


Interface

Simple but outdated

Straightforward and modernized

Import resolution

SD, HD 720P, 1080P

SD, HD 720P, 1080P, 4K, 5K, 8K Ultra HD

Editing features

Transitions, effects, audio tracks, titles/credits, auto movie, timeline narration

Merge, crop, split, rotate, cut, effects, color, video control, audio extract

Highlights

Auto movie, voiceover recording, anti-shake

Highest compression ratio, auto copy, GPU processing

Output resolution

SD, HD 720P, 1080P (up to 1920 x 1080)

SD, HD 720P, 1080P, 4K

Output formats

FLV, ASF, QT, MOV, MPG, MPEG, AVI, WMV, MP4, M4V

4K, HEVC, H.264, MP4, MKV, AVI, WMV, MOV, M4V, MPEG2, MP3, iPhone, iPad, Android

Hardware acceleration

No

Yes, Intel QSV, Nvidia Cuda and AMD

Pros

Easy to use
Great to make slideshows

Excellent free 4K video editor
No.1 fast speed (even with 4K)
Stable and reliable editing large videos
Reduce file size by 90% with 98% quality
Full control on video settings

Cons

Not sharp video quality
Very limited editing options
Crashes a lot

1. Limited options compared with complex editors
How to Use Windows Movie Maker Equivalent for Mac
macXvideo is 100% free and clean. It's 48MB only. To start editing, first get the alternative to Windows Movie Maker for Mac download free.


Free download Windows Movie Maker for Mac (compatible with macOS High Sierra and eariler)
Step 1: Click the Video button with a plus icon to add the video, or simply drag-and-drop the video to program window.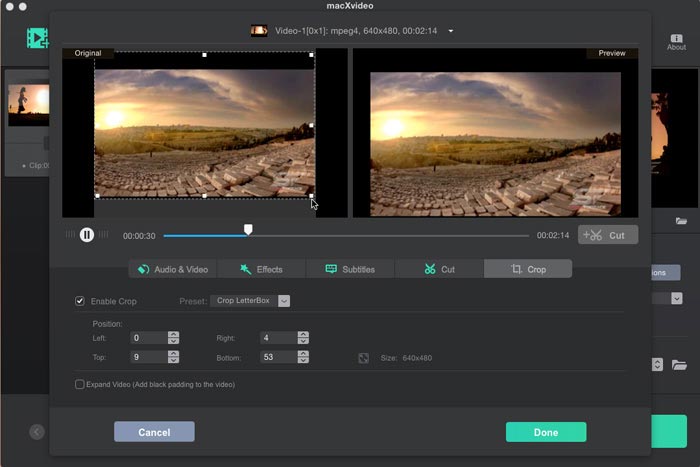 Step 2: To edit videos, click the video editing menu displayed below the video. Then you will see the editing options as the picture above. Here are Effects, Subtitles, Crop, Cut, Audio & Video. Click the respective button to start the editing and then click Done to the next step.
Step 3: After editing, you can further adjust the video settings. Click the button with a gear icon and there you can change the resolutions, bit rate, sample rate, quality etc. Then select an output format from the profile menu at the bottom. Then click RUN.
Note: To ensure the fast video speed in decoding, encoding, resizing, effects rendering etc, check the harware accelerate engine Intel/Nvidia/AMD on the interface. One biggest advantage of the Windows Movie Maker equivalent for Mac is that it applies GPU's processing power in the whole video editing, which ensures a 5x faster speed, and releases CPU from the intensive editing tasks.
Free Download Other Windows Movie Maker Alternative for Mac
In this post, we take for granted that you're familiar with Mac default tools like iMovie. If you want a program that works on par with Windows free video editor, iMovie is surely a good choice. But below we would like to recommend you a few other free Mac editor alternatives.
Shotcut
Shotcut is a free and open-source video-editing app. When you want to download a free Windows Movie Maker replacement on Mac, shotcut is always a top choice. It equips a slew of powerful features, including massive effects, wide format support, rich audio and video filters, hardware support... There are two things to note: first, Shotcut doesn't provide many export formats for specific devices, and it lacks support tutorials while its interface is not as user-friendly as Movie Maker. Avidemux
Avidemux is a free video editing program for Mac and Windows to encode formats, add filters and cut videos. The program is able to convert videos among AVI, FLV, M1V, M2V, MKV, MP4, MPEG, and othervideo formats. Similar to the free Windows editor, Avidemux offers options for basic video eting tasks, including cutting, resizing, deinterlacing, adding subtitles, adjusting color, applying filters and more. Lightworks
The last program is a professional editor with many advanced features. It has long been used in the film industry and has helped make many award-winning movies like Moulin Rouge. If you're looking for advanced features and don't mind to spend time mastering the intimidating featurs, free download the Windows Movie Maker substitute and you will be a pro. Lightworks is freemium and you can try out the free features before you purchase the full version. Wrap Up
There are many video editing programs, free or paid, built for different purposes. In addition to desktop alternatives, free online video editors can also offeer features similar to Movie Maker. In a word, if you want to edit 4K videos fast, try macXvideo; if you don't want to bother, try iMovie or online solutions; Avidemux may be thin in features; Shotcut is a stronger replacement, and Lightworks can meet some professional editing requirements. Anyway, free download Windows Movie Maker equivalent for Mac and try out. All the listed programs are free or free to try.