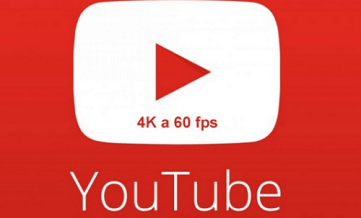 The 4K Ultra HD video content pipeline has transitioned from a trickle to a steady flow, and recently, it's developing to be more like a galloping river, even with 4K videos at 60fps. And the biggest powerhouse of 4K 60fps is no doubt the world's No.1 video sharing site-YouTube.
Previously, YouTube accepts the 4K Ultra HD content with 15-30fps. Gradually, now YouTube also supports users to upload 4K video running at 60fps. Certainly, this would not be easy for anyone (I will explain the reasons later), so the YouTube 4K videos at 60fps are limited now, currently with 5 only.
Watch 4K UHD 60fps Video Online? A Big Challenge for Internet Connection | 4K 60fps Download Sounds Better
Watching 4K Ultra HD video at any frame rate means a high-demanding task both for your PCs hardware unit and your network connection speed, let alone the 4K UHD video at 60fps. So if you watch 4K UHD video at 60fps online, sorry to tell you that you would encounter the endless video buffering or freezing unless your network connection is 25Mbps or above. To avoid this frustrating situation, the sought-after way is to free download 4K videos at 60fps from YouTube for offline smooth watching.
For 4K VR video at 60fps downloading, a UHD video downloader is a must. Here the professional 4K downloader called MacX Video Converter Pro is your second-to-none choice, for that you can apply it to free download 4K UHD @ 60fps YouTube videos in batch with world's fastest speed (5X faster than any other downloaders), thanks to its Intel Quick Sync Video hardware acceleration tech supports. Moreover, you can also compress & convert 4K at 60fps to iPhone 7/6s/Plus, iPhone SE, iPad Pro, iPad mini/Air series, Apple TV (4), iMovie, 2017 MacBook Pro supported video formats (MP4, MOV, M4V, etc.) for smooth 4K UHD playback.
How to Free Download YouTube 4K 60fps Video with World's Fastest 4K Video Downloader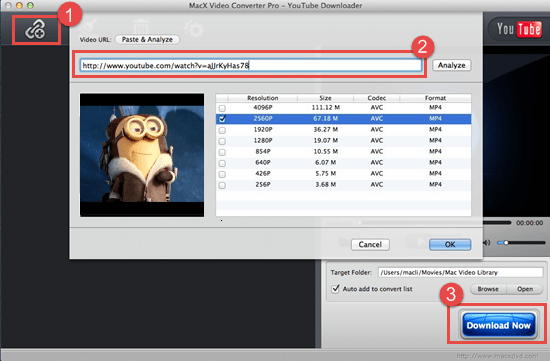 Step 1: Free download MacX 4K YouTube video downloader Mac version (El Capitan) or the Windows (10) version for PC users and run it on your computer. Copy and paste the URL of the target 4K UHD video at 60fps to the box frame. And Click "analyze" button to load the video information.
Step 2: Choose an output format, formats, codes, etc.
Step 3: Opt for output folder to save downloaded high frame rate 4K YouTube video by clicking "Browse" button.
Step 4: Click "Download Now" to start YouTube 4K VR 60fps video download progress. And after the 4K 60fps video download process is done, you can also convert 4K Ultra HD 60fps video to MP4, MOV, AVI, MKV, FLV, etc. with 180+ video and 14+ audio format supported.
Here is the YouTube playlist, covering YouTube 4K videos @ 60fps so far.
Notice: MacXDVD Software doesn't advocate any reproduce, distribute, transmit, broadcast or sell any content for any other purposes without prior written permission of YouTube or the respective licensors of the content. Please refer to YouTube terms of service before doing so.
More Tips: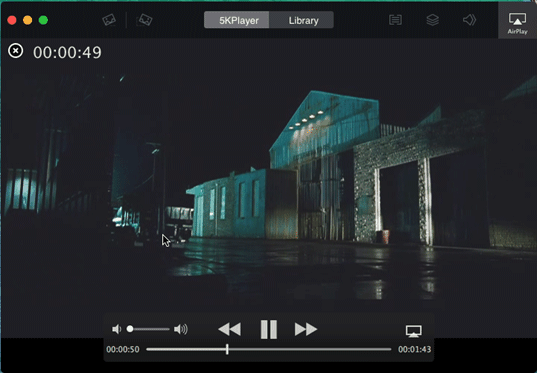 How to Play 4K Ultra HD Video at High Frame Rate 60FPS
After 4K video downloading, the next thing you need to do is to play 60fps frames 4K video. But how to playback YouTube 4K 60fps video with real 4K (3840× 2160) resolution and high frame rate up to 60fps? Two requirements:
① Computer hardware unit: your PC is need to be sported with a 4K Ultra HD monitor (like iMac 4K/5K Retina display) but also to have the processing kick necessary to handle the massive resolution and speed at which it plays. This means a serious GPU like the Nvidia Titan G and a CPU highly demanded to cope with a mass of heavy lifting.
② 4K Player: the 4K Ultra HD video player on your PC is able to playback 4K UHD video of 60fps frames with real 4K high video quality and 60fps supported.
If your computer is shitty, just ditch it away to get a 4K display computer like iMac 4K/5K Retina. When your hardware is ready, then you still have to put efforts to find out a real 4K videos player that supports to play VR 360 degree video, 60fps frames 4K video. Needless to waste time and energy, here the silver-winning 4K player on Softonic US downloads named 5KPlayer is worth a try. This is a new rising star in UHD player community, able to playback 8K UHD video with perfect quality, let alone the 4K UHD 60fps video. Just a piece of cake for this 4K player to play 4K video at 60fps with 3840× 2160 resolution.
How to Upload 4K 60FPS VR Video to YouTube
Beyond the 60fps high frame rate 4K UHD video download and playback issues, the most frequently asked question about 4K 60fps is "how to upload 4K UHD videos at 60fps to YouTube?". Do you also have this doubt? Wanna know the answer? Keep reading, please.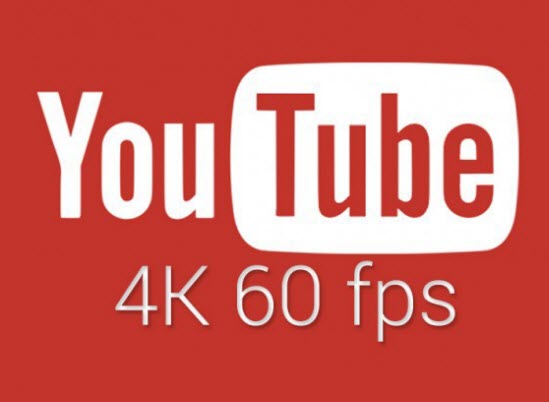 YouTube fans are allowed to upload HD videos to YouTube (4K included), which makes YouTube become the largest free library of 4K content on the web today. Usually, YouTube lets users upload videos with frame rate ranging from 15 fps to 30 fps. Now, as part of a tactic also applied to its HD video selections, YouTube 4k is also letting its account holders upload 4K 360 video clips at a much heftier 60 frames per second. But generally speaking, it's still much easier for 4K 15fps or 30 fps video uploading than 4K video at 60fps. So among the vast ocean of YouTube 4K videos, only 5 4K videos running at 60fps, so far (once the 6th YouTube 4K 60fps video being deleted already).
And it's reported that NASA is constantly uploading 4K videos@ 60fps to YouTube to show us the mysterious outer space with much clarity and detail. In consequence, we have the confidence that uploading 60fps 4K videos would be done without breaking much of a sweat in near future and more and more 4K UHD 60fps videos will appear in our lives.  

Author: Bertha Miller | Updated on Dec 5, 2018