4K VR - 5 Tips about 4K VR Video and Download Guide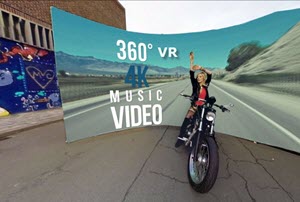 The future of video is in virtual reality, where viewers feel as if they're in an immersive experience with a 360-degree view, and the future of video is in 4K resolution, where viewers can enjoy vivid colors, crisp lines and bold contrast in every picture, no surprising tech aficionados want to produce 4K content and present it with the VR headset. If you want to learn ins and outs of 4K Virtual Reality video, below is FAQ and explanations of 4K 360 VR video content and suggested solutions for creating, downloading and playing 4K VR video yourself.
Hot Search: VR video Downloader, VR video player, VR video Converter, YouTube 4K downloader
Part 1: Is It Inevitable to Utilize 4K Screen in VR?
Yes, 4k and VR intersects inevitably. Like it or not, manufacturers are bringing the future of 4K and VR closer. Starting by Sphericam which creates a live 4K VR video in 360-degrees ready for VR headsets like Oculus Rift, Samsung Gear VR and Google Cardboard, Kodak released 4k action cam which shoots VR-ready videos in 4K resolution.
In addition, Sony's more powerful version of PS4 (aka PlayStation 4K), reportedly to play 4K resolution content and even VR movies, is said to support a high-end VR experience with the better hardware for PlayStation VR. At the same time, AMD is working on another VR headset which offers 4K per eye display. All these reactions from Manufactures indicates the irreversible trend of uniting 4K resolution for immersive VR.
Part 2: What Are Challenges to Stream 4K 360 Video for VR
4K 360 video for VR creates an immersive environment that comes about detail, intimacy and sense of connectedness. But it even doubles the challenges which 4K video already has.
1. One of the main problem of 4k UHD VR video in 360 degrees is the file size. This is because VR video doesn't support HEVC as 4K does. This results in very high bitrate and big file size. Generally, a 20min 4k video can consume roughly 100gigs of space. A good way to resize the 4K UHD 21602p VR video to smaller size is to compress 360-degree VR video in 4K UHD resolution with a video compressor.
2. Streaming VR videos in 4k ultra hd resolution online will inevitably consume heavy bandwidth - at least 25 Mbps, 14Mbps more than the average America Internet speed. So you will need a higher bandwidth for a smooth 4k vr video streaming and will endure the constant buffering while streaming if you don't have a fast internet connection speed.
Tips: If you are out of internet connection or encountering annoying loading or buffering, please feel free to download 360-degree VR 4K video to watch it offline with the downloader.
Streaming 4K VR Video Online Leads to Constant Buffering? Just Download It Now!
MacX Video Converter provides you a turnkey solution to free download 4K UHD VR videos in 360-degree for offline playback, and compress the large virtual reality 360 video in 4k resolution to small-size video to fit for your 4k tv, VR headsets and other media player with no.1 fast speed.  
Part 3: What Are Video Encoding Settings for 4K UHD VR 360 Video
Each platform supports different resolutions, frame rates, codecs and bitrates. But find the optimal encoding settings for the available VR headsets can be time consuming and embarrassing. Here we provide the best possible settings for you to encode your VR video content with ease.
codec: H.264 MP4 or H.265 MP4.
resolution: 4096x2048 or 3840x2160 pixels.
aspect ratio:16:9
frame rate: 30 or 60 frames per second.
Bitrate: 60Mbps
For example, if you are using Oculus Rift, please choose the codec H.265 at a resolution of 4096x4096 at 60FPS(40-60Mbps bitrate). If you want an optimal balance between file size and image quality, you can use H.265 for Gear VR and play it at 60 fps.
Note: There are many video encoding tools available in the market, such as Handbrake, MacX Video Converter Pro, FFmpeg, etc, all of them work and enable to encode the 4k UHD video for VR headsets with best settings.   
Part 4: All-in-one Solution to Solve 4K VR Video Streaming/Producing Problems
As it is mentioned above, it can be frustrating tasks to stream the 4K ultra HD VR videos online and to produce virtual reality video in 4K resolution, see big file size, constant buffering, heavy bandwidth loads and complicated video settings. But you can get around this by relying on MacX Video Converter Pro. Working as an all-in-one online video downloader and compressor, it can easily download any 4k UHD vr 360 degree video from 1000+ online video sites, including YouTube and Facebook, and compress the large-file VR video in 4k resolution to 1080p or lower in the format of MP4, MOV, AVI, WMV, MKV, and more at world's no.1 fast speed while keeping the perfect balance between quality and size.
Other salient features of this 4K VR video downloader/compressor:
1. Download any 360-degree VR video, 4k/8k uhd video, 3D blu ray movies, 1080p, and others from YouTube, Facebook, Dailymotion, Vimeo, Vevo, etc.
2. Compress/convert among any video, see MKV to MP4, WMV to MOV, AVI to MP4, MTS to AVI, etc.
3. Transfer video to 350+ mainstream devices, covering iPhone (iPhone 7/7 Plus/6S/SE), iPad (iPad Pro), Samsung (Galaxy S6), HTC, Windows phone 10, PS4, etc.
4. Trim/crop/merge/split videos in 4K UHD VR, add subtitles and tweak video parameter settings.
5. Record 360-degree VR video in 4k resolution and make slideshow with background music.
How to Download and Compress UHD VR 360-degree Videos on Mac/PC
Prior to any 4k 360-degree VR video download, please feel free to download 360° vr 4k video downloader on your computer. For PC users, please go to download Windows version to suit your needs.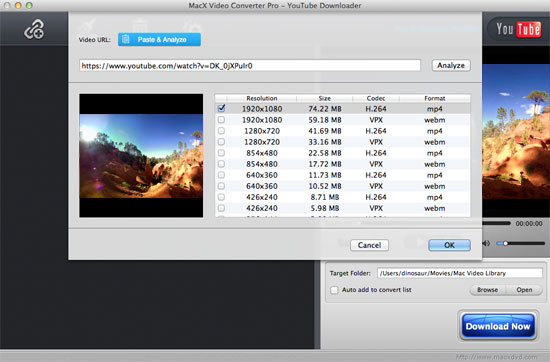 Step 1: Run the 4k VR video downloader and copy & paste the URL of your desired 360 vr video in 4k resolution into the address bar. Click "Analyze" to load video info.
Here are some popular 360 VR videos shot in 4k resolution from YouTube:
https://www.youtube.com/watch?v=HNOT_feL27Y
https://www.youtube.com/watch?v=2OzlksZBTiA
Step 2: Choose video resolution, size, format and codec of the 4k 360 video for your VR headsets or goggles. If you don't want any compression, you are suggested to choose MP4 as the output format as it is widely compatible with most devices.
Step 3: Check "Auto Add to Convert List" if you need more video file compression to shrink the VR UHD 2160p video size. Generally, WMV and FLV offers smaller size than MP4. But most VR headsets don't support these two formats. So you are suggested to convert the downloaded 4k vr video to MP4 H.264/H.265 for later playback. By default, this tool reserves good quality and keeps the file size as small as possible. So you don't have to tweak the parameters anymore.
Step 4: Tap "Browse" to save the converted 4k 360 degree video and click "RUN" to start 4k 360° virtual reality video compress process. After a few minutes, you can play the immersive VR video with 4K resolution immediately with 360-degree video player (Kolor Eyes 360° video player, Jwplayer, etc.) or play the VR video on 4K UHD TVs.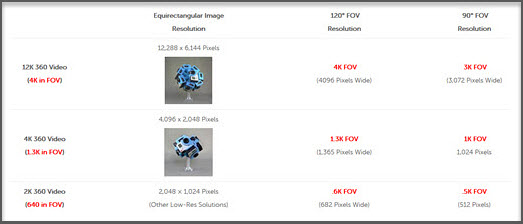 External Source: What is 4K Virtual Reality 360 Video
4K promises a better quality picture when watching movies, with a resolution of 4096x2048 pixels. But if your FOV is 120 degrees, you are actually seeing 1,365 pixels when watching a 4K 360 video. But if you want a real 4k resolution for every 120 degree FOV, namely, if you want everywhere you watch the VR video is truly 4k - the 4K FOV 360 video, you will need 12,288x6,144 pixels, which leads to a noticeable bump in quality compared to 2K 360 video as it just offers 682 pixels for a 120 degree FOV.
Check the following image to see how the 4K VR video creates a drastic difference in image quality compared to 2K 360 video content.

Author: Bertha Miller | Updated on Dec 4, 2018
Related Articles

Best Video Downloader for Mac 2019 to Free Download Videos HD Ultra HD Fast
Best video downloader for Mac 2020? Which one is the champion? Here compares top three free Mac video downloaders, from which you can pick out the best video downloader to download video free on Mac.

How to Watch 360 VR Videos with Four Simple Ways
How to watch VR videos has been a problem that plagued you long as the popularity of virtual reality videos. This article shares you a complete guide to watch VR videos on iPhone iPad Android or computers with four simple ways.
Cult of Mac review

MacX Video Converter Pro is a full-featured, high quality, and remarkable 4K 360-degree VR video downloader & converter. After downloading, you can freely compress and convert the downloaded 4K VR video to Mac/PC iPhone iPad and Android.