At the mention of VR (Virtual Reality), words like high-end, distant, complicated, mysterious would haunt you all the time. Indeed, VR will provide you a real sensory experience beyond 3D. But it's not as untouchable as you think to watch virtual reality videos. Although it's not so mature, you can still find a lot of 360 VR movies or VR videos download on the web. Here's how to watch VR videos.
Watch VR Videos? Get 360 VR Videos Download First!
At the very beginning, no matter how to watch VR videos, virtual reality video source is in need for sure. Therefore, for a smooth virtual reality videos playback, you might as well get your individual virtual reality videos download first. For this purpose, MacX Video Converter Pro, a decent VR video downloader could help a lot on downloading 360 VR videos free from Vevo, as well as other VR videos sites. Besides, thanks to the advanced download engine and multi-core tech, this excellent VR video downloader offers a blazing fast solution to download 360 degree, VR, 3D, 4K/8K videos to finally watch YouTube VR without any quality loss.
You can simple follow the easy steps for VR video downloading:
1. Free download the VR video downloader and launch it; please download Windows version if necessary. Then click "YouTube" and "paste & analyze" button to detect the 360° VR video.
2. Choose output format (MP4, FLV, WebM, etc.).
3. Hit "Download Now" button to start VR video downloading.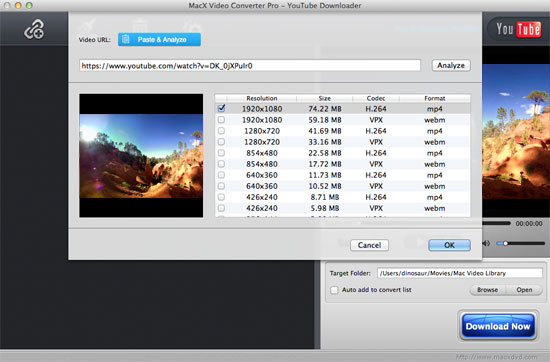 By the way, if you are willing to play VR videos on phones, you are suggested to transfer the downloaded VR video to iPhone with MacX MediaTrans, which is capable of moving any videos, like 4K UHD, 3D, 360 degree, VR to iPhone dirtectly of no formats incompatibility without any help from the VR video converter.
How to Watch Virtual Reality Videos? 4 Ways Here!
No.1 - 360 VR Player
360 VR player is the top choice for watching VR videos on computer. Either the Web VR player or 360 degree VR player software can settle VR video playback problem without a hitch. For example, YouTube, not only a VR videos base, but also a web 360 VR player, offers you the best solution to watch YouTube VR of 360 video formats online. After hitting "Play", click and drag on the video to navigate left, right, up and down.
Or the 360 degree video players like Kolor Eyes, 5KPlayer, VR Player are featured playing 360 degree videos, reading 2D/3D images and video, local files, YouTube streaming VR videos and more.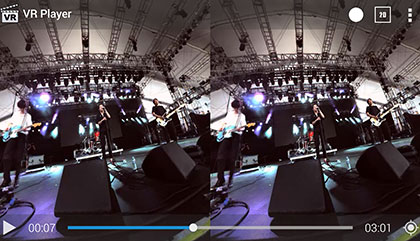 No.2 - VR Headset
The best way comes to an immersive VR headset, which provides you 360 degree perspectives and Stereo surrounded sound. And the virtual reality race is on in VR headset aspect. Oculus Rift, PlayStation VR and the HTC Vive, Samsung Gear VR take the medium mainstream of VR headset. And it's well on its way. Here we take Samsung Gear VR as an example to show you how to watch VR videos.
As you have got virtual reality videos download before, encode them and push them to your SD card on your phone. Then insert your phone into your headset and you can enjoy VR 360 degree videos at ease. If the internet or Wi-Fi is well connected, you can also watch YouTube VR online with Samsung Gear VR.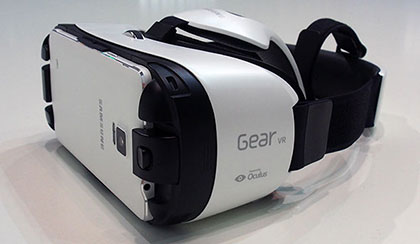 No.3 - Cardboard VR Viewer
Google Cardboard is the respective in Cardboard VR Viewer, which is the most cost-efficient. It brings immersive experiences to everyone with "look all around you" 3D vision and "hear things behind you" stereo sound. And you're just one step away from experiencing virtual reality on your smartphone.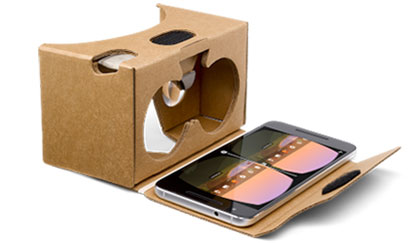 Simply download 360 degree VR videos to your mobile phone and then insert the phone into the viewer to play VR video on iPhone with cardboard VR viewer. Be sure to use your headphones / ear buds for stereo sound.
No.4 - Mobile Phone
Even if you don't have a VR headset, mobile phones will also settle the VR video playback issue effortlessly. On condition that your phone is smooth enough to play 3D, 4K VR videos such as iPhone, Samsung Galaxy etc., after hitting play, move the mobile phone around to get a "magic window" revealing the scene. Make sure to wear your headphones for realistic, stereo sound to enjoy your 360 degree virtual reality videos.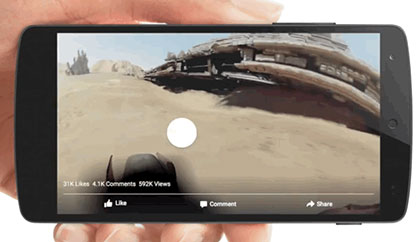 Verdict: Currently, as the fact that VR is not so mature, we only have limit solutions on how to watch VR video by means of VR headset, VR video player, good configuration mobile phone etc. But we can foresee the future is the world of virtual reality, especially for games and videos. So in the short long run, it's possible that we can enjoy VR videos as easy as watching normal videos today.