With HTC Vive and Oculus Rift having their full, more and more Virtual reality headsets like Vive Pro, Oculus Go, Pimax 8K, Meshroom, etc. get on the jump wagon. This draws forth a flood of VR contents, covering 4K VR, VR horror clips and games. Mostly, best VR movies are the most sought-after, since many VR fanatics are eager to download some virtual reality movies for enjoying on these applications to have the best 360-degree view.
A 360-degree VR video teaser of the recent movie "The Jungle Book" making fans exclaim how scarily realistic it is. Dare to continue with the immersive experience the best virtual reality movies have delivered? Scroll to get the top VR movies list, and along with the free 360 SBS virtual reality movies download guide offered for your convenience to watch them on Oculus Rift, Samsung Gear VR, Google Cardboard, etc for your consoles, computers and smartphones.

Best VR Movies 360 Degree/3D SBS for Oculus Rift, Samsung Gear VR etc.
Below we pick the best VR 360° movies that you can free download for your VR video player or headsets like Oculus Rift, Samsung Gear VR etc. The list will be updated regularly include the latest vr films. You can free download these VR movies to watch on Android or iOS VR headsets with the virtual reality movies downloader mentioned above.
1. Enter the Void
Enter the Void tops the best movies list involving VR on Netflix so far. Meant to make the "hallucinogenic melo-show", Gaspar Noe successfully combines the virtual reality and the perspective and gets viewers in a unique VR experience. The psychedelic thriller details a French drug dealer in Tokyo seeks resurrection with his soul, after he is betrayed by his friend in a drug deal. It's worthwhile downloading the movie to iPhone or other mobiles for viewing with your VR headset.
2. Ready Player One
Though more and more VR devices walk into our life, by now, we simply have a taste of virtual reality. But in the year 2045, VR will become a commonplace in new movie Ready Player One, where Steven Spielberg will lead us into a digital world named OASIS. Everyone who feels disappointed in real life can escape into OASIS with only a headset. But people's apathy to the reality leaves the real world into depression. Why care? The digital life is so fun. Do you like this cool world? Free download the VR movie trailer and see what VR may look like in the future.
3. Zootopia
2016's big Disney hit Zootopia also gets a virtual reality version on Netflix. The movie is about a city of anthropomorphic animals where the bunny cop and wily fox join up to solve a mysterious case in the city. If you haven't watched this movie, you can totally get the 3D VR movie free download from Netflix on Android or iOS to experience the spectacular world in a more detailed way via Samsung Gear VR or other VR headsets. The VR version will feature massive differences and add more fun.
4. The Jungle Book
Days ago Walt Disney released an interactive 360 3D virtual reality experience of its live-action adaptation of The Jungle Book. The 360° VR will guide to audiences deeper into the world of The Jungle Book, bringing an immersive virtual reality horror experience like they are right in the dark woods. "I drop my phone when kaa opened her mouth." This is one of the best trailer of top VR movies 360 degree, you may either get the 360 vr movie trailer download, or the full The Jungle Book download to watch on Android & iOS offline.
5. Henry
For the 360 best virtual reality movies download, the virtual reality film Henry from Oculus Story Studio is not to be missed. The movie is about a hedgehog who wants hugs from people. The story will be told in a 360-degree world, where viewers will have an immersive experience following Henry. The full length of this Oculus Rift VR short movie will be released along with the Rift this year, but you can now get the trailer and download 360-degree VR movies and feel VR on Oculus Rift, PSVR etc offline.
6. Lost
Oculus Rift is the Pixar of virtual reality. True, as it has brought several best VR movies list in 360 degree. Lost, the first virtual reality film by Oculus, brings cute and immersive VR experience. The movie may get you to soak in the scenes of the quiet night, worrying about anything that may happen like that of a virtual reality horror clip. It's really impressive as one of the best virtual reality movies in 360 degree at the early stage. You can try 360 vr full movies free download with the downloader above to watch this short film on 360 VR video players.
7. Butts
"Butts: The VR Experience" is a short animated VR film about a blue man and an orange man, but it's among the top VR 360 degree movies that set a fantastic example of VR animation. The virtual reality technical innovation fully expresses the story. Some users asking why they have a jumbled mess of red and blue shapes, so you my get those 4K/1080p 360 virtual reality movies download with the best 360 VR movies downloader to watch on Android, iOS, Oculus Rift/Google Cardboard.
8. 11:57
Do you dare to have a 360° virtual reality horror experience? If you do, you should not miss one of the best VR movies 360 degree in horror category: 11:57. This short VR film will deliver a 360-degree nightmare that makes every audience a part of it. It's even more terrifying that all the scary actions happen around you but you just can't escape the horror. You can free download the 4K VR 360° shot film on PC/Mac with support for Oculus Rift head-mounted display.
9. Jesus VR - The Story of Christ
Screen at 2016 Venice Film Festival, Jesus VR - The Story of Christ is one of the 360 vr full movies to download. The 90-minute vr film is shot entirely in 360° 4K video and is released for Christmas 2016. It's among the full length 3D vr movies to download for all major mobiles and premium VR platforms including Google Cardboard, Samsung Gear, Oculus Rift, PlayStation VR and the HTC Vive. Available in VR technology, viewers can better feel the story as if they were along with Jesus.
10. Allumette
Allumette is a stunning vr film from VR animation studio Penrose. It is a 20-minute short virtual reality cartoon movie tells a story of love and sacrifice happening in a floating city among the clouds. Allumette is a beautifully-crafted animated VR world where audience can go hands-on with a beautiful virtual reality experience. It's not open to the public yet, but it will be available for users later on several VR platforms, including the Oculus Rift, Sony PlayStation VR and HTC Vive.
Other Best Virtual Reality Movies/Short Videos You May Try
Though there are more and more 360 degree VR contents with the 360 vr video recorders being sprung up, we are still at the early stage of virtual reality and most of them are very short and limited. Early this year, YouTube bulks up a 360 VR video library where users can experience the 360 VR porn, horror movies/clips. In addition to the best top VR movies list mentioned above, you can also try:
| NO | Movie with 360 VR Clips | Top VR Movie/Video Name | |
| --- | --- | --- | --- |
| 1 | The Martian | Sonar | First Life |
| 2 | The Hunger Games | Waves | Zero Point |
| 3 | The Lion King | Collisions | Birdly |
| 4 | Star Wars | Help | The Alien Desert |
| 5 | School of Rock | Hard World for Small Things | Waves of Grace |
Best 4K/HD 1080P 360 Virtual Reality Movies Download Tool
How to get 3D vr movies for offline playback? At this time, there are virtual reality movies and TV shows available on certain systems like Google Cardboard app, iTunes Store, Oculus Share etc at certain prices. You may purchase from those platforms, but this may not be cost-effective considering that most 360-degree/3D best VR movies may not come in long length.
Or you can download VR 360/3D movies free from online sites. If you want to get the best VR 360-degree movies download full for Android Samsung Gear VR, Oculus Rift, HTC Vive, the Sony PlayStation VR (PSVR), Google Daydream View and more, we also introduce a good VR 360° movie downloader MacX Video Converter Pro, which will download virtual reality movies, download 4K, hd 1080P 3D/vr sbs adults porn video, animations, other clips in 4K/HD 1080P/720P, 3D SBS blu ray in a flash. It supports downloading videos from 1000+ sites like Facebook, Vimeo etc, and convert 360 degree VR movies AVI, MKV, FLV etc without quality loss.
MacX Video Converter Pro is a top-rated VR 360 movies downloading program with top quality and fast speed. This feature-rich movie downloader can easily convert HD or SD 360 VR movies to mobile devices.
[Tutorial] Guide on 360 VR Movies Download in HD 1080P
Step 1: Free download the 360° virtual reality movie downloader on Mac, or the Windows version for PC user. Copy & paste the URL of the 360 virtual reality movie video, 1080P 360 vr porn movies etc to be downloaded into the address bar. Then click "analyze" to load video info.
Step 2: Choose video resolution, size, format and codec in the popping up window. To watch VR 360° films on Android, iOS, Oculus Rift, Samsung Gear VR, Google Cardboard etc, choose MP4 as the output format as it is supported by most of the VR devices.
Step 3: Click "Browse" button to set a destination folder to save the downloaded 360 degree VR movies.
Step 4: Click "Download Now" to start to getting 360° virtual reality movies download via this best video downloader for Mac.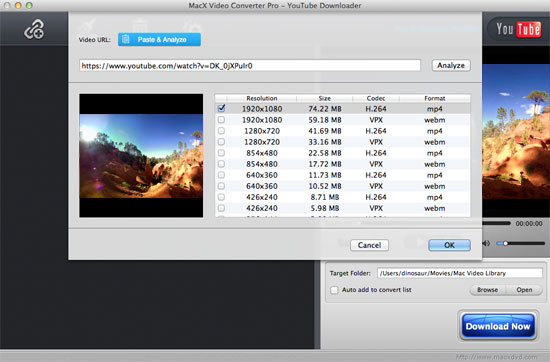 How to Watch Top VR Movies on Computers/Mobiles?
Now you may have the best virtual reality movies, 360 horror clips, 360 vr hd porn videos downloaded, the question is how to watch VR movies? You may watch the best virtual reality movies 360-degree on computers or iPhone Android, but you may need different VR devices. Make sure the downloaded/horror/porn clips are in proper formats (MKV, MP4, AVI, WMV, 3D SBS for Oculus Rift, or MP4, AVI, FLV, 3D SBS for Gear VR for example), or convert the movies to.mp4 360 formats with the converter above.
For computer: you will need a VR 360 movie player, and HDMI to connect Oculus Rift to computer. Open VR player and set the tracker as the Oculus Rift DK 2 > Select Oculus as extended Desktop in the Rift Display Mode Program > adjust the settings based on 2d/3d VR 360° movies > open the vr movies > put on the headset and watch the best virtual reality movies 360 HD quality on Oculus Rift DK2.
For iPhone/Android: Google Cardboard will work with almost all the Andoid/iPhone devices and it's cheap. Or you may use Samsung Gear VR, mobile-phone powered vr device from Oculus and Samsung, to watch VR movies on Samsung Galaxy phones (compatible with Galaxy S9/S9 edge, Note 9).