"My SuperDrive disk won't eject from my Macbook. I've already tried the Eject button, but still had no luck. Any help?"
"The super drive is the remote USB attached drive. I have a DVD jammed in Macbook Pro SuperDrive and it won't eject. Just wondering if anyone has had the same problem and how they solved it?"
The odds are high that you can't open SuperDrive that connects to the Macbook, iMac or Mac Mini. So you are actually not alone struggling in how to eject a stuck disc from SuperDrive. But the disc eject issues are too much of a hassle. You cannot rely on the traditional method to retrieve the unreadable, jammed or stuck discs, since SuperDrive is slot-loaded that requires disc to be inserted into a slot rather than on a tray.
More disappointingly, you still have no lick to get the stuck DVD unstuck by following Apple's Official tutorials - Press the Eject key on the keyboard, drag the disc icon to the trash, hold down the trackpad or mouse button while booting the Macbook. Find your disc is spun up constantly? Calm down. You will get your SuperDrive to eject the DVD from Macbook successfully after reading this post, where the most efficient ways are shared to fix the "DVD stuck in SuperDrive" issue and eject the stuck DVD from Macbook Pro/Air, iMac with ease.
Related: List of 2023 Best external DVD drives for Mac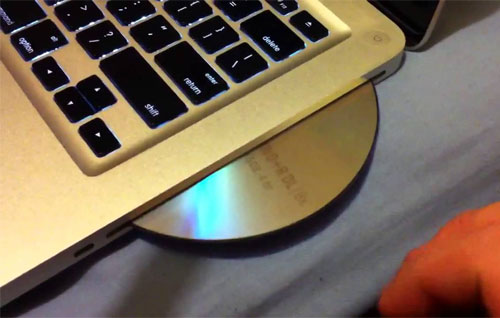 Watch Movies on Mac without DVD Stuck Error
5-star solution: MacX DVD Ripper Free Edition
Freely backup DVD on Mac's hard drive and rip DVD to MP4, MOV, M4V, etc for digitally playing on Mac without SuperDrive anymore. No DVD stuck in Mac SuperDrive error. 100% Free and Secure.
Part 1: What Causes DVD Stuck in MacBook Pro/iMac SuperDrive
There several cases that lead to discs failing to eject from Macbook Pro's SuperDrive. So before you inserting the disc into Mac Superdrive, please make sure you follow the steps below to avoid the problematic DVD jammed in SuperDrive error.
1. Be sure the disc is the standard 120 millimeter size.
2. Don't insert smaller discs as they may damage the SuperDrive or get stuck.
3. DVD with improper format or warped/scratched DVD may get it stuck in SuperDrive and the Macbooks fail to eject the DVD.
4. Make sure there isn't any computer crash before inserting DVD into Mac's SuperDrive as this may result in a failure to recognize/eject a disc.
Hot Search: External DVD Player Not Working on Mac , DVD won't play on Mac
Part 2: How to Eject a Jammed/Stuck DVD from Mac's SuperDrive [8 Ways]
Way 1 - via Disk Utility
Go to Application > Utility > and launch Apple's Disk Utility application.
Choose First Aid, after which you will see your DVD drive and disk stuck in there.
When the disk grays out, click on the stuck DVD.
Hit the Eject button. Then the disk will pop out of the Macbook's SuperDrive.
Way 2: Use Terminal
The Terminal will be helpful when the SuperDrive won't eject disc or disk isn't even recognized by the Disk Utility. Just follow the steps below to force the disc to be unstuck in Macbook Pro's SuperDrive.
Go to Application > Utilities > Launch Terminal.
Enter the following command: drutil eject.
Way 3: Via the Mac Itself
There are some people suggesting to rely on Mac itself to self-fix the DVD stuck in Macbook Pro/Air error. Before troubleshooting to the SuperDrive with stuck DVD, please make sure the power cord is plugged in.
Shut down the Mac and turn it back on.
Leave the Macbook turned on for about 5-10 minutes. Then the stuck DVD will eject and pop out of the Macbook's SuperDrive.
Way 4: Via a Cardboard
Another reliable troubleshooting to a DVD that is stuck in Mac SuperDrive refers to the use of a cardboard. This is also helpful when the SuperDrive is not working on Mac.
Restart your Mac and hold down the mouse/trackpad button while at the same time insert a piece of thin cardboard, birthday card or credit card into the SuperDrive slot until it reaches the disc.
Gently jiggle it around to put pressure on the disc so as to stop the disc from reading.
Repeat the session until the SuperDrive is triggered to eject the stuck DVD from Macbook.
Way 5: By Tilting and Shaking
pick up your Macbook Pro/Air.
Title it to 45 degrees in such a way of dropping out the disc.
Press the eject key. Or you can completely turn the Mac upside down while pressing the Eject key to let the stuck DVD eject from Macbook.
Way 6: Use Boot Manager
Another effective solution to force a DVD eject from Macbook SuperDrive is to take advantages of the Boot Manager.
Shut down your Mac.
Restart it while holding down the option key.
Press and hold the Eject key when the Boot Manager appears and displays all the bootable drives.
Use your mouse to click on the drive to be booted from when the DVD flies out of the optical drive. Then finish booting.
Way 7: Reset SMC
Resetting System Management Controller is considered to troubleshooting the most troublesome drives, including DVD stuck in SuperDrive error. Then you can reboot Mac and press Eject to get a jammed DVD out of Mac SuperDrive.
Way 8: via Software
There are many tools available to force your Mac SuperDrive to eject stuck DVD. Instead of resorting to other unsafe methods, you can try the safer ForceEject Tool, ReDiscMove, and DiskEject, which are famous for ejecting its stuck DVD from Macbook, iMac, etc.
Part 3: Once-and-for-All Solution to Play DVD on Macbook without Error
There is a high possibility of goose chase to get the DVD unstuck from Mac SuperDrive, even though you've tried all the solutions here. Worse still, the constant DVD stuck in Macbook Pro error and attempting to manually remove the DVD may be a great harm to your SuperDrive and invalidation to your Macbook's warranty. For a longer use of your external SuperDrive while watching movies without making DVDs stuck in SuperDrive, you can try MacX DVD Ripper Free Edition.
It offers the first-in-class DVD backup solution that can 1:1 backup DVD to Mac hard drive and digitize DVD to H.264, MP4, MOV, MKV, etc at fast speed so that you can store movies onto Mac's hard drive, watch movies on your Mac QuickTime, and even play them on iPhone, iPad, Android on the go without pushing in and out DVDs of the SuperDrive.
You can follow the steps below to backup DVD movies onto Mac hard drive so that you won't insert disc into SuperDrive each time you watch the movie.
Step 1: Free download the DVD ripper on Mac. Insert DVD into Mac SuperDrive and let the tool choose the right title.
Step 2: Choose the output format such as MP4 from the drop-down profile window.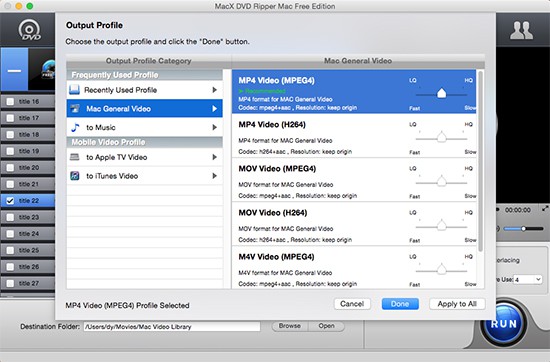 Step 3: Click Browse to save the output file and click RUN to begin DVD ripping.
After a few minutes, the DVD movie will be saved in Mac's hard drive. Just a few clicks, you can watch the movies repeatedly without getting DVD stuck in SuperDrive anymore.
Still have any problem on how to fix DVD stuck in Macbook Superdrive, just
email us >>
ABOUT THE AUTHOR