Just Convert M4V Videos, Requiring No M4V Codec
You can free download the best video converter MacX Video Converter Pro to easily fix M4V compatibility/not playing issues by converting M4V to MP4, AVI, MOV, H.264 etc. It requires no extra M4V codec. No adware, malware or crapware etc.
Most Popular M4V Codec Pack to Free Download

The K-Lite Codec Pack
The K-Lite Codec Pack is a free M4V codec pack that is simple to use, helping you play M4V files on Windows (Win 10 or earlier) smoothly with Windows Media Players or other M4V players. It is updated frequently. The latest version is 13.6.5 and 51.9MB in file size. The M4V codec pack can handle many other formats, like AVI, MKV, MOV and more so that you don't have to install an extra codec pack.
Latest version: 13.6.5
File size: 46.6MB (full version)
Supported file formats: M4V, AVI, MTS, M2TS, FLV, MKV, MP4, 3GP, RMVB, WebM, MOV, QuickTime, MP3, M4A, FLAC etc.

Media Player Codec Pack
You don't need to install a single M4V codec, a codec pack like Media Player Codec Pack can aid you to play any file types, including M4V, MKV, FLV, TS, and so on. Media Player Codec Pack is able to serve as an M4V codec pack on Windows 10 or older and compatible with Windows Media Player (12, 11, 10). The new version also adds support for H.265 (HEVC) decoding and encoding.
Latest version: 4.4.7
File size: 41.3MB
Supported file formats: M4V, HEVC, MKV, AVI, FLV, WebM, MP4, M4A, TS, AC3, DTS, ALAC, FLAC, AAC, OGG, 3GP etc.

Perian
M4V is supported on Mac. Even though, some users had problems when opening M4V files in QuickTime. An error message says "a required codec isn't available. To see if additional software is available that will enable QuickTime player to open the movie." If you insist on playing M4V videos in QuickTime instead of VLC media player and need an M4V codec pack for Mac, you can try Perian. Note that Perian is no longer under development and it doesn't support QuickTime 10 or later. And the latest codec like HEVC and VP9 are not supported either.
File size: 3.57MB
Supported file formats: M4V, AVI, FLV, MKV, H.264, VP8, Divx, AAC, MP3, AC3 etc.

Apple developed M4V container format to encode video files in iTunes store. Some M4V files may come with Apple's FairplayPlay copy protection. M4V codec pack won't help you play DRM protected M4V files. You have to remove iTunes DRM first with
DRM removal software
in order to play the M4V video on the device that is not authorized with the account used to purchase the M4V video.
Convert M4V Video Codec Instead of Downloading M4V Codec Pack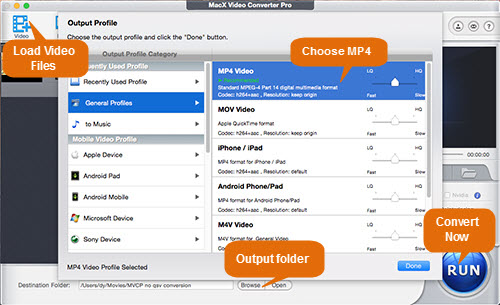 Step 1: Click Video icon at the top and select one or more source M4V videos to import. After the source video is loaded, and an Output Profile window will appear.
Step 2: Choose an output format on the Output Profile windows. With 370+ video audio codecs built-in, the M4V video converter can import and output most video file formats without any third-party help. You can convert M4V to AVI, MP4, MOV, WMV, or HEVC and more, so feel free. If offers a host of presets for iPhone, iPad, Android and many other devices. You can choose the device profile with tailored video audio codec and you don't need to do any other customizing.
Step 3: Click Browse button to select a destination folder to save the output file. You can skip this step if you are fine with the default folder.
Step 4: Click RUN button at the bottom to start processing transcoding M4V video.