Handbrake is one of the famous free video converter and DVD rippers that is used by both advanced and new users. However, it's not omnipotent. There are limits on Handbrake input/output formats, even when HandBrake released more output device profiles. Before you cry about Handbrake not converting to certain formats, check this post. We have gathered all the Handbrake formats (input/output video, audio, subtitles), as well as solutions to missing MKV, MP4 or AVI option from Handbrake.
What Formats Does HandBrake Support (Also HandBrake V1.0.7)?
Handbrake input formats: unprotected DVD and Blu-ray discs; most common digital videos (mobile recordings, TV show/VHS recordings, web videos, video editing projects and more) like TS/MTS/M2TS, MP4 or M4V, MPG or MPEG, MKV, AVI, WMV and etc.
Handbrake output formats:
File Containers: .MP4(.M4V) and .MKV
Video Encoders: H.265 (x265 and QuickSync), H.264(x264 and QuickSync), H.265 MPEG-4 and MPEG-2, VP8 and Theora
Audio Encoders: AAC / HE-AAC, MP3, Flac, AC3, or Vorbis
Audio Pass-thru: AC-3, E-AC3, DTS, DTS-HD, TrueHD, AAC and MP3 tracks
Handbrake supported subtitle formats:
From DVD's – Either embedded VOBSUB or CC tracks.
From Bluray - PGS Subtitles.
User supplied SRT files.
Embedded SSA/SRT/CC within files (such as mkv or mp4)
Problems & Solutions on HandBrake Supported Formats
From the list of Handbrake video formats, as well as users' feedbacks, there are some problems when using Handbrake. Below we provide solutions to some common problems on Handbrake file formats. Before that, you're suggested to download HandBrake which includes many minior fixes and profile extensions.
Problem 1: Handbrake won't support DVD sources with protections
If the Handbrake input formats are encrypted DVD discs or other DVD sources, you will result in Handbrake won't read source error. It is widely known that Handbrake supported video formats include no copy protected DVD sources, including HandBrake V1.0.7.
Solution 1: Install libdvdcss for Handbrake. For experienced users, it's no brainer to have protected DVDs included in the Handbrake supported input formats. Simply download the 32 bit or 64 bit libdvdcss file, or update VLC player to get Handbrake work.
Solution 2: For naive users who may be not savvy enough to get the fix above, switch to a Handbrake alternative to get rid of the limits on Handbrake formats. Other software like MacX DVD Ripper Pro supports wide range of DVDs, including homemade discs and commercial DVDs protected by CSS, UOPs, Region Code 1-6, RCE, or Sony ARccOS and Disney X-project protection and more. Plus, its output formats (MP4, MKV, AVI, MOV, WMV, iPhone, iPad, Android etc) are far more than that of Handbrake.

Problem 2: missing MKV/MP4/AVI in the Handbrake output formats/how to convert videos to other formats
First, you need to know that versions after Handbrake 0.9.2 no longer include AVI in Handbrake supported formats. That is to say, only MKV and MP4 are supported. Even so, there are users complaining that there is no MKV or MP4 option in Handbrake.
Solution 1: If handbrake format only mkv is available, go to preferences and disable the "iPod Friendly MKV Format" checkbox.
Solution 2: Update system with unsupported packages from untrusted PPA by adding ppa:stebbins/handbrake-releases to your system's Software Sources.
Solution 3: Try the nightly builds of Handbrake, or download the latest HandBrake 1.0.7 which may solve the missing MKV or MP4 problem.
Solution 4: Include more than Handbrake supported output formats by using other tools.
* For DVD ripping: the above mentioned MacX DVD Ripper Pro will output to most digital formats and latest iPhone, iPad and Android devices;
* For video converting: tools like MacX Video Converter Pro easily converts any videos into over 180 video formats and 350+ mobile profiles.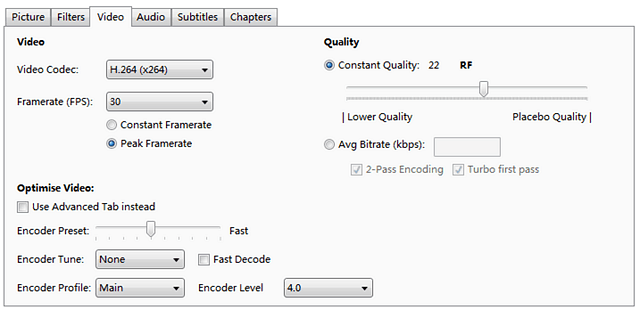 Problem 3: Unsupported subtitle formats cause Handbrake converting problems
Even with the right Handbrake formats for output and input video, problems may still occur due to the subtitle formats supported by Handbrake. For example, there is no subtitle option with Handbrake, or Handbrake stops encoding due to unsupported subtitle formats.
Solution 1: No subtitle in Handbrake. "I've just backed up a disk with MakeMKV and make a smaller version with Handbrake but when I open it doesn't show the subtitle file as an option. I'd also be happy to have the English subs burnt in but it doesn't give me that option either."- Make sure you download Handbrake 1.0.7.
Solution 2: Can't burn srt file. First convert the .srt to .ssa using SubtitleEdit, then mux the .ssa using mkvmerge, then finally encode and burn in the subs with Handbrake.
Solution 3: Handbrake won't convert whole movie due to unsupported subtitles.- Turn off subtitles option or use "Subtitle edit" and name the .srt file to the name of the movie.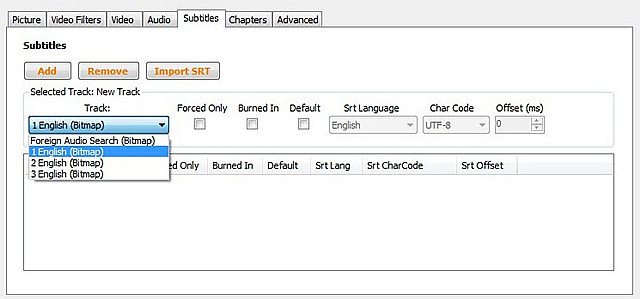 How to Convert DVD/Videos to HandBrake Supported Formats
Step 1: Download Handbrake (latest version 1.0.7, 32 bit or 64 bit based on your computer) and click on the "Source" button at the top left to load DVD and video files. Select the folder, and click "OK."
Note: To make protected DVDs for Handbrake formats, you need to install VLC player on computer.
Step 2: Set the destination folder to save the videos by click Tools > Options > General > Browser.
Step 3: Set the converting settings. Only MP4 and MKV are available in the Handbrake output formats; however, the latest V1.0.7 has added wide range of mobile profile in Handbrake supported export formats.
Note: For DVD ripping, you can also identify the title manually by playing the movie with player first, or download the latest libdvdcss file; for video converting, if you are convert large-size file to HandBrake video formats, remember to check the "Large File Size" box.
Step 4: Now click "Start" to convert movie/DVD to Handbrake file formats MKV or MP4. The process is fast and the output quality is excellent.

Author: Bella Brown | Updated on Dec. 10, 2018