Reasons to Partition Your Mac
We can benefit a lot from partitioning your Mac's hard drive. Look at our list of advantages of creating different volumes on Mac.
Add a new hard drive partition on mac to run multiple OS or different OS versions, for example, Windows, macOS High Sierra.
Using Boot Camp built into Mac requires partitioning hard drive on Mac, which allows installing Windows on the separate partition without Mac superdrive.
If you have many types of backup, such as a huge collection of DVDs backup on Mac, Android iPad iPhone file backup, you can partition a hard drive on Mac to store these backups on different partitions and manage them more easily and efficiently.
Partitioning a hard drive on macOS makes it easy to reinstall operating system if you don't want to backup Mac data.
Protect data on your hard drive. One bad sector won't influence data on the other partitions.
Disadvantages of partitioning a hard drive on Mac
Dividing Mac hard drive into different partitions is not always a good thing. You'd better check out these disadvantages you are facing before you decide to create a new partition on your Mac's hard drive.
Reduced storage space. Some space gets lost if you have more than one partition. It's common that you do have free space on the hard drive, but there's no enough space left on these partitions. However, this is not a big problem as storage is cheaper today.
Slow and inconvenient data transfer. It will take longer time to copy data from one partition to another.
Partitioning doesn't make much sense if the hard drive has small capacity.
How to Partition A Hard Drive on MacBook Air/Pro/iMac with Disk Utility
Now, I bet you've made a well-informed decision. Follow these steps to learn how to add an additional partition using Mac built-in tool Disk Utility. If you can't partition your hard drive on macOS, scroll down to find some possible fixes.
Step 1: Open Finder and click Applications, open the Utilities folder and double click Disk Utility.
Step 2: Select the hard drive on the left pane. Internal storage drives are under the Internal section, external drives under the External section.
Step 3: Click Partition button on the top of the window.
Step 4: Click Add icon to start to partition a hard drive on Mac without losing data. Click separate volumes, enter the name and size or drag the controls to set the size you prefer, and select a format for the partitions. If you start up hard drive partition to copy DVDs to hard drive or store other data, check out the output DVD file size or data size and then determine the volume size you want.
Tips: what format to choose for separate volumes
Mac OS Extended (Journaled): HFS+ is used for Mac, and the Encrypted requires a password to encrypt the partition. Mac OS Extended (Case-sensitive, Journaled) is case sensitive to file folder and names, FAT is used for Windows volumes that are less than 32 GB, ExFAT is used for Windows that are above 32GB.
Step 5: When the partitions info is set, click "Apply" button.
Step 6: Click "Done" when the partitioning hard drive on Mac is finished. Learn how to format Mac hard drive before using.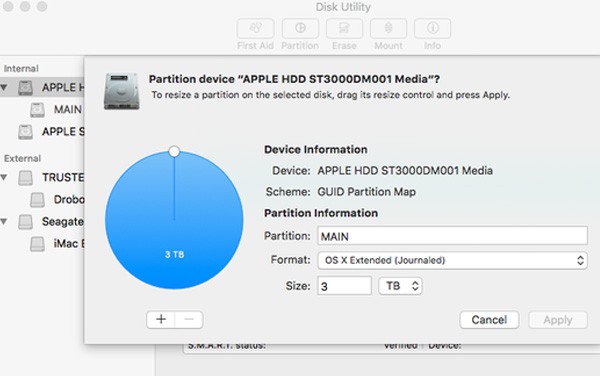 Why Can't I Partition My Hard Drive Mac (Errors & Fixes)
Disk Utility partition greyed out Mac
Can't partition (option greyed out) External HDD on macOS Sierra. Hi guys,Scoured the net for an existing solution to this problem, but to no avail. I'm attempting to partition a 500gb external HDD for Mac to run bootcamp, but whenever I go into Disk Utility, the option to partition the drive is greyed out.
Solutions: Try to format the external hard drive on Mac again and use the GUID Partition Table. If you don't see the option first time, disconnect and connect your hard drive to computer again. The hard drive should be formatted for HFS+ correctly.
Cannot partition external hard drive Mac
Trying to partition Mac hard drive and install Windows with Boot Camp Assistant on my Mac, but get error message saying "your disk could not be partitioned, an error occurred while partitioning the disk. Any ideas about how to solve this error?"
Try the following steps to solve "cannot partition a hard drive on Mac" error:
1. Restart your Mac and hold down Command +s to enter Single User Mode.
2. Enter /sbin/fsck-fy into the command prompt interface.
3. Press Enter, and then type in reboot.
4. Press Enter and you computer will restart. Now, try Boot Camp Assistant again.
Fast Copy DVD to Mac Hard Drive Partitions
MacX DVD Ripper Pro is able to rip any DVD, including damaged ones, unplayable DVDs, 99-title DVDs, protected DVDs, Japanese DVDs, workout DVDs and more, to Mac hard drive partitions for backup and easier playback and management with ease and No.1 fast speed and original quality.