The Fastest Way to Transfer 4K Video from iPhone to Mac
By Rico Rodriguez to iPhone Video | Last Updated on Dec 18, 2023
Follow the guide to learn how to transfer 4K video from iPhone (XS/XR) to Mac with lightening fast transferring speed, whether you want to prepare against any data loss in iOS 17/11 update, extend your iPhone storage space, editin iMovie, or play the large 4K video on your bigger-screen Mac computer.
The ability of the iPhone 6S, all the way up to iPhone, to capture 4K video is showy, but you may be embarrassed by the fact that a single hour of 4K 30fps footage file size is whopping - up to 318 GB according to Apple, which goes beyond what a 64GB iPhone can carry (see the detailed iPhone 4k video size). That means you have to export 4K videos from iPhone to Mac as a backup and them delete them to extend more storage space for new video shootings.
There're multitudinous ways to move your 4K video from iPhone to Mac. However, many iPhone users are informed of errors like "Image Capture error 9937 - took 8+ hours importing 4K videos and failed on more than half if the videos (approx 40gb)." "Unrecognized file type error with iPhone when transferring iPhone 4K video on a Macbook Pro." "Emailing iPhone video is too large to send to Mac", etc.
4 Benefits: Why You Need to Transfer 4K Video from iPhone to Mac
1. Avoid Tragic Loss of Video
Each time, there is a new software release, there is a high chance you are opt for updating to new iOS, which at a result leads to data loss at times. Having your 4K videos transferred from iPhone to Mac as a backup is a way to safeguard your precious memory from lossing.
2. Extend More iPhone Storage Space
iPhone 4K video shot at 30fps per minute steals over 350mb storage space, 36 minutes of which will use up all iPhone space. If you want to shoot more videos and photos with iPhone, make a daily deletion of your iPhone 4k videos that you've already transferred to Mac can be an effective way to free up your iPhone space without missing your data.
3. Edit iPhone 4K video on Mac with ease
Editing iPhone 4K with iMovie app can be embarassing when it comes to color correction and adjustments. By transferring large video in 4K from iPhone to Mac, you can apply effects and adjust your 4k video in a single place.
4. Enjoy Bigger Screen Playback on Mac
Having your video played on bigger screen is exciting. But Airplay is lagging and working after a long delay. While you can simply transfer iPhone 4k video to Mac and then play it on the bigger screen without any problem.
What Is the Best Tool to Sync 4K Video from iPhone to Mac
The main issue about iPhone 4K video transfer is its big file size. This will cause lengthy video transfer process. MacX MediaTrans is a good helper if you encounter this error in importing 4K video from iPhone to Mac, no matter it is the 4K recording or the purchased movie. It is designed for 4K 2160P UHD video transferring, and promises compelling speed in copying 4K video from iPhone to MacBook Air/Pro/iMac without any freezing - the secret is its multi threading and hardware acceleration. It takes up less RAM to import 4K video from iPhone to Mac, and thus other programs can run smoothly in the background.
How to Export Large iPhone 4K Video to Mac within Seconds
The iPhone transfer software is so simple to use, there's no extra hassle thanks to its well-esigned UI. You can free download MacX MediaTrans for Mac (macOS Big Sur supported) here.
Step 1: Run the 4K UHD video transfer software, connect iPhone with Mac via USB connector. Turn off iTunes Auto sync before import 4K video from iPhone to Mac.
Step 2: Click "Video" icon on the main interface. The popping-up window will allow you to select 4K 2160p video from iPhone to be transferred, including 4K recording, UHD music video, 2160p movies, Ultra HD TV shows, 4K video free download, and many more.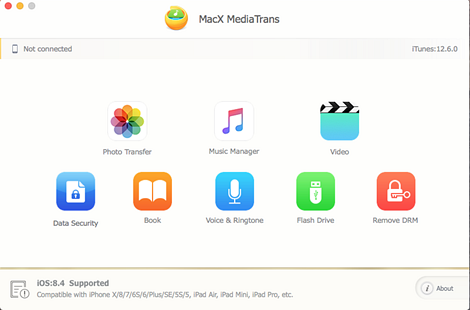 Step 3: Hit "Export" icon on the main interface and start to export 4K video from iPhone to Mac. You can also encrypt your iPhone 4K video while transferring to Mac by enabling Export with Encryption.
If you want to sync 4K video from Mac to iPhone for offline watching, click "Add Video", select video on Mac and "Sync" in step 3. As for 4K 2160P video movie in MKV, MTS, M2TS or other format recognized by iPhone, the software has built-in 4K video converter that allows you to convert MKV, M2TS, MTS and other 4K UHD videos to iPhone compatible format automatically without losing quality.