Actually, we human being doesn't have an internal valuation system to help us judge whether this is the best online services to rent DVD disc with high cost performance. What really pushes us to make decision is the comparison of the same type of online DVD rental sites. Well, where to start as the comparison point? Here are 4 key criteria you can proceed with.
DVD Rental Site Service: some sites support to online rent DVD movies by mail; some rent DVD movies via free double-way shipping, plus kiosks to auto rent DVD movies near your local drug store or grocery store.
Plan & Pricing: the popular sites to rent DVDs also differ from each other in plan & pricing. For instance, Redbox rents DVD movies at per rental in timely fashion; Cafe DVD offers users two plans: pay per rental and monthly subscription; Netflix only has monthly subscription so far.
Membership Benefits: free trail, special offer, coupon, Blu Ray/DVD disc options, free shipping, longer time for rental DVD keeping and after-sale service? Keep these in mind when you plan to subscribe to some online services.
Movie Library: if DVD rental movie resources are plentiful, if it meets the needs from different age groups, what is the update frequency of new DVD movies?..

Top Online DVD Rental Sites to Rent DVD Movies Easily & Fast
Based on the above mentioned 4 criteria, we pick out the top sites for your reference if you have the need to rent DVD movies online. What's more, we also list out their pros and cons for your overall judgement. Just opt for the one that suits you best.
RedBox
Specifically speaking, Redbox is not a purely online site for DVD rental. On one hand, it provides you with the online service for finding Redbox kiosks and seaching for your desired DVD & Blu-ray discs information. On the other hand, its Redbox kiosks near your local drug stores or grocery stores are the destination place for you to rent DVD discs. You can directly rent DVD & Blu-ray discs without mail or shipping. Fast and convenient!
Plan & Pricing:
Daily rental charge: DVDs priced at $1 per day & Blu-ray at $1.5, both plus applicable tax. If you keep Redbox DVD rental for the maximum rental period (currently 17 days for movies), you'll be charged at maximum charge and you have the ownership of the disc.
Pros:
1. Rent DVD disc fast, no shipping time.
2. Daily rental charge, more flexible than monthly subscription.
3. Renters can return DVD rentals to any Redbox kiosk.
Cons:
1. It charges high for those who have a large need in DVD rentals.
2. You will be charged an additional daily rental charge, plus applicable tax if you don't return DVD rentals by 9:00 p.m.
3. RedBox DVD rental won't play on Mac/Windows because of the DVD protection tech.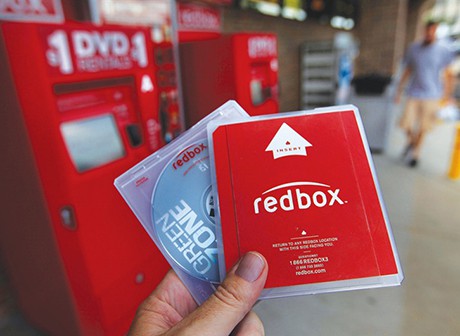 Netflix
Can't find the latest movie on DVD rental site Redbox? Go Netflix to search it from best movies on Netflix. It not only includes an expansive library of movies, but also HBO Game of Throne season 7 TV series. And amazingly, it can guarantee 90% subscribers to receive DVD rentals via 1-day service attributing to its 40+ distribution centers across USA. Also you can stream Netflix movies to iPhone iPad, Android, smart TV, Mac, etc.
Plan & Pricing:
Monthly Subscription: $7.99 monthly for Netflix DVD rentals, and $9.99 for Blu-ray disc rentals.
Pros:
1. Movie-by-mail service is fast, 1 day only.
2. Highly cost effective for those who have a large need in DVD rentals.
3. Support to stream Netflix movies, TV shows to various devices, computer & TV.
Cons:
1. No pay per rental service.
2. No local rental box.
3. Netflix not working sometimes, no way to rent DVD disc or stream movies.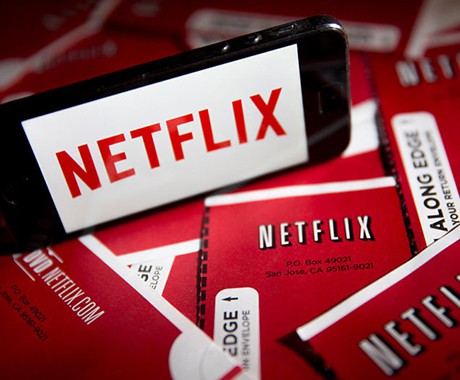 Blockbuster DVD Rentals
The Blockbuster online DVD rental site claims that the movies and TV shows its On Demand service offers are almost 28 days earlier than RedBox rentals. That means if you can't rent the latest movies or TV shows on RedBox or Netflix, Blockbuster is the best alternative to Netflix and Redbox for you to access to your much-anticipated movies. Plus, it even provides more charging plans for you to choose from.
Plan & Pricing:
It charges $1.99 (old films) or $2.99 (new released DVDs) for the first day of rental and 99 cents for each additional day.
Pros:
1. The update frequency of new released DVD discs is high.
2. Movie library is vast, over 80,000 different titles available.
Cons:
1. A little bit high price at newly released DVDs.
2. No monthly subscription on it.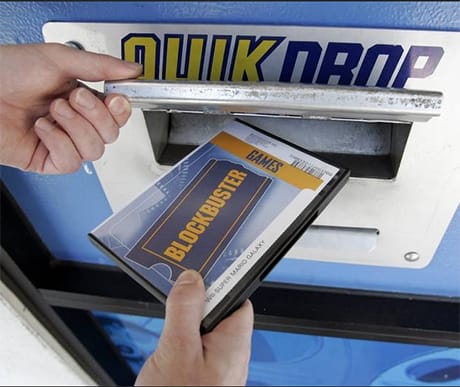 CafeDVD
Personally, I would give a thumb down to webpage design of this online site to rent discs. It's really ugly, the small yet crowded words, the centralized sections, unattractive color matching, etc. Obviously, that's the big part it needs to improve. Of course, it still has something good, like its primary feature - DVD rental service. As its ads show, it offers you with over 60,000 titles from old movies to new releases. No matter where you live, you can receive the rental DVDs as long as your place has First Class Mail in the USA.
Plan & Pricing:
Pay per rental: $3 per DVD for 8 days of rental period. $3.49 for most Blu-ray. (shipping fees not included)
Monthly subscription: $11.99 per month up to 6 DVDs (2 DVDs at a time); $21.99/M up to 12 DVDs (4 DVDs at a time). (shipping cost included)
Pros:
1. Both pay per rental and monthly subscription available on this online DVD rental service.
2. $5 off for new subscription membership.
Cons:
1. Ugly webpage design.
2. No online movie streaming service.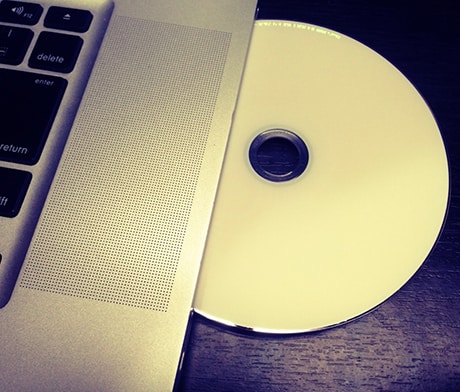 RedBox DVD Rental Won't Play on Computer? Easy Peasy
With MacX DVD Ripper Free, the professional free DVD ripper to free remove any DVD protection technologies the studio or DVD rental sites developers puts to RedBox DVD rental, Netflix DVD rental, etc. Afterwards, you can successfully play RedBox DVD rental, Netflix rental, etc. on Mac/PC without errors.
Support any type of DVD disc, including Redbox DVD rentals, Netflix DVD rentals, 99-title DVDs, damaged/unplayable DVD, workout DVD, AV DVD, etc.
Remove CSS, Region Code 1-6, RCE, UOPs, Sony ARccOS, bad sector encryption algorithm, etc. to make DVD rentals free from encryption errors.
Free rip rental DVD to MP4, MOV, MPEG-4, H.264, iTunes, Apple TV, etc. for personal legal storage & playback on Mac/Windows without DVD drive.
Quality matters a lot. High Quality Engine ensures you an output DVD rental copy with 98% quality reserved!
How to Disable DVD Rentals Protection and Rip DVD Rental to Digital
Step 1: Import DVD Rental. Insert your DVD rental disc into the DVD drive or external drive. Then launch this DVD ripper and load rental DVD to this program.
Step 2: Select Output Format. Choose MP4 or MOV as output format, which make a good balance among video compatibility, video size and video quality. You can also choose iTunes if you wanna transfer DVD rental movies to iPhone iPad for mobile playback.
Step 3: Rip DVD Rental Now. Tap "RUN" button and this DVD ripper free software will begin to automatically bypass DVD encryption tech from DVD rental and free rip DVD to MP4, M4V, MOV, H264, MPEG-4, etc. at 2X faster speed than Handbrake.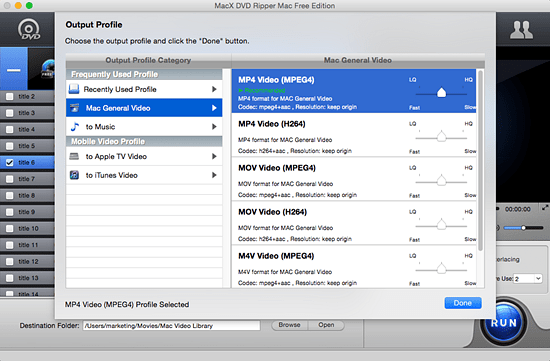 Note: For the newly-released DVD rental discs, you need to upgrade to MacX DVD Ripper Pro, the advanced pro to handle the DVD rental to digital conversion task, for the latest DVDs are usually encrypted with much more complicated yet advanced encryption algorithm. This higher version DVD ripper is constantly updated to catch up with the latest DRM encryption tech. Thus, it can easily circumvent the ordinary CSS, Region Code, UOPs, Sony ARccOS, but also the tricky Disney X-project, CPRM, Cinavia, etc. That's not the end. It also enables you to rip RedBox DVD rental, Netflix rental and more to MP4, MOV, H265, MKV, AVI, FLV, MP3 more formats and iPhone 8/Plus/7s/7/6s/6/SE, Galaxy Note 8/S8, iPad Pro, 350+ mobile profiles.
ABOUT THE AUTHOR