Ripping DVD to computer (windows 10/macOS Sierra) is becoming a must move when users want to have a safe copy of their expensive DVD collection, or play the movies on iPhone, iPad, Android devices out of disc drive. However, there are still users on forums asking how to do so. There are many DVD-ripping tools that can extract the movie contents out of DVD discs and then save them onto your computers or mobiles, but they may differ from each other slightly. Below we list the top tools that can make a copy of DVD discs to computer hard drive, wehther they are homemade or protected DVDs.
[Legal Disclaimer] The legality to rip protected DVD is equivocal currently and you are strongly suggested to use this instruction in accordance to the law of your country. Please do not produce a copy of DVD owned by others for any purpose. We in no way endorse violation of the valid rights of copyright holders.
How to Rip DVD to Computer Mac/Windows with Ease and Fast Speed
Below are the top ways to extract DVD movie from disc to Mac computer. Some of them also apply to copy DVD to Windows 10/8/7. Check for more details below.
1. with MacX DVD Ripper Pro
Platform: Mac (macOS Sierra) and Windows (10)
Price: $39.95
DVD: homemade/protected
MacX DVD Ripper Pro is among the top software to rip protected/home DVD at optimum quality and fast speed. It makes it easy to rip DVD on computer hard drive (both windows 10 and macOS High Sierra) in MP4, MOV, AVI, MKV, WMV, MP3 or any other digital formats. Users can freely backup DVD to MPEG2, MKV, ISO image, or transfer to iPhone iPad Android devices.
The biggest strength with this tool is that MacX DVD Ripper Pro gives users the freedom to rip DVDs from Warner Bros, Disney, rip Redbox DVD, etc by removing DVD encryptions. And the Safe Mode feature will solve most DVD ripping problems. What's more, it can transfer DVD with excellent quality and fast speed (within 10 minutes for a movie on high-profile MacBook Air/Pro, iMac).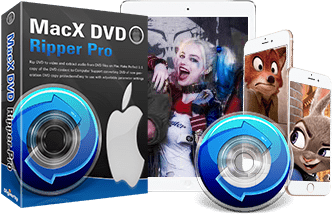 Optional: After ripping DVD, you can consider to utilize the user-friendly MacX MediaTrans to transfer converted DVD movies from Mac to iPhone iPad and more. Certainly, to transfer photos from Mac to iPhone or sync music, video, iBooks, ringtone, iTunes U between Mac and iPhone is no-brainer to it, as well.
2. with Handbrake
Platform: Mac, Windows and Linux
Price: Free
DVD: homemade/protected (with libdvdcss installed)
Handbrake is free DVD copy software that provides an easy solution on how to rip DVD on Mac, Windows, hard drive. It supports non-protected, or homemade DVD and Blu-ray discs digital formats like AAC, MKV, MP4, and MPEG-4, and has preset profiles for iPad, iPod, iPhone and Apple TV. As it claims, Handbrake is simple, fast and easy. It stands as the first choice to rip homemade DVD to computer.
Getting Handbrake to rip protected DVDs requires third-party libdvdcss installed. Besides, as it stops updating since 2012, Handbrake won't rip DVD on macOS Sierra.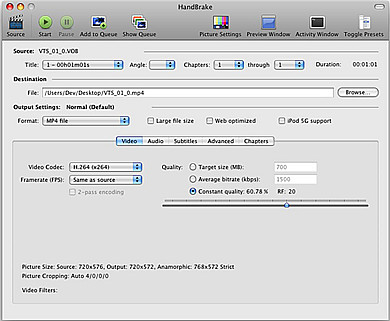 3. with VLC
Platform: Windows, Mac, Linux, and BeOS
Price: Free
DVD: homemade/protected
VLC media player is well known for its powerful video/DVD playback ability. In fact, it features a less-known function to rip video from DVD to computer hard drive as well. If you don't want to download extra software, the "Convert/Save" button in VLC will works with the DVD ripping. You can save the DVD on computer in MP4, OGG, Webm, ASF and TS. The process to transfer DVD to digital formats is simple: click the 'Disc' > open the DVD drive (To rip a commercial DVD, set VLC to skip the DVD title) > click the button for 'Convert/Save'.
Some users complain that it takes too long to rip a DVD with VLC to computer, VLC crashes when ripping DVD, and some other encounter problems to open protected DVD. Plus, VLC and Handbrake work seamlessly to rip protected DVD.
4. with Disk Utility
Platform: Mac
Price: Free
DVD: homemade
If you want to rip home DVD to computer MacBook/iMac, OS X's built-in Disk Utility app offers an easy way without installing third-party apps. The Mac Disk Utility is a free and versatile tool included in Mac OS that allows you to format hard drives, erase or copy CDs and DVDs. It does not work to copy protected DVDs to Mac and only allows to copy un-protected DVD in virtual image only. It's the top way to save home DVD disc to computer Mac. The guide is simple: Insert DVD > click Applications > Utilities > Select the DVD disc > Click on "New Image" > Choose a name and a destination from the "Save As...".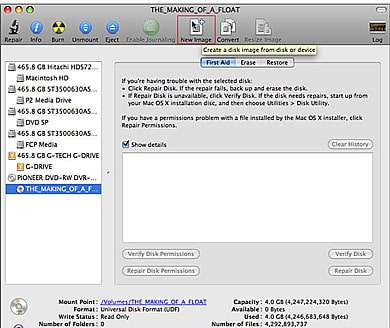 How to Rip DVD to Computer PC (Windows 10/8/7/XP) with High Quality
In addition to the ways that also apply to Windows DVD ripping, below are the most frequently used methods to rip video from DVD to computer Windows 10/8/7 etc. Select the one that suits you most.
1. with WinX DVD Ripper
Platform: Windows 10/8/7/XP
Price: Free
DVD: homemade/protected
WinX DVD Ripper Free Edition is a 100% free tool on Windows 10/8/7/XP that allows users to save DVD to MP4, MPEG, WMV, FLV, MOV and H.264. As a free DVD ripping tool, it supports both homemade and protected discs (purchased or rental DVD from Redbox, cafeDVD, Netflix) with popular encryptions, including DVD CSS, UOP, RCE, region code and Sony ARccOS. However, it doesn't rip DVDs with strong copy protections like Disney X-project protection adopted by Disney, Paramount and Warner.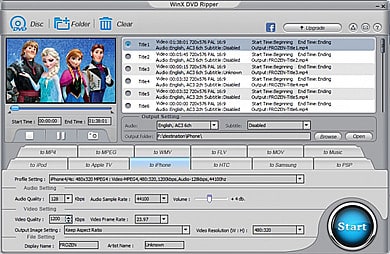 2. with MakeMKV
Platform: Windows, Mac OS X and Linux
Price: $50
DVD: homemade/protected
MakeMKV offers a free solution on how to copy DVD to computer in one click. It's a nice piece of software for decrypting, ripping and converting DVDs and Blu-Ray discs. Users can digitize DVD in MKV with untouched quality as well as MP4 or AVI. The process is relatively fast: normally no more than 10 minutes for DVD and 30 minutes to a couple of hours for Blu-Ray discs. If you transfer DVD to digital format MKV on computer, note that the output formats may be in enormous size.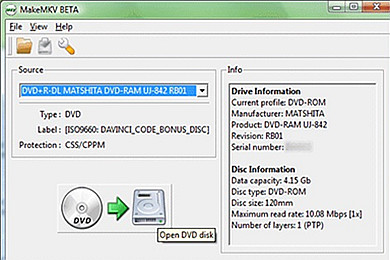 3. with DVDShrink
Platform: Windows 10/8/7/XP
Price: Free
DVD: homemade
In contrast to MakeMKV, with DVDShrink, you will can save DVD to computer Windows 10 with small file size. DVDShrink is specially designed to shrink the DVD as small as possible. If will make a dual layer DVD disc (8.7GB) perfect fit the single layer DVD disc (4.7GB) by reducing the video quality and removing unnecessary parts. You can rip DVD to WMV, AVI, MP4, MOV and MKV. It can rip protected dvd with many DVD protection schemes, but it doesn't support the latest encryptions.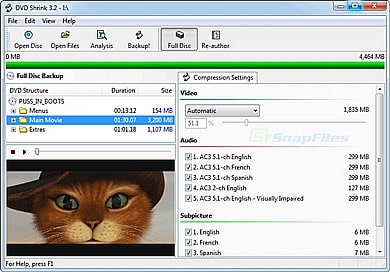 How to Rip Any DVD to Computer PC (Windows 10/8/7/XP) with High Quality
Step 1: Free download the software. You can get Mac (macOS Sierra) version or PC (windows 10) version based on your needs and run it. Click "DVD Disc" to load the DVD, you can also import DVD folder or ISO image saved on your computer.
Step 2: Choose the format you'd like to rip the DVD to. For example, simply to save DVD on computer, you can choose main title/full title copy. You can also rip encrypted DVD to mp4, mov, 3gp etc, or to iPhone 7/7 Plus/6s/6/SE, iPad Pro/Air 2/Mini 4, Samsung Galaxy S7 as you like.
Step 3: Click the "Browse" button to set a folder to save the output file.
Step 4: Click "RUN" to start decrypt protected DVD on computer. The ripping process will be superfast.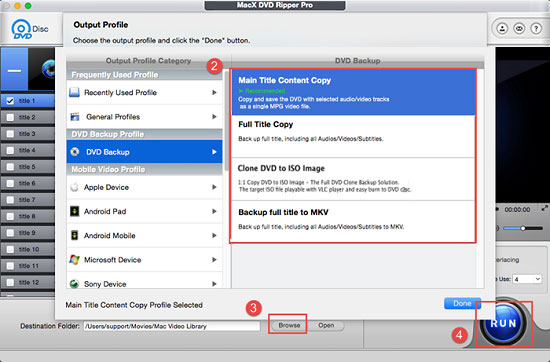 Notice: The DVD ripper developer only encourages you to use this DVD ripper Mac version to rip and convert DVDs for legal personal use, instead of illegal reproduction or distribution of copyrighted content. Please obey your local DVD copyright law before doing it. DO NOT do harm to others' lawful rights and interests.