4K gradually becomes an integrated part of our daily life. In the TV shopping mall, you can see the 4K videos on 4K TVs; it's pretty common to stream 4K movies, TV shows from Amazon, Netflix, and Apple TV; or you can still purchase the 4K discs made by Sony Pictures for watching on 4K video players or 4K TVs. Let's face it, the real 4K video sources are still few and between, which means most of us will be watching content in good, old-fashioned regular high-definition: 1920x1080 (1080i or 1080p) or 1280x720 (720p), both of which have far fewer pixels than 4K. However, there is no biggie that you don't have 4K videos since you can upscale HD to 4K for clearer and sharper image, with a HD to 4K video converter.
Why Should You Upscale 720P 1080P HD to 4K?
The reasons why you should convert HD to 4K may be various. But ultimately, you must want to enjoy a clearer and crisper 4K resolution video. Here I pick up some users' appeals about why they want to upconvert 720p/1080p HD to 4K resolution.
So I am in the market for a 4k TV (possibly). Currently I have a Sony Bravia from probably 6-7 years ago. It is 1080 - 40 inch. Now my concern is that most content today is 1080 and so I would want to get a 4k TV with the best up-scaling processor out there. - Megan
I have purchased a Samsung UN65KS8000 65-Inch 4K Ultra HD Smart LED TV for watching movies and TV shows with better experience. For Netflix 4K streaming, Amazon and Apple TV 4K sources, it does indeed. But when it comes to my HD video collections, the video quality goes not as well as I think. So, I'm wondering upconvert HD to 4K files. - Andrew
My issue with Roku 4 HD upscaling. My TV is a high-end 85" Sony BRAVIA X950B that is set to 3840x2160. And my Roku 4 box is set to 4K as well. With the Roku 4 that instead of passing the 1080p content to the TV, it attempts to upscale it to 4K, but the results are often terrible. So is there any HD to 4K upscaler help me watch 1080p HD on my 4K TV with Roku flawlessly? - Steve
Best HD to 4K Video Converter for 720p/1080p HD Upscaling
Interestingly, these three users chose the same HD to 4K video processing software - MacX Video Converter Pro, which is able to convert 720p to 4K, 1080p/1080i/1440p to 4K (3840×2160 or 4096×2304) at blazing fast speed without quality loss. Besides the basic HD to 4K processing, what appeal users most are the unique features below:
Auto copy. If you input a H.264 codec HD video above 1080p and plan to input a same H.264 codec 4K video, this program will directly copy video/audio streams and subtitles without decoding/encoding. This process will 1:1 clone the quality and be 10 faster than video decoding/encoding.
No need to adjust parameters manually. This HD to 4K upscaler is built in the 4K MP4 Video profile, which has already been set to h264+aac codec, 3840×2160 resolution.
All kinds of video audio codec supported. With 370+ video audio codec built-in, you can convert any videos from HD to 4K, for example, HEVC to H.264, H.264 to HEVC/H.265, VP9 to VP8, MKV to MP4, AVI to MOV etc.
Incomparable fast speed and high quality. This 4K video converter runs 10X faster to convert 1080p to 4K, or 720p, 1080i, 1440p HD to 4K with almost zero quality loss, thanks to the multi-core CPU utility, hardware acceleration, HT tech and high-quality engine.
How to Upconvert 720p 1080p HD to 4K with Sharper Quality
Step 1: Run this HD to 4K video converter.
Launch this 4K converter on your Mac or Windows computer after you free download the HD to 4K upscaler for Mac or Windows version for PCs.
Step 2: Load the 720p/1080p HD video.
Click on the + Video icon, select one or several HD video from your computer and tap Open to load HD videos to this program. Or you can also simply drag and drop the target HD videos to the current window.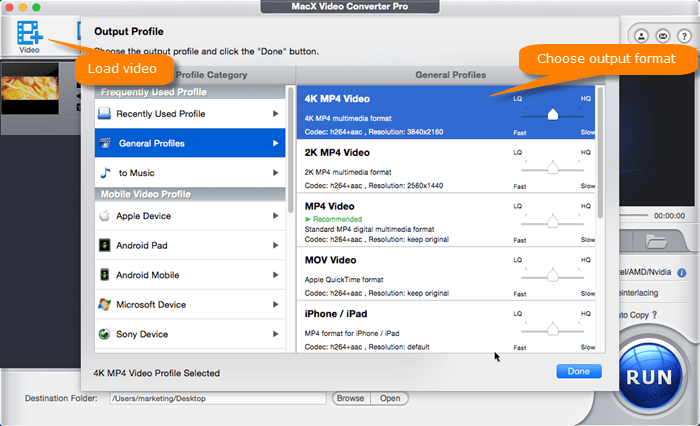 Step 3: Choose the output format.
After HD video loaded, there pops up a output profile window. Generally, you're highly recommended to select General Profiles > 4K MP4 Video > Done to output 4K videos, which is automatically set to h264 + aac codec, 3840×2160 resolution.
Of course, there are other choices. For example, you can PC General Video > HEVC Video > Done to convert HD to HEVC. Then click on

icon and select 3840×2160, 4096×2160 from the drop-down resolution window to finally upscale HD to 4K.
Step 4: Start converting 720p 1080p to 4K.
Optically, you can click on Browse to specify a folder for saving up-converted 4K video. Then tap RUN icon, the HD to 4K video converter will start to process and upscale HD video to 4K resolution as a video conversion window pops up with copy processing, the FPS, time remaining, etc.
Tips: Besides upconverting HD to 4K, this HD to 4K upscaling tool is also capable of compressing 4K UHD videos to 1080p, and downscaling 1080p to 720p, 720p to 640p/480p/360p etc. That's to say, once you grab this HD to 4K video converter, you'll be free from the video resolution and format issues, no matter you wanna play 4K on VLC, Macs, 4K UHD TVs or any other devices.

What's HD? 720p, 1080i, 1080p 1440p HD - What's the difference?
HD is video of higher resolution and quality than standard-definition. While there is no standardized meaning for high-definition, generally any video image with considerably more than 480 vertical lines (North America) or 576 vertical lines (Europe) is considered high-definition. So there are several types of HD videos:
720p (1280×720 px), also called HD Ready or standard HD, is a progressive HDTV signal format with 720 horizontal lines and an aspect ratio of 16:9.
1080i (1920×1080 px), known as Full HD, which is featured with interlacing scanning.
1080p (1920×1080 px), known as Full HD as well. But unlike 1080i, it's scanned in progressive type.
1440p, also Quad HD, is a display resolution of 2560×1440 pixels in a 16:9 aspect ratio. It has four times as many pixels as HD (720p).
See More: Check 720p vs 1080p, 1080p vs 4K for detailed differences of resolution.
MacX Video Converter Pro - Convert 720p/1080p HD to 4K Like A Pro
MacX Video Converter Pro, the best HD to 4K video converter, can quickly upconvert 720P/1080i/1080P/1440P HD to 4K and downscale 4K to 2K, 1080P, 720P with sharp image quality. Also convert among video formats, HEVC to H.264, VP8 to VP9, H.264 to H.265, MKV to MP4 etc.