- Hello. I have a problem my portable storage, it's not appearing at all in my mac. Not even in the disk utility. Other USBs and External Hard drives work, but this one does not and it happened just recently. someone here can help me get this to work? - CNET Forum
- I'm having problems with my external hard disk. It was working great all until I accidentally disconnected it without ejecting it. Now it won't show up anywhere on my Mac. It's not on Finder or Disk Utilities or even my System Finder. Any help I can get here will be great! - Apple Support
External hard drive counts for a lot for Mac users in daily. It helps to clean up Mac startup disk, speed up Mac computers, get rid of any further errors owing to insufficient space etc. Usually, no matter you choose USB, SD card, NAS or superdrive for Mac, when you plug in a portable hard drive to your Mac's USB port you will see it mount on the desktop. You can also see it in the Finder in the left-hand column under Devices. However, there are also times that your external hard drive won't show up on Finder or Disk Utilities. What do you do? Here gives you some solutions for reference and we'll feel glad if they are helpful for you.
Solutions to External Hard Drive Won't Show Up on Mac Problem
Actually, as we find the external hard drive not recognized on Mac, we care less about the reasons than how to get portable storage on Mac. If you have a rough understanding about main causes of external hard disk not detected, such as superdrive not working, NAS, SD card, USB not recognized, you're suggested to go directly to the below solutions to fix external hard drive not showing up on Macbook Pro/Air, iMac etc.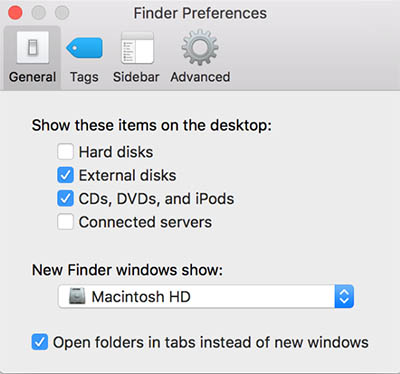 Make sure Finder will display drive icons.
Open a Finder window. Select Preferences and the General tab. Make sure the box next to External disks is checked.
Select External Drive.
Go to Disk utility and select the external drive from the left sidebar. Choose verify disc. It will find and correct minor errors.
Check USB Hub.
If you are connecting your hard drive with Mac using USB Hub, check the USB hub first.
Open Disk Utility.
If your external USB drive drive faded or greyed out and unmountable? Connect another external drive to computer. Check whether this external hard drive also not recognized. Do the proper eject from the Finder window list. Restart your computer and connect the external drive.
Also see: External DVD Player Not Working/Showing up on Mac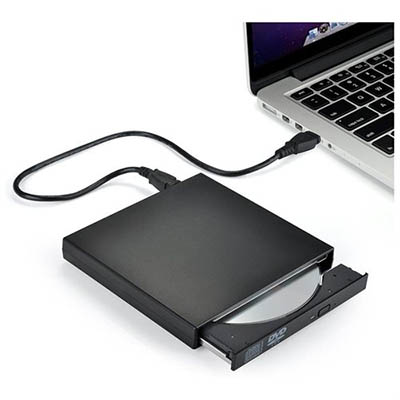 Navigate to Finder on MacBook/iMac.
If your external hard drive not showing up in Finder but visible in Disk Utility, go to Finder window and view below the favourite list. If the drive greyed Out? Select the drive. It might visible.
Restart your Mac and reconnect hard drive to Mac.
Shut down your Mac and then unplug the power cord and all USB connections. Then wait 30 seconds or 5 minutes before you plug it back in. Now you can turn on your Macbook Pro or iMac and plug the drive to the USB port and open Finder to check your drive.
Download and Install Some File System.
Some times this issue might happened because of the unsupported drive format. Install some file system integration like Fuse for OS X. Then restart your computer and check the issue "DVD drive not working" fixed or not.
Connect again to Try.
Connect your Segate external drive or WD passport to Windows computer. Delete the partition and connect back to MacBook Pro.
Main Reasons You Might Want to Know
The external hard drive for Mac not showing up in Disk Utility or Finder may be caused by many factors. But all in all it's usually originated from drive issue, dead USB port, and partition issue. And now let's go into details.
• Drive Issues
1. External storage is attacked by virus.
One of the major reasons that your external hard drive not mounting on Mac is the virus threat. The moment your plug in your it to Mac, it spreads across the entire network of the drive resulting to a data loss. Virus such as Trojan gets to HDD via infected external HDD, networks and from media files. They are usually spread from one HDD to another if you share files. 2. Portable hard drive gets corrupted.
You cannot be too careful to save the data on your external hard drive. Usually the media files on the hard drive may fail to appear when you open it owing to the system power failure or an incorrect ejection of HHD. That means there is a big possibility that it gets corrupted so that your Mac computer won't recognize your portable hard drive. In this case, you can try to format Mac hard drive or switch to another hard drive. • USB Port Issue
Mac computer doesn't recognize external hard drive may also caused by the dead USB port. If your portable hard drive doesn't connect with Mac computer properly, of course, the it won't show up. • Partition Issue
External hard drive not mounting on Mac problem may happened because of the partition issue. If you have patitioned a hard drive on Mac OS, there is a big possibility that it would not show up in the Finder. For example, your external storage is partitioned into three parts - but somehow you made one of the parts go away or stop showing up in the Finder. Disk Utility says it is mounted, and it doesn't appear to be marked hidden. After you have fixed external hard drive not showing up in disk utility or Finder problem, you can utilize your external hard drive like Apple USB SuperDrive to play or burn CD and DVD on MacBook Pro/iMac. Yet, the $79 Apple USB SuperDrive can't help you play DVD on your iPhone 12 or iPads. In case you have the demand to play and watch DVD movies on iPhone iPad on the subway or on the way home, MacX DVD Ripper Pro will help you a lot. With it, you're allowed to 1:1 rip and copy DVD to MP4, MOV, H264, H265/HEVC, etc. or directly bacup DVD movies to iPhone with 350+ profiles provided, no matter your DVD is 99-title DVD, Disney oversized 75GB DVD or damaged DVD, AV DVD, etc.