"I would like to record gameplay videos. Is there a way to export the replays to YouTube format from within the game? Or do I need to download any gameplay recorder software to do this? I would like to upload the gameplay video to YouTube at 1920x1080 at 60fps. How can I do this? What is the best gameplay recording software?" - from assettocorsa.net.
Gamers always love to capture gameplay videos and upload to YouTube. Here we share tips of how to select a gameplay recorder and how to record gameplay with high quality on Mac an PC.
Good Quality Gameplay/Screen Recorder Software
Free download MacX Video Converter Pro, a feature-rich gameplay capture software of high quality to record gameplay videos in 1080p, 2160p, MP4 etc. with ease on Mac and PC, convert & edit recorded gameplay videos for YouTube upload, and download video game soundtracks.
What to Look for in the Best Gameplay Video Recorder Software
OUTPUT QUALITY - "I'm trying to record gameplays in order to upload them to YouTube. The problem is that they are of too low quality..." many users are complaining about poor output quality of recorded gameplay videos. Quality is the most significant factor to consider when choosing a gameplay walkthrough catpure software. Good quality is a must. Of course, the game recorder doesn't lag the video game you are playing, otherwise, it sucks.
EXTRAS - Many gamers like me prefer to record 360 VR game videos and upload to YouTube. Quality aside, there are many other issues to consider, for example, file size, video format, video editing. Sometimes, the gameplay capture software gives pretty good quality, but large file size for the output video is a huge turn off, making it a time consuming process to post to YouTube. Or even worse, the video format is unaccepted by the video sharing site. It is much better for a HD gameplay recorder program to embrace bonus features, say, ability to compress large gameplay video files size, change recorded gameplay video to YouTube supported format, cut to get the best part you're really interested to show, download video gameplay soundtrack music etc.
NO ADS VIRUS - We all hate ads. Ads or spam and such likes can be intrusive and ruin our good mood. Many free online gameplay recorder software is loaded with links to cheats, spam, malware. So the best video game recording software should be clean, with no ads, virus, links to malicious sites, spam, malware, and the like.
Best HD Gameplay Video Recorder Software for Mac and PC
It is hard for a gameplay recorder tool to boast all the whistles and bells, but it is possible. MacX Video Converter Pro is the best-ever software for gameplay recording I've been using for months. It is one of the most comprehensive video game capture software. The program focuses on gameplay recording output quality, and edges out other advanced software thanks to High Quality Engine developed and used by the software developer. You can't even tell the difference between the video game and the gameplay capture itself.
The gameplay screen capture program offers opportunity to compress large gameplay video file size and keeps good balance between size and quality. Did I mention that it allows you to convert recorded gameplay walkthrough videos to MP4, AVI, MOV etc. format for uploading or playback on iPhone iPad Android devices? The game recorder is also excellent at captured video editing. It has stunning extra features like cropping, trimming to remove unwanted area and get the most exciting parts, adjusting frame rate, bit rate, resolution etc. You can also put watermarks and titles in recorded gameplay video.
How to Record Gameplay Videos on Mac
The video game recorder software for Mac has well-organized interface, making it very easy to use for both proficient users and beginners. It can be downloaded for Mac OS X (macOS Monterey). It is 100% clean, no ads, no virus, no spam. Follow the guide below to learn how to record gameplay on Mac.
Step 1: Free download the best HD gameplay recorder for Mac and run it. Click "Screen Recorder" icon on the main interface to start gameplay capture mode.
Step 2: Click "Browse" button from the output setting drop up menu to select a destination folder to save captured gameplay walkthrough.
Tips: You can customize the gameplay footage by choosing "Keep Full Screen" and "Crop Region". The gameplay screen recorder enables you to record Roblox, Just Cause 3, League of Legends, Fallout 4, Minecraft, and many more 4K video games with clear video of 60 fps etc.
Step 3: Press "Start Record" button to start recording gameplay videos on Mac computer or PC.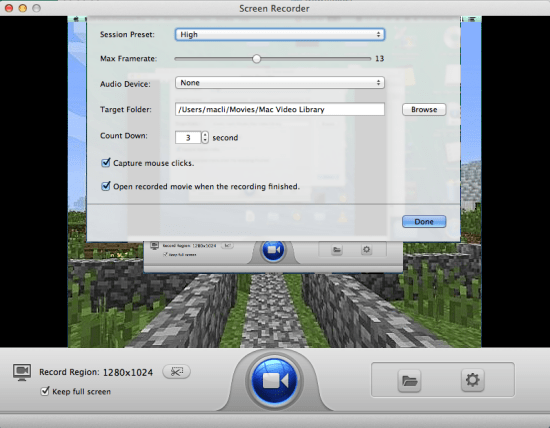 How to Compress Edit Recorded Gameplay Videos
To compress your gameplay videos, click "+ Video " button on the left-top of the main interface, hit "Settings" icon, and the Output Profile window will pop up. The HD video game recorder enables you to convert video format to MP4, AVI, MOV, WMV and many more. To compress large captured gameplay footage with great image quality, MP4 format is a good option.
Lowering the video resolution will reduce the gameplay video file size, like changing 4K UHD to 1080P, 1080P to 720P. Other options are included here, frame rate, bit rate, aspect ration, audio sample rate, etc.
The "Edit" option under the "Settings" button gives you access to trim, crop gameplay video, add titles and watermarks to customize the recorded video. The software for recording gameplay video misses no features you want.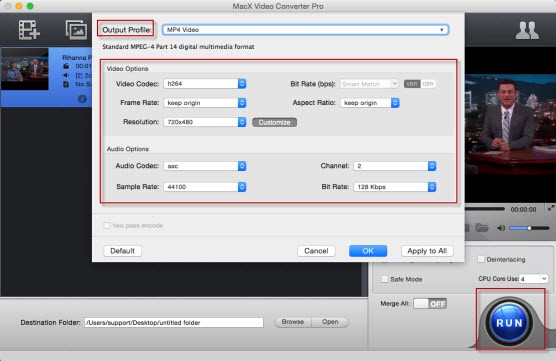 The best gameplay recorder works great in capturing streaming video on Mac from Netflix, Hulu, Amazon, 4K UHD 1080P streaming video content providers. You'll love the downloading feature provided by the gameplay screen capture software. You are free to download video game soundtracks, ringtones music from YouTube, Vimeo, Vevo, Dailymotion, Metacafe, SoundCloud, 1000+ sites speedily.
Still have any problem on how to record gameplay video on Mac with MacX Video Converter Pro, just
email us >>
ABOUT THE AUTHOR